Why Stanton Truitt's move from receiver to rusher came at the perfect time for Auburn
AUBURN, Ala. — Stanton Truitt's switch from wide receiver to running back became official as the first quarter was winding down in Auburn's win against Arkansas.
Truitt received a handoff from quarterback Sean White and blazed through an opening, diving headfirst into the end zone for his first career score.
During Auburn's 56-3 rout of the Razorbacks, the sophomore added a 45-yard touchdown catch before halftime and a 31-yard run in the final quarter.
His breakout game (123 yards, 3 TDs) against his dad's alma mater couldn't have come at a better time, nor could his move to the Auburn backfield.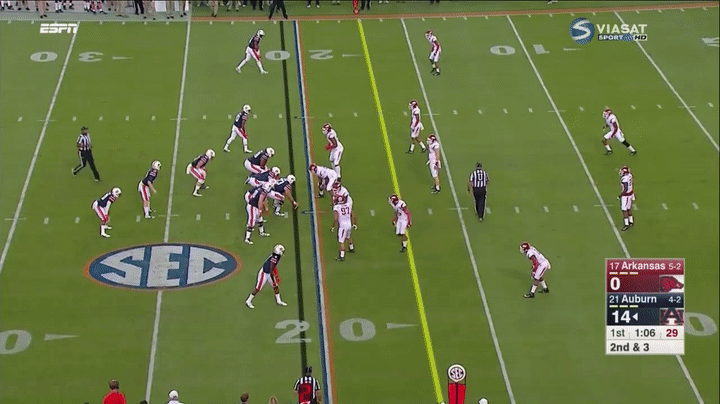 Through Auburn's first eight games, the 6-foot, 240-pound Kamryn Pettway has emerged as the team's bruising back. Kerryon Johnson, who missed several weeks with an ankle injury, is the speedy escape artist.
Truitt shifts from from fast to faster in an instant. He has a special ability to explode through momentary holes in the offensive line. His skill set complements Pettway and Johnson, adding a third dimension to Auburn's third-ranked rushing attack (303.4 yards per game) in the nation.
"He runs between the tackles very well," Tigers coach Gus Malzahn said of Truitt. "He's got a lot of great instincts, and he's got another gear. So I think that'll be something that we can utilize the rest of the season."
Truitt provides more than hustle and another body to the running back group. The Atlanta native has an understanding of the game after growing up in a football family.
As Auburn — No. 9 team in the College Football Playoff rankings — tries to win out and make its case for the program's first appearance in the playoff, Truitt needs to continue something he's done since youth football: make players around him better.
Unique beginnings 
When he started playing football around age 5, Stanton had two knowledgeable coaches.
His father, Stanley, played safety at Arkansas. His uncle, Mike Truitt, played offensive tackle at Florida State. Stanton's older brother, Daivon Deans, didn't play football at a young age but was part of MIT's program.
The Truitt brothers recognized Stanton's athleticism. Instead of sticking him at one position, they exposed him to every position on the field.
"We had to make sure he was taught good fundamentals and taught the game inside out," Mike said. "He played everything from center to quarterback to receiver to line, everything. … I was a deep snapper, his dad had to deep-snap, so he had to deep-snap. He's a pretty good deep snapper as well."
Stanton's football IQ landed him at quarterback for most of his youth. Stanton worked harder to prove he wasn't benefiting from being a coach's kid. He developed a strong arm and eventually became a dual-threat quarterback because of his speed.
"He had tight feet, those type of things," Stanley said. "You have to be gifted to seep through tight creases that quick and explode through them. He's always had that gift, so I could see him playing running back on the next level."
The Truitt brothers also started a youth track program for the kids they coached, hoping to develop their mental and physical toughness.
As Stanton improved, he also became a stronger leader. When he was 9, his youth football team needed a stop at the end of a game.
As the brothers game-planned, Stanton gathered his team in a circle. When his dad and uncle turned around, Stanton had the team jumping up and down, prepared to get a stop and drive downfield for a score.
"That's when I knew he was a special leader," Mike said. "He always made everyone believe they could do something special, so everyone around them believes they can do it. They believe they can do anything."
A helpful Hurricane
In his first season at Monroe Area High School, Stanton played slot receiver. Coach Matt Fligg quickly realized that despite Truitt's 5-foot-9 frame, he would have to play quarterback for the Purple Hurricanes.
Fligg gave Truitt freedom to move outside the pocket, where he often threw on the run.
"He was very coachable. He knew his strengths and weaknesses," Fligg said. "He was the second- or third-strongest guy on the team as a 180-pound quarterback. He was stronger than most of our linemen. He just knew what to do at quarterback. He caught on to it easy and did some things on the field that just aren't coachable."
Truitt's teammates always knew he was talented. Michael Gallup, who played mostly receiver for the Hurricanes, didn't realize how much Stanton knew about the game until their junior year.
"I remember, actually, we were sitting in the gym, and Truitt came over and offered to break down film with me," Gallup recalled. "He was always trying to help the team get better."
Truitt explained, just as his dad and uncle did, how to watch the film and not just the play. That helped Gallup understand how to watch the defense and break down technique.
"It took me a little bit by surprise because I didn't watch film," Gallup said. "I just went out and played on Fridays. But when he showed me that and told me a lot of what he knows, I was just like, 'Wow, he's going to be a big-time college football player.' "
During his senior year, Truitt rushed for 1,551 yards and 24 TDs, leading Monroe Area to an 11-1 record. The most remarkable thing, according to Fligg, was how Truitt affected his teammates' performance.
"I don't think I've ever been a part of a team in my 24 years of being a head coach that everybody gravitated toward him," Fligg said. "I mean, everybody. He was the team leader when things got bad; he corrected it. It's something that a coach just can't, you can't ask for in a type of leadership he gave to us. When he talked, everybody listened."
Truitt signed with Auburn and enrolled in January 2014, but his transition to the college game wasn't easy.
A tough two years 
Truitt suffered a season-ending shoulder injury in 2014 and re-injured his right shoulder about halfway through the following season. At times, he doubted if he would continue to play. Support from his family, teammates and coaches helped him push through.
"That was probably the most difficult part. He knew his talent, and he worked hard," Stanley said. "It's all about timing; it's all about the moment. And I would tell him he had to trust the process. It was like every day I was sending a message and positive quotes, anything I could think of to keep his spirit up."
Malzahn started thinking about using Truitt at running back after Roc Thomas transferred from Auburn in May.
The coaching staff thought he could split time at receiver and running back. As Auburn's backfield suffered some minor injuries during early-season games — Pettway dealt with a bruised quad, and Johnson suffered an ankle injury — Truitt moved to running back full time.
"I think that's a natural position to him," Fligg said. "He made an easy transition to quarterback, and I felt like the quicker he has the ball in his hands, the more he can do with it. … By running the ball, you get the ball in his hands quicker, and that's where you let him use his skill more."
The coaching staff used the bye week after Auburn's 38-14 win against Mississippi State to give Truitt and freshman Malik Miller most of the reps at running back.
While the change was trickier than Truitt anticipated, he again had a great support system in running backs coach Tim Horton and the rest of the rushers.
"It was tough, at first, just trying to figure out the ins and outs of being a running back," Truitt said. "But KJ (Kerryon Johnson), Kamryn Pettway and Kam Martin made it easy for me. They really welcomed me with open arms and Coach Horton as well. It's fun being there. It was really big having those guys to help me out to learn everything. If I had a question, they would, open arms, they would tell me, you know, this is what you have to do. Even outside of football they would come work with me on the plays and everything. Just the extra time those guys put in with me helped me a lot."
Stanton didn't make the switch hoping for more stats or attention. He wanted to give the team what it needed.
Just as he did in youth football and in high school, Stanton reassured teammates they would be successful this season.
"I told Kerryon, 'You don't have to play, man. We'll do it. We'll do it for you. We're your teammates, we love you, we'll do it.' "
And it proved true. The backfield rushed for 543 yards against the Razorbacks, the second most in school history.
The week after his career game against Arkansas, Stanton carried the ball 3 times for 13 yards and hauled in a 25-yard reception against Ole Miss. The stats were a glimpse of the versatility Stanton offers. And even though some of the nuances of the position may be new, Stanton's attitude doesn't hurt, either.
"He's always been an inspiring person," Daivon said. "He likes to do great things; he likes to be a great aspect in people's lives. He's always humble and really composed in everything he does."
Stanton found his perfect fit just as the Tigers were finding their offensive identity.
And it could not have happened at a better time.
"He's in a good spot right now. I believe everything happens for a reason," Malzahn said. "He's got an opportunity, and he seized the moment, and now he gives us another weapon in the backfield."