At Second Glance: LSU won the battle of space vs. Arkansas
BATON ROUGE, La. — Here's a riddle for you: What do football and Star Wars have in common?
They're both about space.
Space is the most valuable commodity in football, more important than coaching or talent or crowd noise or even money. Space is the currency by which points are bought and sold. Offenses try to maximize space and defenses try to minimize it. And when a game ends, the team that had the most space to move the ball is generally the team that wins.
Of course, that's a gross oversimplification of the intricacies of football. But spacing was the main difference between an LSU team that rushed for 33 yards against Alabama and an LSU team that rushed for 390 just a week later against Arkansas.
And I'm not talking about space for the running backs. I'm talking about guard spacing.
I know, I know. Offensive guard is the least sexy position on the football field. Heck, the term "right guard" is literally synonymous with anti-perspirant. But guard play was crucial for LSU in beating Arkansas. Take a look.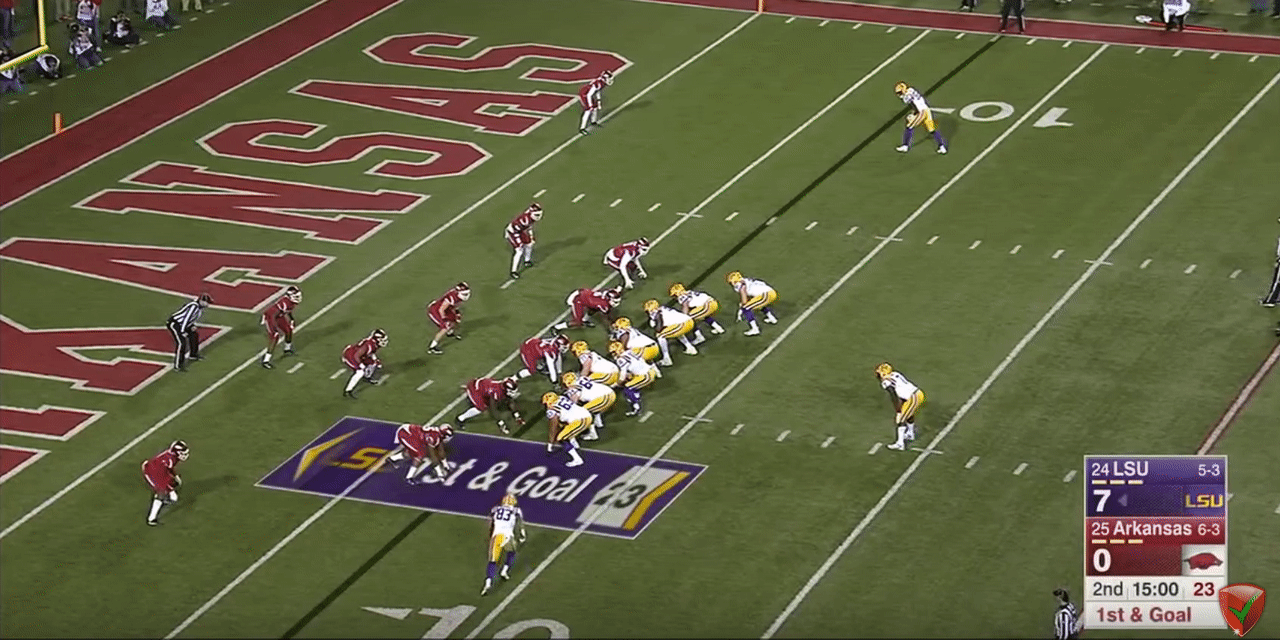 Watch left guard Will Clapp (No. 64) as he pulls around and blocks for Leonard Fournette. Against Alabama, Clapp would've been met by a pursuant defender in the backfield before he was ever able to engage upfield with a linebacker. This would've freed up the linebacker to meet Fournette in the hole, clogging it for a 1- or 2-yard gain.
But against Arkansas, Clapp had space to pull. So did right guard Josh Boutte and all of LSU's other pulling linemen. With the linemen free to make their assignments, Fournette and Derrius Guice were freer to make theirs.
And the proof was in the production.
Ok, fine, let's talk about running backs
I don't want to get too in-depth with halfback analysis since our Sam Spiegelman did such a good job with that already, but I'd be remiss if I didn't continue this theme of spacing by talking about the skill players.
Heading into the Alabama game, I remarked that the most surefire way to get Fournette going was to clear space for him. I posited that the best way to do this was to run him toward his wide receivers, and let the receivers run the cornerbacks and safeties out of the play. Why bother blocking people when they can block themselves?
Against Alabama, this never happened. But against Arkansas? We saw it on the first possession.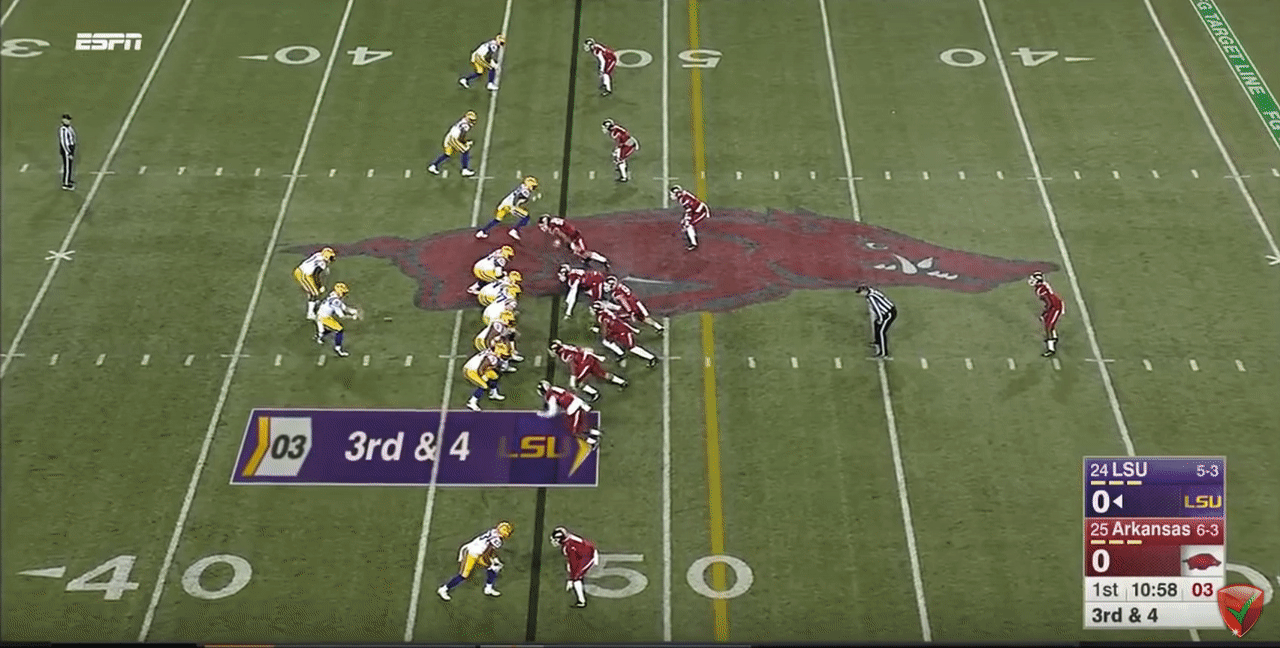 This play went for 38 yards and at no point did any LSU player make a significant block. Unless the Tigers managed to draw Arkansas offsides eight times in a row, I can't think of an easier way to gain 40 yards.
Even the conceit of this play involves leaving players unblocked. Left tackle K.J. Malone didn't touch Arkansas's defensive end, because doing so would likely have interfered with Danny Etling's passing lane to Fournette. Instead, the defensive end charged Etling unchallenged, Etling lofted a toss to Fournette who, by the time he crossed the line of scrimmage, didn't have a defender within 10 yards of him.
That play was free money executed about as perfectly as it could've been. As good as Fournette is at running through people, he's still better off running where people aren't.
The forgotten LSU play of the week
Believe it or not, there was a point in the second half of LSU's 38-10 win over Arkansas where the Razorbacks came within a couple of yards of making it a one-score game.
Arkansas faced a 3rd-and-goal from the 6-yard line, trailing 21-7 and looking to cut LSU's lead to a touchdown. The Hogs rolled quarterback Austin Allen out to his left, and Allen saw a receiver who was relatively open in the corner of the end zone.
Then Arden Key happened.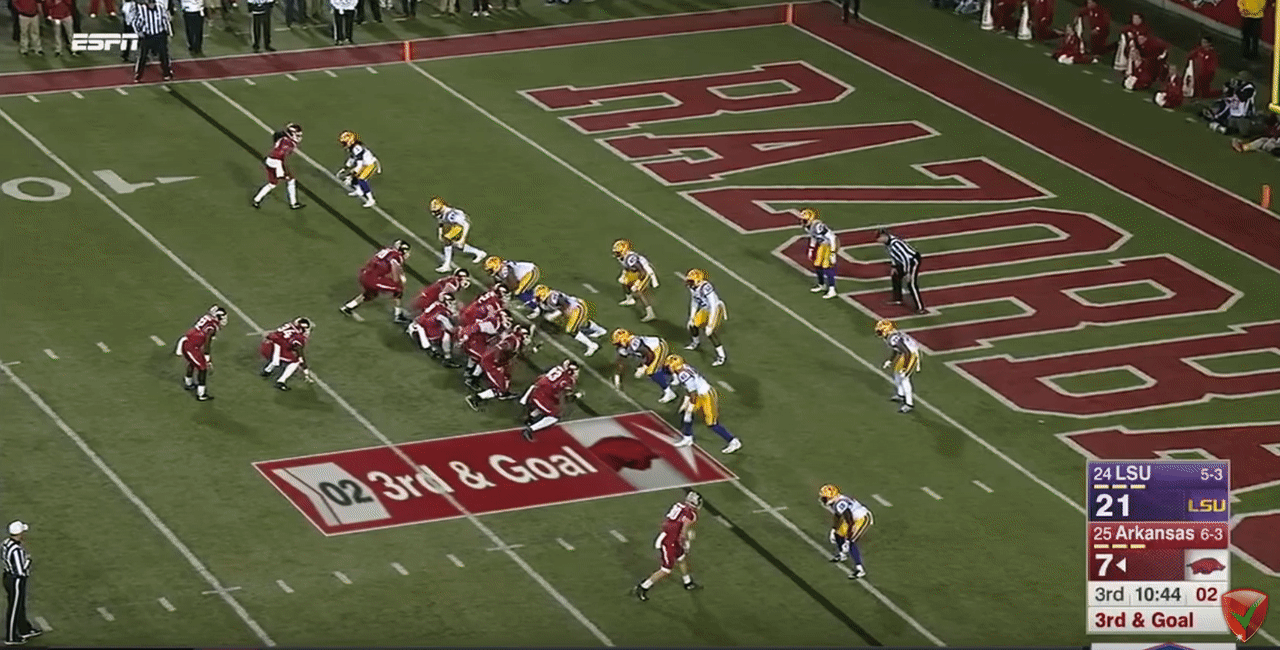 If Key doesn't jump up and bat that ball away, I think that's a touchdown. Donte Jackson was recovering quick, and there's a chance he gets a hand on the ball. But that pass was thrown high, and Jackson's momentum was carrying him downward, so I think the receiver high-points that pass for a touchdown.
But the argument is null. Because Key is a freak. Don't forget how important this play was. An 11-point lead on the road is comfortable. A 7-point on the road can disappear in an instant.
An argument against the base defense
LSU lines up in its base 3-4 defense so rarely that it's a bit of a misnomer to even refer to it as the Tigers' "base" defense. Since LSU plays so many spread offenses, the defense lines up in various nickel packages far more frequently than it shows off its central look.
As Ed Orgeron preaches, the Tigers will line up in a base defense only when the opposing offense shows a conventional look, usually a pro-style formation.
Take this play that Arkansas ran in the second quarter, for example.
Arkansas is lined up in a "pro set" with two running backs split behind the quarterback, who stands under center. LSU counters this look with a base 3-4 defense. Because of this, Arkansas has no need to deviate from its plan; this is the look it practiced against all week and that many of its players have been going against since middle school.
The Hogs motion their receiver across the formation. This draws Tre'Davious White into the box, since there's no one outside to cover. On the snap of the ball, the left tackle reaches out and turns Arden Key inside, creating an edge. The running back nearest to the sideline steps up and leads downfield, sealing off an out-of-position White.
Now, running back Devwah Whaley only has one man to beat. It's Jamal Adams, so it wasn't a touchdown, but it was still a 34-yard gain.
I'm not saying that if LSU were in its nickel set that the play could've been prevented. But I do believe the Tigers would have been better equipped to deal with that play and a couple of Arkansas' other big gains had Adams had the freedom to roam and be a playmaker he's afforded in the nickel.
In the base defense, it's easy to run away from Adams. The field is symmetrical. Pick the other side. In a nickel, it's harder to make that choice. And that's where Adams thrives.
Three observations for the road:
Before we finish up this week's film review, here are three things I noticed from reviewing the tape that I thought were interesting.
I wonder if D.J. Chark is still dealing with a finger injury. He was wearing a finger splint all week leading up to the game and he wasn't much of a factor in the LSU game plan, touching the ball only once. In fact, LSU ran the jet sweep play that Chark has been so successful with this year, but gave the ball to Travin Dural. If his injury is still lingering, that might be a bad sign moving forward.
White really shouldn't be returning punts. You and I both know that. What makes him such a liability though isn't even his muffs. Those happen to a lot of college punt returners. The problem to me is that he doesn't seem to have a good grasp of where he should catch the ball. He almost always catches the punt with the ball behind his body, forcing his first step to be backward. That's why he loses yardage so often. He returns punts like a center fielder shags fly balls. Not a good plan.
This gif is fun. You should watch it a lot.