Bayou Bengal Briefing: What LSU needs to do against Florida's defense
BATON ROUGE, La. — If the LSU offense wants to have any success against Florida's vaunted secondary this Saturday, it's going to have to be able to use the middle of the field.
Depending on what metric you're looking at, Florida ranks anywhere from the best to the fourth-best pass defense in the country. No team has allowed fewer completed passes or a worse completion percentage than the Gators. Only Ohio State allows a lower passer rating. Only Michigan has allowed fewer passing yards. LSU, Wisconsin and Georgia State are the only teams that have allowed fewer passing touchdowns.
But as any good football coach or bad military general would tell you, no great defense comes without a hole. Before we get to Florida's flaw, though, let's take a look at the sort of thing you want to avoid doing.
Gators DB Quincy Wilson is a stud. He's the kind of guy who makes quarterbacks regret throwing the ball every time they try to pick on him. And when opposing quarterbacks throw against him down the sideline, it's a zero-sum game. Almost literally.
But the secret to beating Florida through the air isn't just throwing away from Wilson. There's a hole. But it's not where he's not. It's the middle of the field.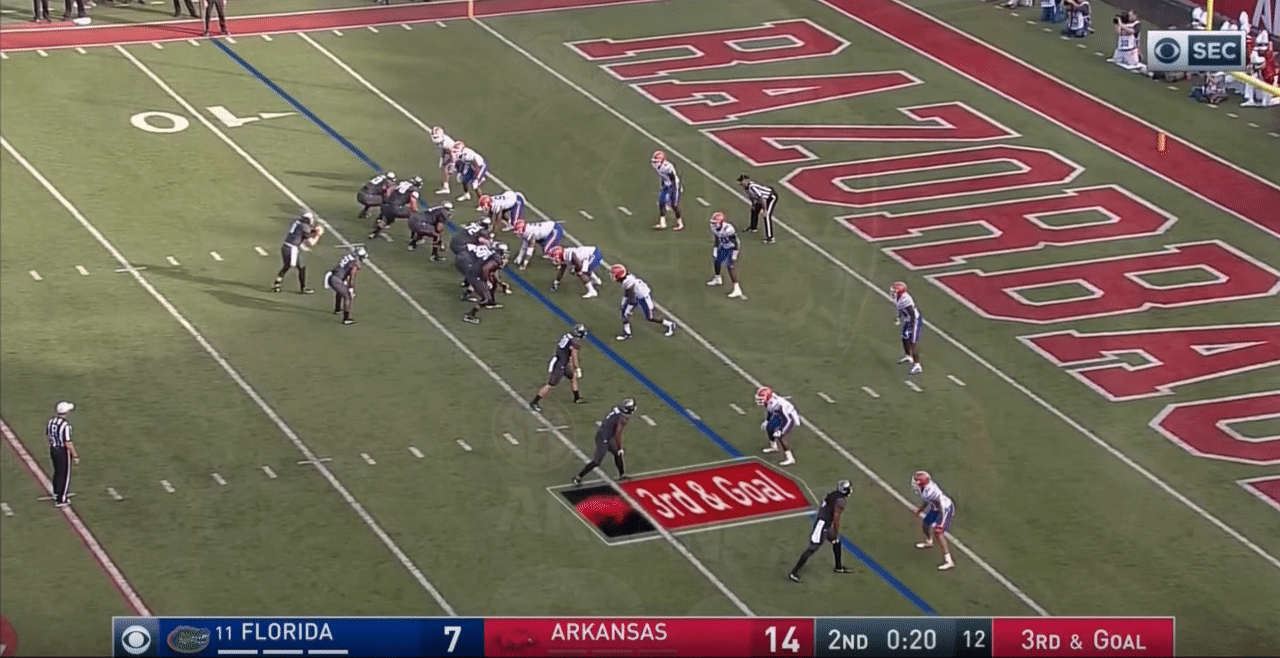 This play highlights a softness in the interior of Florida's zone. But it'd be a misnomer to look at one poorly executed play and call it a weakness. So, let's look at one more from later in the game: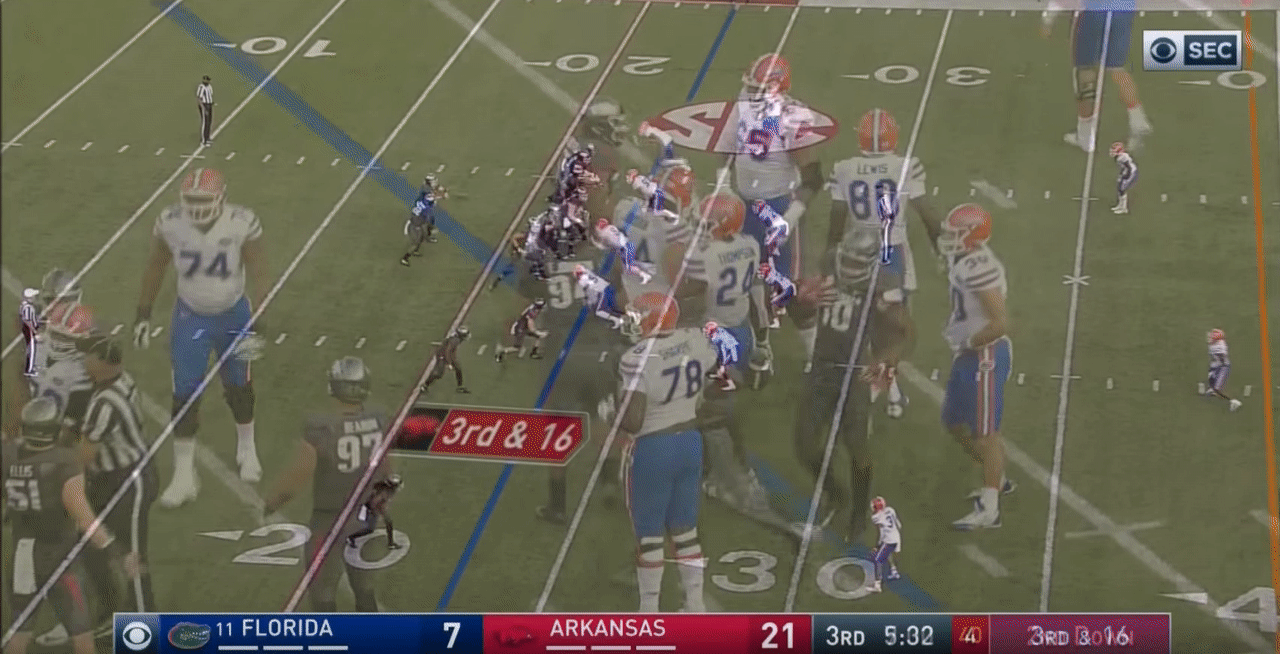 All right. Now that we have two examples, let's call it a trend.
Outside of the fact that both of these completions came over the middle, what's do they have in common? That's right, astute observer. Both of these conversions came on third down. In Florida's seven wins this season, its opponents converted on 21 percent of their third downs. In two losses, that rate doubled to 42 percent.
The key to beating Florida comes in exploiting the middle of the field, and it helps if you can do so on third down. It's a small and specific flaw. But LSU has a track record of exploiting at least half of it.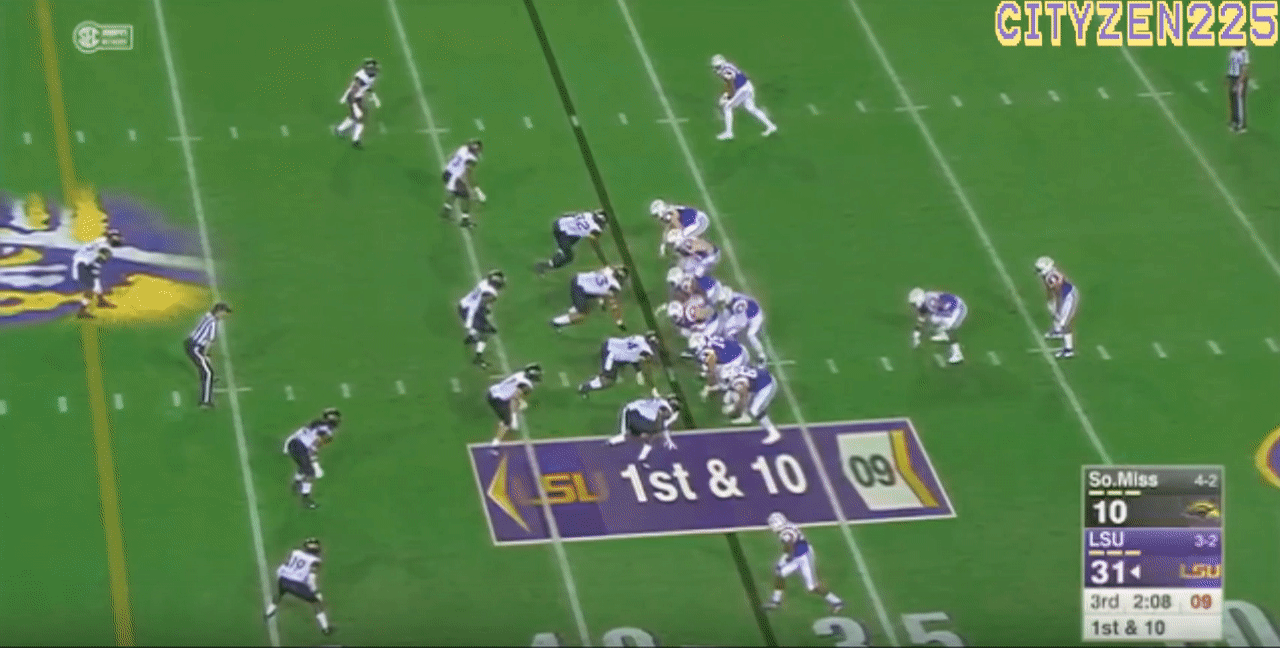 Four Friday feelings
With all due respect to joy, empathy is the best emotion. There's no better feeling than feeling what other people feel. So, in the spirit of empathy, here's how I think some LSU football players are feeling in advance of Saturday's big game:
Danny Etling is feeling … like it's 2015 all over again
The LSU quarterback is about to go toe to toe with one of the best secondaries on the planet. Or, as he would describe it, what he did for a year as LSU's scout team quarterback. Seriously, is anyone more prepared to throw on a gifted secondary than the guy who practiced against Tre'Davious White and Jamal Adams and the gang for a year?
Leonard Fournette is feeling … like he's wearing 'graduation goggles'
To borrow a term from How I Met Your Mother, wearing "graduation goggles" is the phenomenon one feels when something is about to come to a rightful end, but you can't help but remember the good times. Like, you know how you hated going to high school every day, but you were still sad when it ended?
That's how I imagine Fournette must be feeling heading into his last game at Tiger Stadium. He obviously didn't hate being at LSU. But he knows the smart thing to do is to move on to the NFL. Yet, he's still conflicted. The memories will all come rushing back Saturday. Cue the Sarah McLachlan song.
Arden Key is feeling … like he's got a target on his back
Key said some stuff he probably shouldn't have earlier in the week. Florida players took notice.
For a man who said he's gunning for three sacks, making yourself Public Enemy No. 1 isn't the best plan to stay inconspicuous. Now, Key is going to have fight through the ire of Florida's blockers every play. Not a good plan, Arden. Not a good plan.
Tre'Davious White is feeling … the heat
White had the worst game of his season against Arkansas. He allowed a long touchdown, he muffed a punt and he just altogether looked bad.
So, what's he got this week? He'll be matched up with extremely gifted wideout Antonio Callaway. He'll still be returning punts, where he's not particularly killing it. And he'll be compared against Wilson and the Florida secondary and their greatness.
It's said that great competitors prove their worth when their backs are against the wall. Well, White's back is against the wall. You better hope he doesn't scrape it up.
This week in Tom Herman news
Before Ed Orgeron emerged as a legitimate candidate for the LSU coaching position, Houston coach Tom Herman was seen as the odds-on favorite to replace Les Miles.
But then Orgeron started winning and Herman started losing. Not losing often, mind you. His Houston Cougars just didn't go undefeated like it looked like they would.
But Thursday night, Herman showed his coaching value and re-commodified himself in a big way.
Facing off against Heisman Trophy frontrunner Lamar Jackson and No. 5 Louisville, Herman's Cougars earned their second top-5 win of the season, crushing the Cardinals, 36-10.
People might have been down on Herman because of his team's losses to Navy and SMU, but this win skyrockets him back to No. 1 on the list of sought-after coaching candidates at most major programs looking for a change.
But would LSU come after Herman? That's the real question. Here are my thoughts:
There's only one way LSU makes a serious play at Herman. First, Jimbo Fisher would have to unequivocally turn down the position. He's the only reasonable option who could get the job over Orgeron regardless of how the rest of the season shakes out.
Second, Orgeron needs to lose. It's going to be hard for LSU to validate making a change from a guy who showed he's capable of leading a successful SEC team for a guy who has only experienced success as a head coach outside the Power 5.
He's a fantastic third option. But I think that's where he shakes out right now.
LSU in the NBA
The NFL isn't the only pro sports league where LSU is well-represented. The Tigers have eight players in the NBA right now, one of which is on injured reserve. Here's a rundown of how the other seven are doing about one month into the season:
| | | | | | |
| --- | --- | --- | --- | --- | --- |
| Player | Games Played | Points Per Game | Rebounds Per Game | Assists Per Game | Player Efficiency Rating |
| Brandon Bass (LAC) | 7 | 4.4 | 2.0 | 0.4 | 16.8 |
| Jordan Mickey (BOS) | 7 | 2.6 | 2.0 | 0.4 | 7.7 |
| Garrett Temple (SAC) | 12 | 5.5 | 2.4 | 2.0 | 12.9 |
| Justin Hamilton (BKN) | 11 | 8.8 | 5.1 | 0.7 | 15.2 |
| Marcus Thornton (WAS) | 10 | 7.9 | 2.7 | 1.7 | 9.3 |
| Jarell Martin (MEM) | 10 | 4.6 | 3.0 | 0.1 | 7.6 |
| Tim Quarterman (POR) | 2 | 2.0 | 0.5 | 1.0 | 27.6 |
Your nonrevenue sports update
Football isn't the only LSU sport that'll be in the spotlight this weekend. Beginning Thursday night and extending through Sunday, plenty is scheduled to happen. Here's a rundown:
Starting with a team you can probably name some of their players, the men's basketball team hosts North Florida tonight. If that team sounds familiar to you, it's because it should. North Florida gave LSU all it could handle last year, as the Tigers barely escaped with a 119-108 win.
The swimming and diving teams are entrenched in three-day meets that began Thursday night. Half the team is in Mansfield, Texas, at the Art Adamson Invitational and the other half is in Columbia, Miss., at the Missouri Diving Invite.
The volleyball team takes an SEC road trip this weekend, spending Friday night in Lexington for a matchup against No. 23 Kentucky and Sunday afternoon in Knoxville to face off against Tennessee.
And, with all due respect to the football team, the women's basketball team faces the toughest task of the weekend. By far. The unbeaten (3-0) Lady Tigers host a team with a much longer winning streak, the No. 3 UConn Huskies. The Huskies have won 77 games in a row, which is a lot. The two teams played in Connecticut last year and the Huskies won, 86-40.
Imagining the Monday morning water cooler
I don't know if people still spend their workdays chatting around the water cooler. I don't have an office to go to, so I can't say. But I like to imagine that's still a thing.
Assuming it is, here are three best-case scenario and three worst-case scenario conversation starters you can use around the ol' water cooler Monday morning.
Third-best case:
"That was a good win, right?" I'm glad the LSU offense is looking good again.
Third-worst case:
"I can't believe Florida blew out LSU, can you?"
Second-best case:
"Man, can you believe Joe Alleva hired Ed Orgeron full time after that win? I was sure he was going to wait until the season was over."
Second-worst case:
"I thought LSU was supposed to be a defensive team. How'd it allow Florida, of all teams, to put up that many points?"
Best case:
"Man, can you believe Leonard Fournette ran for 300 yards and declared he'll be coming back next year? And the NCAA overturned the Auburn loss! We're going to the playoffs!
Worst case:
How does a team blow a 21-point fourth quarter lead? And why did Ed Orgeron think it was a good idea to start his wife at quarterback? And why did Derrius Guice dress up as the mascot instead of playing in the game? That made no sense.
OK. So, those last two probably aren't going to happen. But that would be some fun water cooler talk.