Bayou Bengal Briefing: Where LSU ranks among the top 2-loss teams in the FBS
BATON ROUGE, La. — To the surprise of  no one, if the season ended today the LSU Tigers would not be in the College Football Playoff.
The selection committee released its first Top 25 rankings Tuesday night, slotting the Tiger at No. 13 behind fellow SEC foes Alabama (No. 1), Texas A&M (No. 4), Auburn (No. 9) and Florida (No. 11).
As I discussed in yesterday's Bayou Bengal Briefing, if the selection committee made its decisions based on potential wins, LSU would have been the top two-loss team in the country. But, sadly for LSU fans, the past matters. Which is why LSU ranks 13th, and more importantly, fourth among two-loss teams.
But who do I think is the best two-loss team in the country? Why, I'm glad you asked.
Here's my quick list of the top 10 two-loss teams in the FBS, a couple of whom LSU would badly like to see lose:
No. 10: North Carolina (CFP Rank: 21)
In any other year, beating Florida State and a close loss to Georgia would have you in the top 10.
No. 9: Virginia Tech (CFP Rank: 19)
UNC has a better resume than Virginia Tech, except Virginia Tech beat the Tar Heels head-to-head.
No. 8: Colorado (CFP Rank: 15)
Losses to Michigan and USC are respectable, but road wins at Stanford and Oregon aren't what they used to be.
No. 7: Oklahoma State (CFP Rank: 18)
We all know Oklahoma State should really only have one loss, but I'm taking points off for even being that close to Central Michigan in the first place.
No. 6: Penn State (CFP Rank: 12)
Everyone wants to talk about the win over Ohio State, but what about the narrow escapes against Temple and Minnesota?
No. 5: Utah (CFP Rank: 16)
Utah looked really good in a loss to a high-quality Washington team, but the Utes lack a signature win.
No. 4: LSU (CFP Rank: 13)
The Tigers have looked great since Ed Orgeron took over, but it's been against some pretty shoddy competition.
No. 3: Oklahoma (CFP Rank: 14)
The Houston loss doesn't look as permissible now, but the Oklahoma offense has been nothing short of spectacular, putting up at least 38 points in all its wins.
No. 2: Auburn (CFP Rank: 9)
With losses to No. 2 Clemson and No. 4 Texas A&M, a win over LSU and blowout wins over Arkansas and Ole Miss, Auburn's resume is as good as any two-loss team out there.
No. 1: Wisconsin (CFP Rank: 8)
Wisconsin's schedule has been beastly, but the Badgers have come out with wins over No. 13 LSU and No. 10 Nebraska, plus additional wins against Michigan State and Iowa. And they lost to Michigan and Ohio State by a combined 13 points. If any two-loss team has a clear path to the playoff, it's this one.
That's my opinion. Disagree? Yell at me in the comments.
Wide receiver Wednesday
It's Wednesday. On Wednesday I talk about wide receivers.
Today's Topic: Alabama WR Calvin Ridley
Some wide receivers beat you on "wow" plays once or twice a game. Some wear you down with sheer consistency. Consider Ridley to be one of the latter.
Ridley leads the Crimson Tide in receptions with 44, 16 more than anyone else. But he only leads the team in receiving yards by 25 thanks to his less-than-impressive yards per reception mark of 11.30. (Of SEC players who average two or more catches per game, Ridley's YPC ranks 33rd in the conference.)
So what makes Ridley so dangerous? He's scored six touchdowns this season, and seven last year, so he's obviously a talented player. Well, his effectiveness lies in his spatial awareness.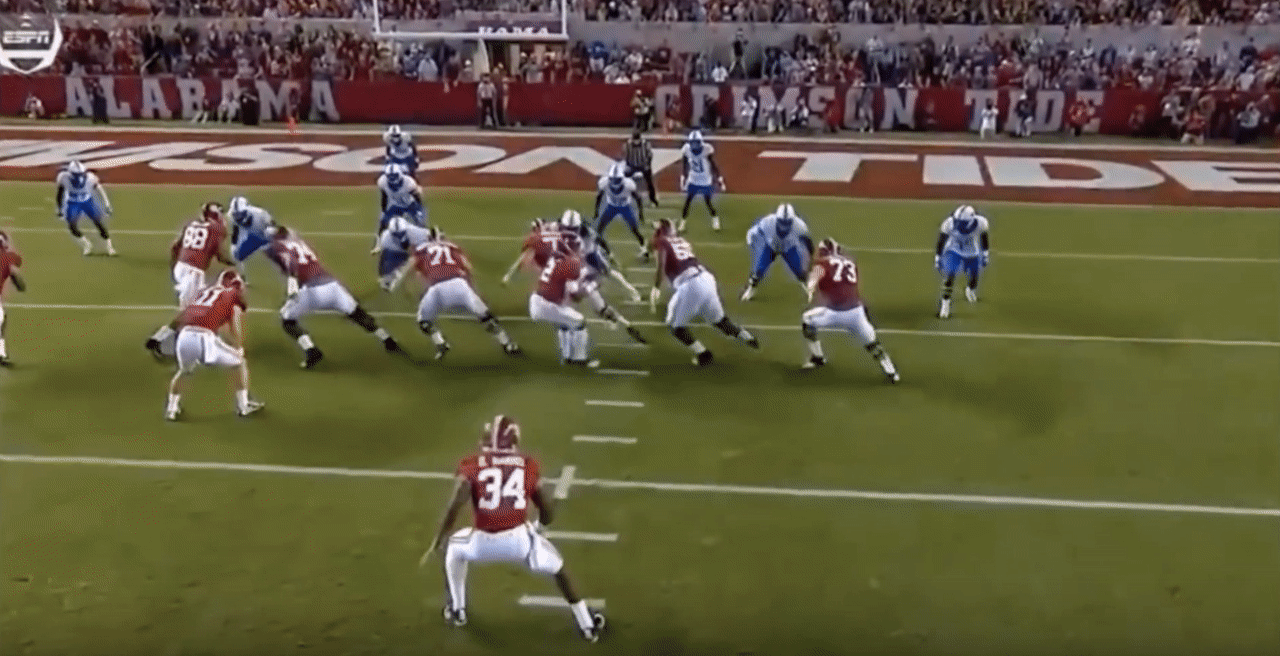 Like Oakland Raiders receiver Amari Cooper before him at Alabama, Ridley is spectacular in space. As you can see in that gif, Ridley has a knack for finding soft spots in coverages where defenders aren't. And this isn't just one play. Ridley thrives against soft zones, serving as a safety blanket for a true freshman quarterback who occasionally needs to be bailed out when plays break down.
But don't slap a "possession receiver" tag on Ridley quite yet. No. 3 can blaze when he's asked to. Especially when teams line up in man-to-man coverage against him, he's not afraid to go 40 yards deep on a fly route and challenge a DB for a jump ball.
That said, Ridley and quarterback Jalen Hurts haven't faced a secondary quite like LSU's. The LSU defensive backfield held the leading receivers on Wisconsin, Missouri and Ole Miss to a combined six catches for 42 yards, which would be a disappointing single game for any of those receivers.
Expect a lot single coverage down the sideline from Tre'Davious White and Donte Jackson. They probably won't have much help from safety extraordinaire Jamal Adams, because he'll probably be caught up in covering O.J. Howard (more on him tomorrow).
On coaches of LSU's past …
Pete Thamel of Sports Illustrated's Campus Rush conducted an interview with former LSU coach Les Miles on Monday night in which Miles revealed that he thinks he has 10-12 more years of quality head coaching in him.
While Miles hasn't done a good job of hiding his desperation — he wants to coach again as soon as possible — he also doesn't want to settle for just any job. He said he wants to be in a position where he can win his conference and contend for national titles.
With that in mind, here are five options for teams that Miles might be able to take over and succeed as their next coach:
Oregon
Nothing says "open offense" quite like the wild spread out in Eugene. The Ducks still have the talent to win the Pac-12, but Mark Helfrich's time at the school looks like its about to run out. Outside the bright lights of the SEC, there's a chance Miles could thrive out West.
Baylor
Sticking with the green motif, Baylor is an intriguing option for Miles. His name has been connected to the school almost as long as he's been a free-agent coach, and the Thamel piece said that Miles has been studying Baylor's offense in his off time. And if there's anything we know about the Big 12, it's that it's usually winnable.
Arizona
The Wildcats are only two years removed from a 10-win season, but at 2-6 with five-straight losses, Rich Rodriguez is probably on his way out. RichRod loves running the ball, so Miles should have the right kind of personnel to run a more spread version of his run-based attack already in place.
Notre Dame
There's no conference to win at Notre Dame, but if the job opened up in South Bend, Miles would be silly not to accept an offer. Sure, it's harder to recruit athletes to play at an academically strict Catholic school than an SEC powerhouse, but Miles' offense would fit right in with the Fighting Irish's current personnel.
Tennessee
The way things have been going in Knoxville, Butch Jones might want to catch the first train out before that fan base crucifies him the same way LSU's did Miles. But what better place is there to step in and contend than Tennessee right now? The SEC East is wide open and the Vols have talent all over the field. They just need to put it all together. Enter Miles.
… and coaches of LSU's future
SB Nation's Steven Godfrey reported Tuesday what we've all come to believe: Ed Orgeron is the leading candidate to be Miles' replacement, but LSU has a few backup plans.
By Godfrey's assessment, the four leading candidates after Orgeron are:
Florida State coach Jimbo Fisher
Houston coach Tom Herman
UCLA coach Jim Mora Jr.
West Virginia coach Dana Holgorsen
Unless you're new to the Briefing, you know what's coming next. Here's a poll. Which of those four candidates would you like to be LSU's next coach? Results will be posted in tomorrow's Briefing.
Create your own user feedback survey
Caption contest
In yesterday's Briefing, I gave you a photo. It was your job to caption it. Plenty of you participated in the game. Here are some of my favorite answers. (I took some creative liberties with grammar for the sake of clarity.)
"If I get one more pass interference call, Coach O is gonna duct tape my hands to my side!" — Hector Soto
"Fournette really just trucked that man like that? Did you see that?" — LaRob Sculpture Terrell
"What would the Badger do?" — Mike Roach
"Hey, where's the love?" — Melanie Corbell
"You mean Negan killed Glen AND Abraham?"  — Heath Simpson
And, my personal favorite …
"What did Coach O say???" — Elizabeth Carroll
Thanks for all of you who played along. To participate in future LSU caption contests, be sure to give our Facebook page a like.
Another watch list story
Turns out fullback isn't a totally thankless position.
INBOX: #LSU FB JD Moore nominated for Burlsworth Award. Goes to best player who started career as a walk-on. pic.twitter.com/Llw2mokh4G

— Ross Dellenger (@RossDellenger) November 1, 2016
LSU fullback J.D. Moore was named as a finalist for the Burlsworth Award, an award given out to the nation's premier former walk-on.
The fullback has been a major cog in the LSU offense this year, leading the way for Derrius Guice in Leonard Fournette's absence. Moore missed all but a handful of plays in the Tigers' win over Ole Miss with a stinger, but he's expected to return when the Tigers face off against Alabama on Saturday.
Arbitrary analysis, part 3
In honor of LSU's matchup against Alabama, I've spent this week counting down my five favorite scenes from Forrest Gump, a movie about the University of Alabama's most famous fictional alum.
Monday and Tuesday I revealed my No. 5 and No. 4 picks. Today I'm going to unveil my No. 3. Be sure to follow along with the Briefing on Thursday and Friday for my top 2 picks.
No. 3: The Black Panther Party
I am above all else a sap. If you didn't get that from my ode to Bubba yesterday, you're going to get that today.
As you'll hear me say any time I talk about Forrest Gump, the most impressive thing the movie does is interject humor into tense situations. This scene goes from a lecture to a fistfight to a catchphrase joke in record time. The soundtrack is perfect, with the hot licks of Jimi Hendrix's "Hey Joe" driving the action, and the acting is terrific, with Tom Hanks' elastic face expressing emotion with all the subtlety of an eyebrow raise.
But it's the closing joke that reveals the innocence that makes the movie so great. Forrest understands what he did was wrong in a social setting. So he apologizes, but in the process reduces everything the Black Panthers stand for.
But it's hard to blame Forrest for what he did. He always viewed his purpose in this world as protecting Jenny. Aww, here I go getting sappy again. I promise tomorrow I won't be.
Save
Save