Film room: What went wrong on all 19 of Leonard Fournette's carries against Alabama in 2015
BATON ROUGE, La. — Last year against Alabama, LSU running back Leonard Fournette turned in the worst performance including the numbers 19 and 31 since the actual United States economy in 1931.
Poised to lead the Tigers to an SEC title and himself to a Heisman Trophy victory, Fournette came into the Alabama game last season averaging nearly 200 rushing yards per game. But the Crimson Tide stoned him, holding him to 31 yards on 19 carries, the worst yards-per-carry average of his career.
So what went wrong? Was Fournette missing holes? Did his offensive line give out? Was LSU's play-calling too predictable? Or did Alabama simply outplay LSU?
In reality, the answer is all of those. In today's film study, we're going to take a look at all 19 of Fournette's carries from last year's game to analyze why they broke down, and what LSU needs to do to fix it this year.
Play 1: Fournette rushes left for 2 yards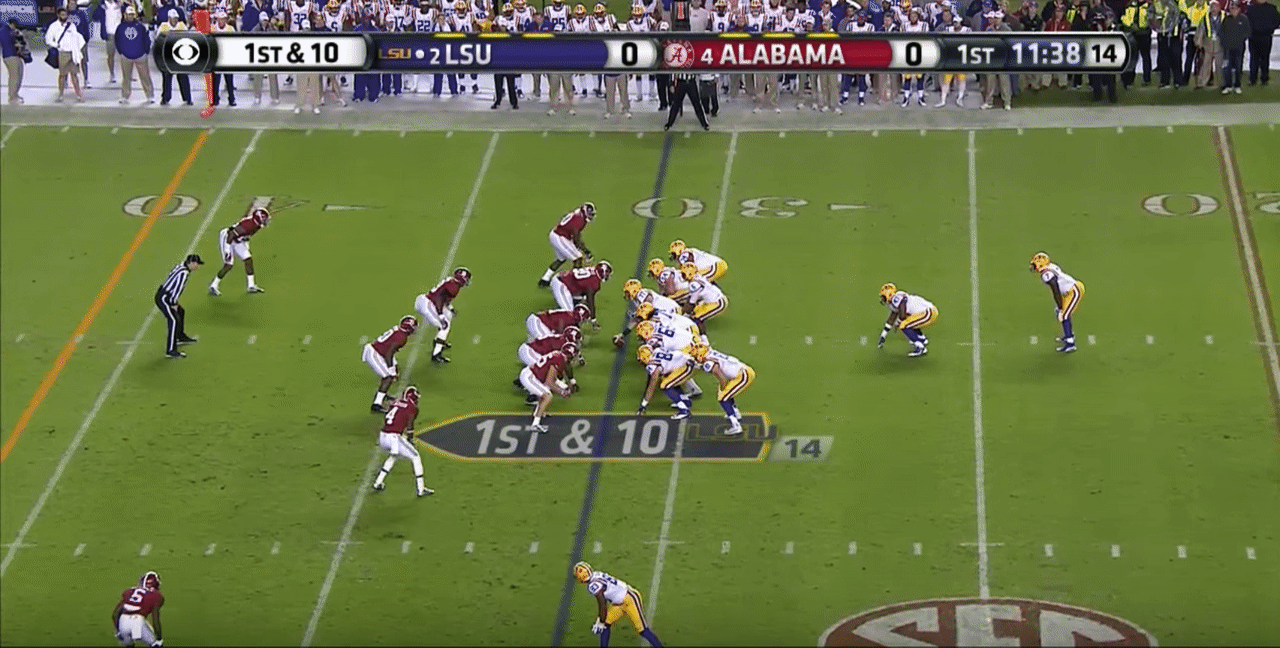 LSU lined up this play in an I-Formation with two tight ends staggered on the strong side. Quarterback Brandon Harris tossed to Fournette, who followed both tight ends, as well as his fullback, to the left side of the field.
What went wrong: Thanks to a strong push by the Alabama defensive line, Fournette had to bounce outside the tackle box. That same defensive push also prevented LSU's offensive linemen to get to the second level, leaving Alabama's linebackers unblocked and free to scrape across the formation, following Fournette and tracking him down along the sideline, stopping him for a 2-yard gain.
Play 2: Fournette rushes right for 1 yard
From a more conventional I-Formation, followed a fullback lead off-tackle to the right.
What went wrong: Every offensive lineman fought an Alabama defender to a stalemate, which isn't necessarily a bad thing. A crease was there for Fournette to wiggle through, but linebacker Reuben Foster (10) found that crease and blew up fullback Bry'Kiethon Mouton in the hole. This rendered Fournette immobile and subjected him to a herd of Alabama big men. There was no escaping.
Play 3: Fournette rushes left for a 5-yard loss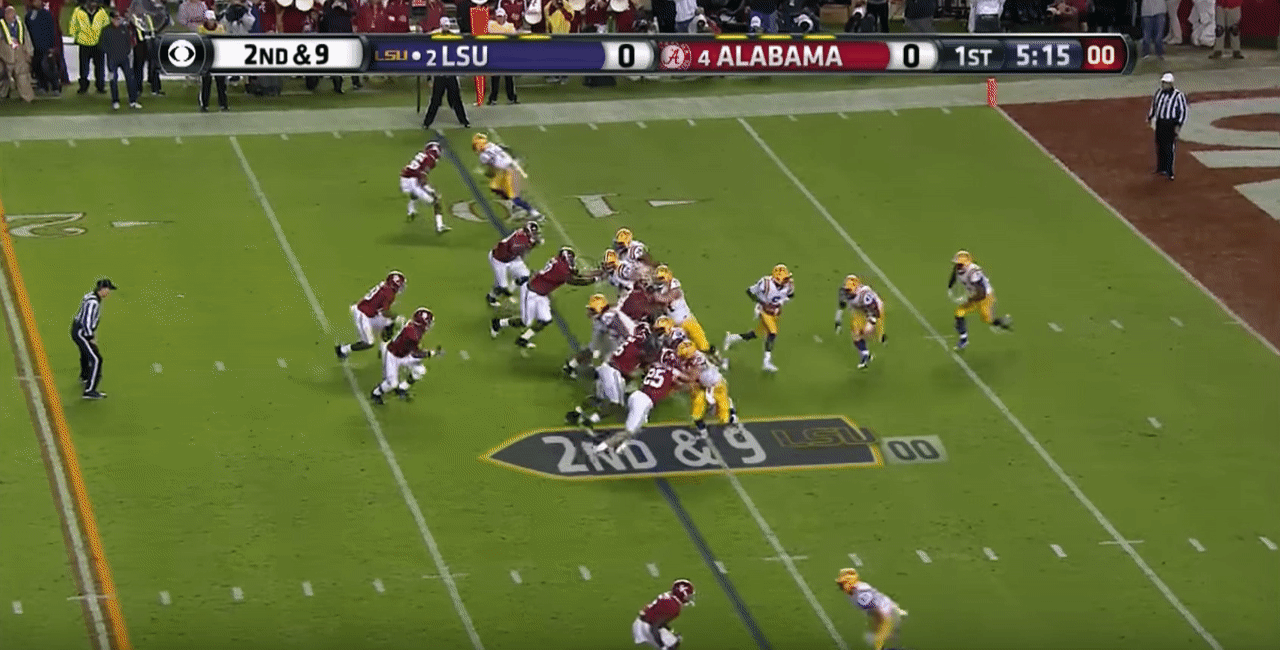 Another set of downs, another I-Formation. This time a basic I on 2nd and 9 backed up deep in LSU's territory.
What went wrong: This looks like it was the play where Fournette started to sense he was in for a long night. The penetration up the middle was immediate. Center Ethan Pocic got pushed back two yards before LSU's wide receivers even got off the ball. Fournette wanted to follow Mouton up the middle, but there wasn't a hole. So he improvised. Instead of taking a 3-yard loss, Fournette bounced and wiggled and shimmied and changed his direction three times. And what did he get? a 5-yard loss.
Play 4: Fournette rushes up the middle for 4 yards
On this 1st and 10, LSU lined up in a spread power set, with two tight ends and a fullback, but from the shotgun to create space. Fournette comes across the formation to corral the handoff, a play that LSU ran a lot in this game, but rarely worked.
What went wrong? J.D. Moore missed a block. Linebacker Reggie Ragland (19) gave the LSU fullback the ol' matador move and Moore ran straight through the sheet, face-planting and leaving Ragland in the hole to engage Fournette. Had Moore made his block, this probably would've been a big play, given that it would've set Fournette up one-on-one with a safety in the open field. It probably wouldn't have been a touchdown, but a first down isn't out of the question.
Play 5: Fournette carries right for 3 yards
It's the next play, so LSU decides the run the same play, just the opposite way. What could go wrong?
What went wrong: Nothing. There's nothing wrong with a 3-yard gain on 2nd and 6. Both teams did what they wanted. Chock that play up as a stalemate and move on.
Play 6: Fournette rushes right for 1 yard
In lieu of a gif, here's a diagram.
What went wrong: Announcers throw around the term "stacking the box" a lot without explaining what they mean. Here it is. LSU spread out the field, putting three wide receivers on the long side with Fournette and Harris side-by-side in the shotgun. This left only six men to block for Fournette: five offensive lineman and a tight end. But Alabama kept an extra safety in the box, leaving six men to block seven players.
All six of LSU's blockers, to their credit, do the right thing. Every block was held well and Fournette had the opportunity to hit a clean hole. But so did Alabama's safety. Right about at that point where the purple and yellow arrows converge, the Alabama defender blew up Fournette, closing the hole and thwarting what could've been a huge gain for LSU had Alabama respected the Tigers' pass attack.
Play 7: Fournette carries up the middle for 4 yards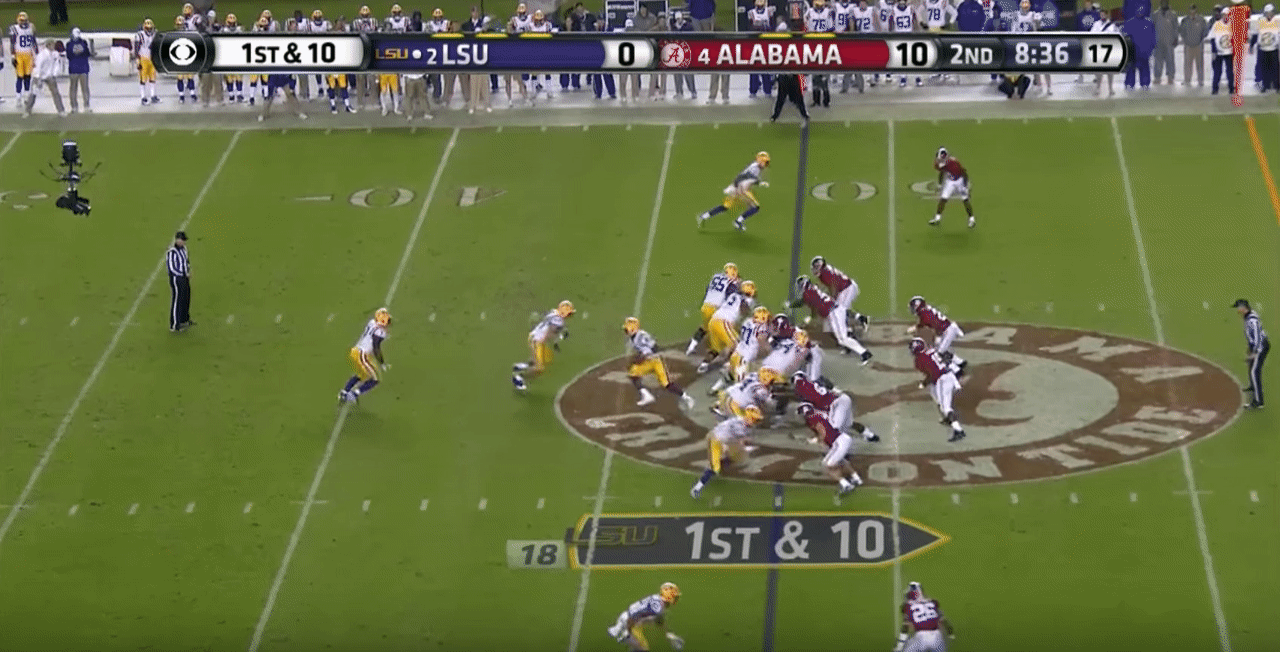 1st and 10. LSU's got great field position. Time for another I-Formation dive.
What went wrong: There are a couple of different ways you can interpret what went wrong here. Most would point out that tight end Colin Jeter (81) couldn't handle linebacker Dillon Lee (25). There was a hole, and Lee clogged it. But I contend something different. I think Fournette chose the wrong hole.
It's called a fullback lead for a reason. The fullback leads. And Fournette didn't follow Moore's lead. He chose a different hole. And Moore just so happened to be blocking Ragland straight into the hole Fournette chose. Even if Jeter made his block perfectly, Ragland would've brought him down solo. And that's with Moore making a good block. He did what was called. Fournette was merely a victim of his own improvisational skills.
Play 8: Fournette goes left for a 2-yard loss
Another play, another I-Formation. But this time, the fullback lead goes weak-side. That's some variation.
What went wrong: Give credit where credit is due. Alabama's defensive line dominated the point of attack. Fournette probably should've bounced the play outside a little sooner, but it would've taken LaDainian Tomlinson type awareness and agility to sense danger that early. There's a reason Alabama wins a lot of games.
Play 9: Fournette rushes left for 1 yard
A toss lead gets the ball in Fournette's hands faster, but it doesn't do much.
What went wrong: The same thing that happened on play six happens on play nine. Alabama's safety crashes the line of scrimmage, impedes Fournette's forward momentum and down goes Leonard. I know it sounds weird to think a safety can tackle Fournette one-on-one, but remember this safety has been running full speed for 20 yards on his way to make a tackle. There's a lot of force behind his legs.
Play 10: Fournette rushes left for 1 yard
1st and 10. You, me and everyone else knows what play this is.
What went wrong: Every single play-side offensive lineman was blown backward at least two yards. And the fullback didn't block anyone. Sometimes plays are easy to diagnose.
Play 11: Fournette rushes right for no gain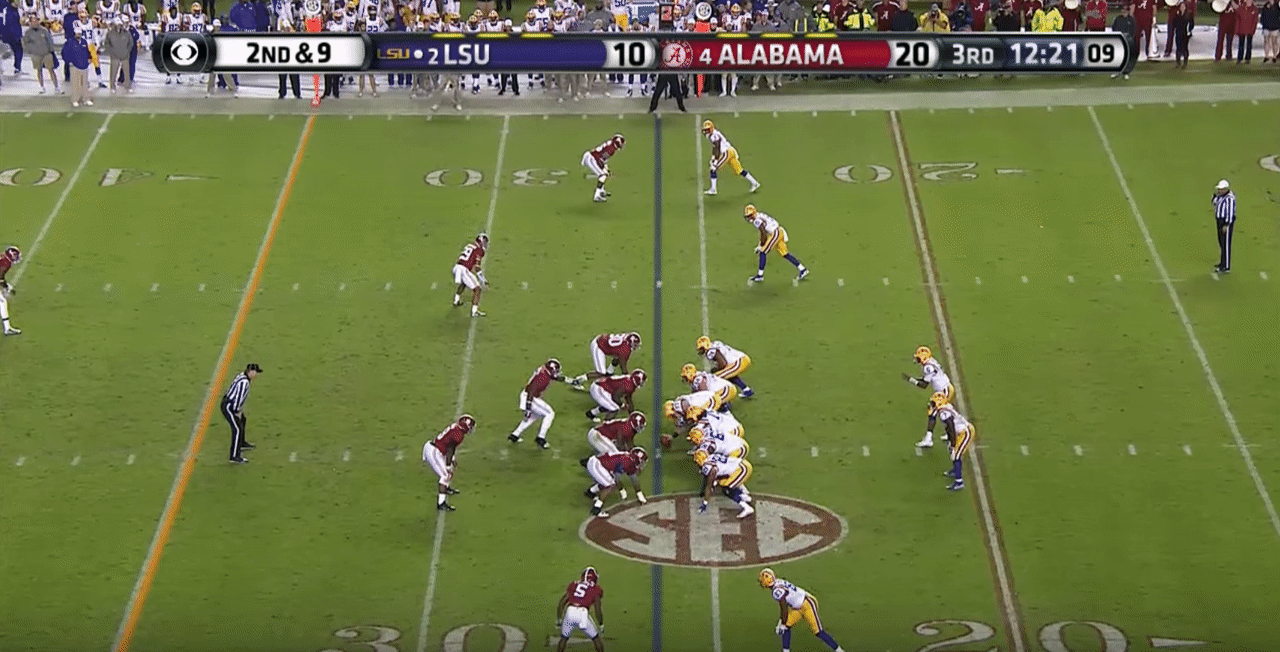 This is probably my favorite play-call of the night, it just didn't work. LSU pulled its center and left guard to the left, hoping to draw attention to the strong side, while Fournette followed the zone to the weak side.
What went wrong: Reuben Foster wasn't fooled by the pulling guards. He knew exactly where Fournette was going and hit him in the backfield for no gain. The design here is smart, but the Alabama defense is too sophisticated to be deceived by misdirection in a blocking scheme.
Play 12: Fournette loses 2 yards on a carry to the right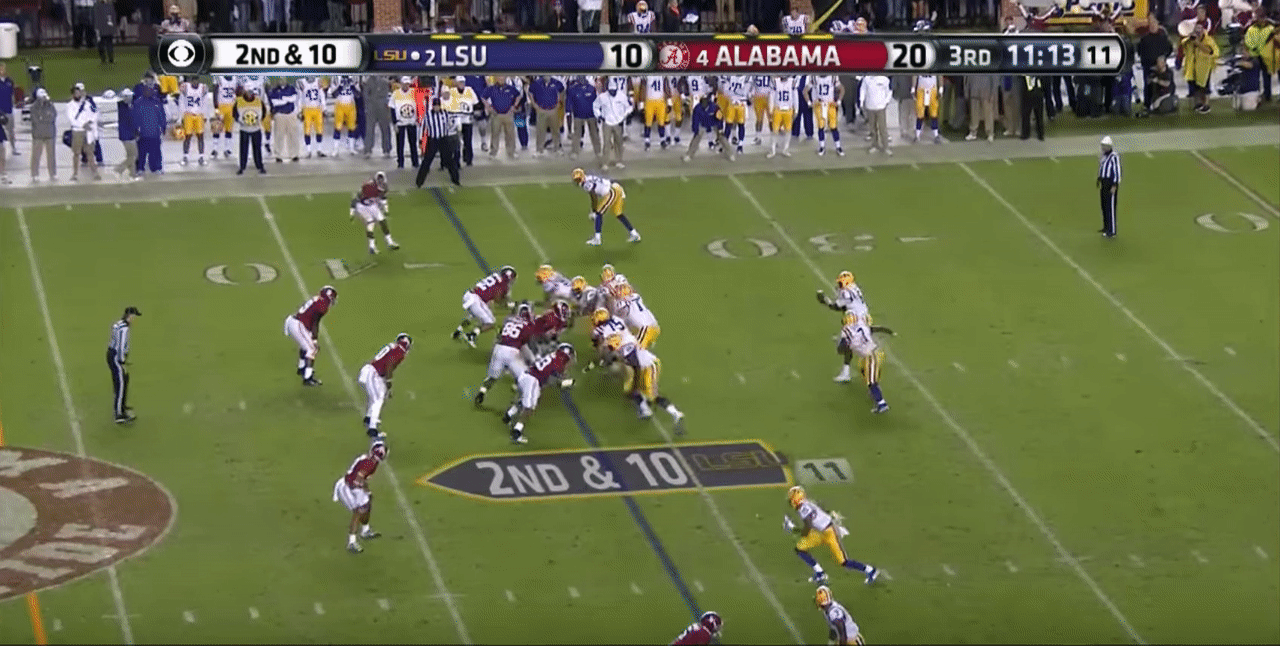 From the shotgun, LSU runs a buck sweep play with two pulling linemen, one to kick out a defender and one to wrap around and create a crease.
What went wrong: A'Shawn Robinson happened. Robinson (86) was arguably Alabama's most gifted defender last year, and he showcased his ability on this play, stunting around a teammate and plugging a hole vacated by the pulling guard. Robinson shot that gap and wrestled Fournette to the ground before he could get going.
Play 13: Fournette rushes to the right for 2 yards
Cam Cameron tries to get Fournette going with a head of steam out of the pistol. Nothing happens.
What went wrong: This is another one of those occasions where the Alabama defense performed well as a unit. Everyone did their job. Fournette had nowhere to go. If anyone should be given props, it's Alabama's Jarran Reed (90), who pushed right guard Will Clapp into Fournette's lap, slamming the hole shot.
Play 14: Fournette carries right for 4 yards
Getting desperate, LSU continues experimenting with spread formations, this time a strong-side trips look from the shotgun. But the Tigers ran that same across-the-formation zone play again.
What went wrong: This play call was as predictable as they come and Alabama knew it. Once again, a safety plugged a hole on an otherwise well-blocked play. If this was the first half or a close game, this play would've been exactly what LSU wanted. But down big in the second half, LSU needed more than four yards.
Play 15: Fournette rushes left, loses 1 yard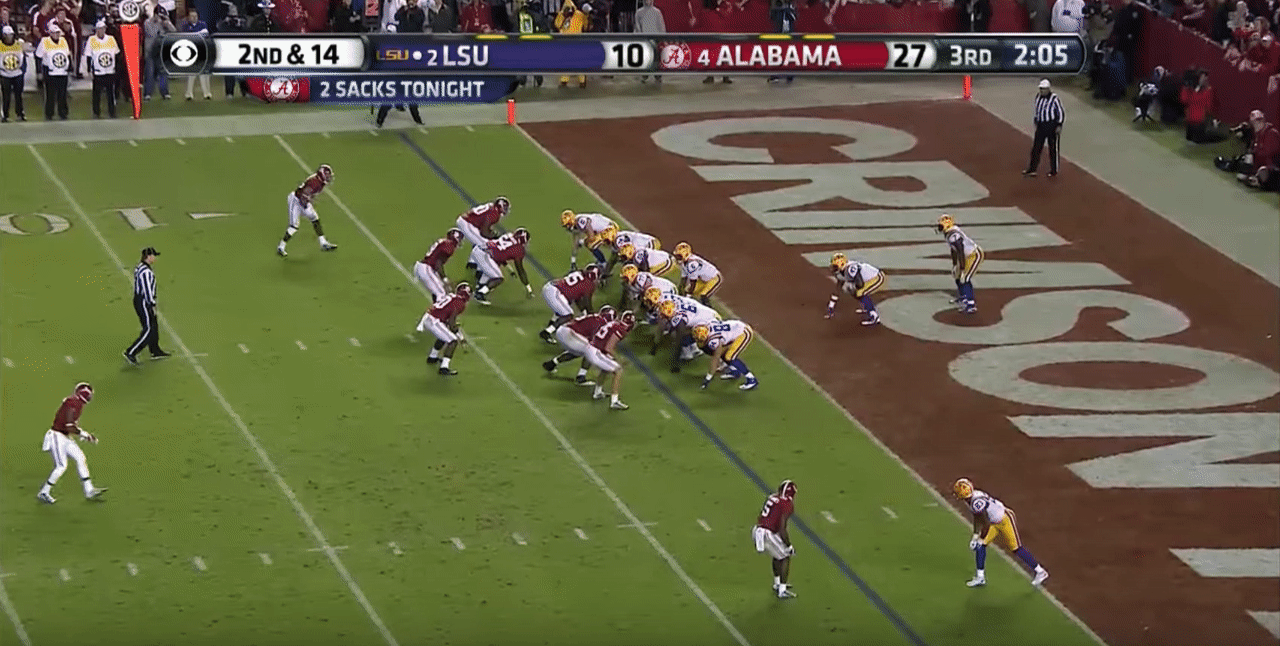 Lined up in their own end zone, the Tigers shocked no one and ran a fullback lead off the left tackle.
What went wrong: Once again, A'Shawn Robinson asserted his dominance. Robinson bullied his way through the offensive line, slung his guard aside like a plush doll being pushed off a child's bed and brought Fournette down by his shoestrings. Had Fournette not tried to bounce this play outside, it likely would've been a safety.
Play 16: Fournette bounces outside for an 18-yard gain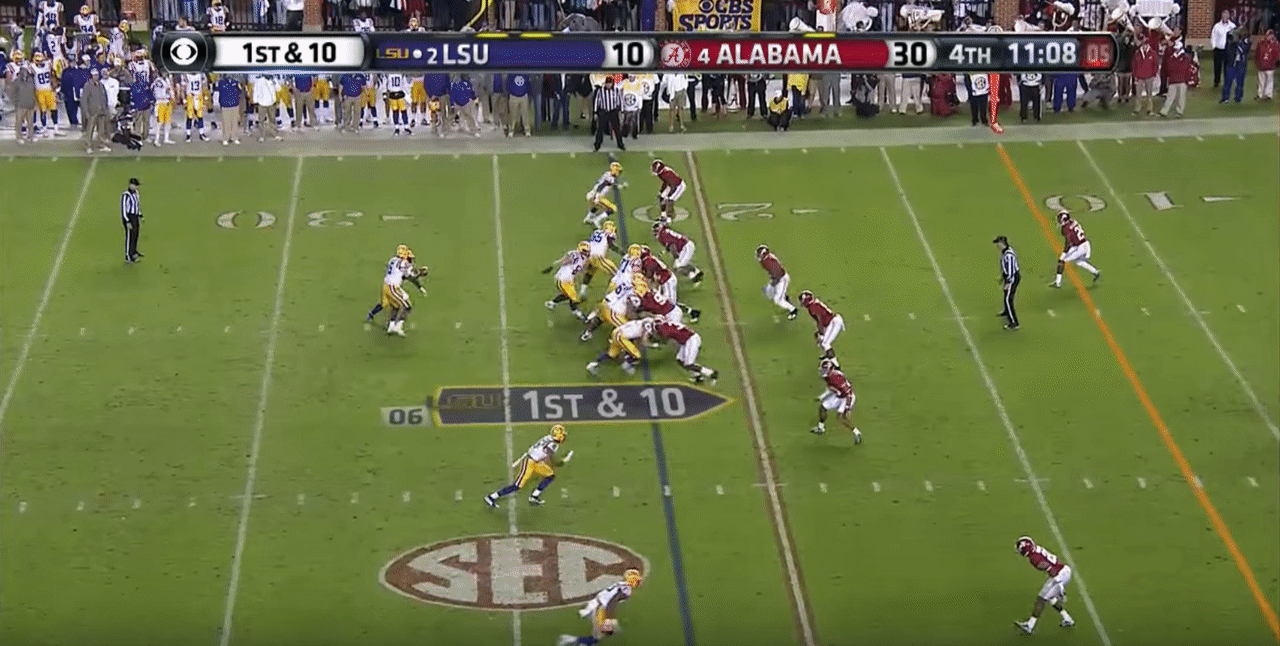 With the ball just outside the red zone, LSU spread out the Alabama defense and Leonard Fournette finally broke one.
What went RIGHT: The formation favored Fournette's play style. The wide receivers were split out to the same side as the tight end, and Fournette ran that way, giving him lead blocking on the line of scrimmage and downfield. The blocking on the offensive line wasn't great, but Fournette's athleticism took over and let him bounce to the outside, where he found daylight down the sideline.
Play 17: Fournette is stuffed for a 1-yard loss
LSU lined up in a goal-line set. So did Alabama. Which big men do you think won?
What went wrong: In a game of strength-versus-strength, Alabama's strength is usually superior. LSU, for some reason, ran that dive-across-the-formation play for the sixth time and a mineshaft worth of Alabama defenders collapsed on Fournette one yard behind the line of scrimmage.
Play 18: Fournette rushes right for 1 yard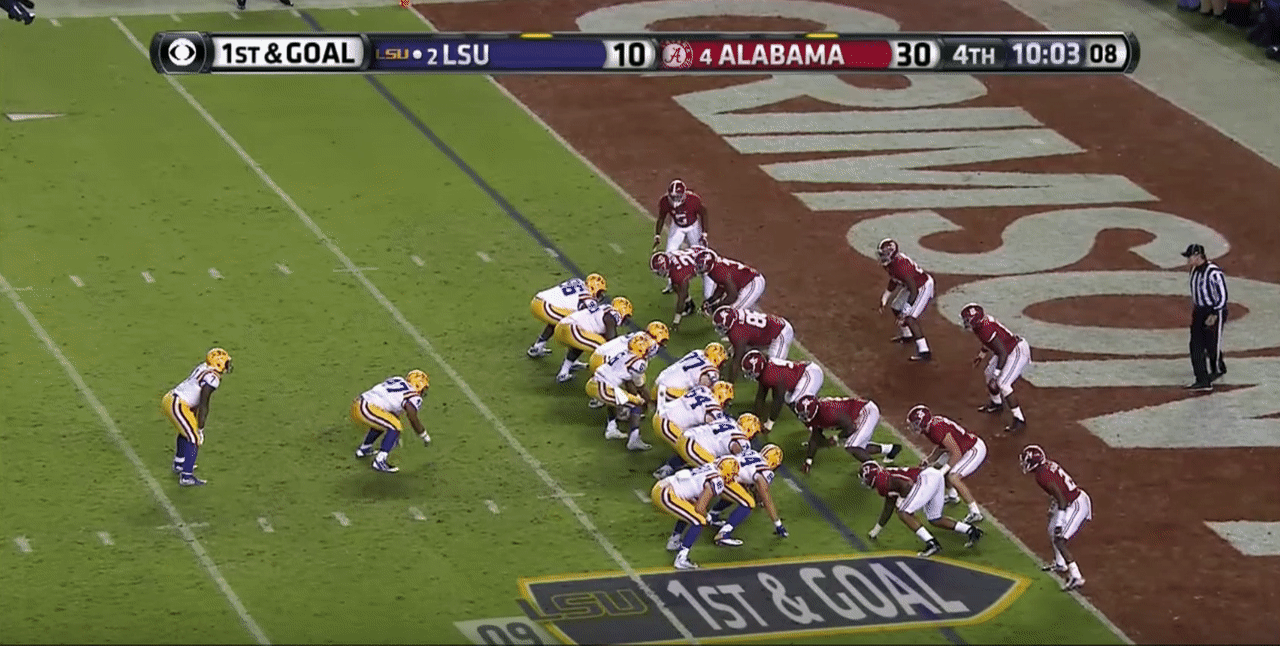 LSU lined up in a goal-line set. Alabama lined up in a goal-line set. Pretty basic Vince Lombardi stuff here.
What went wrong: Leonard Fournette can't jump as high as he thinks he can.
Play 19: Fournette rushes for a 1-yard touchdown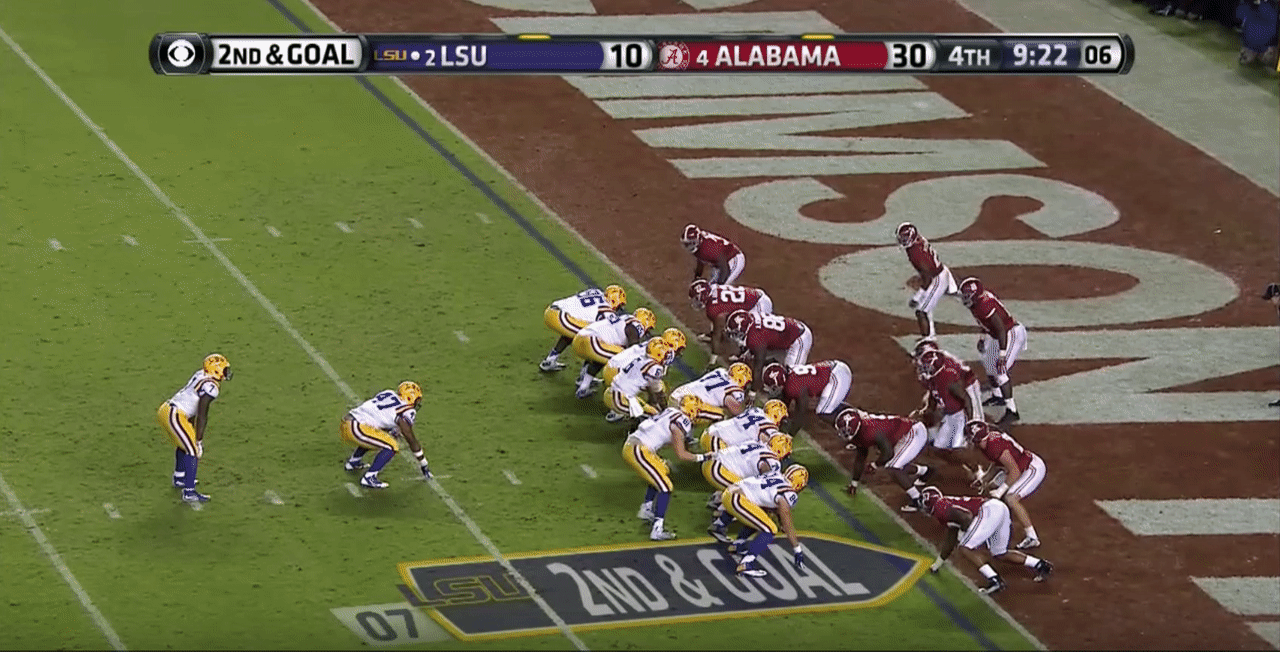 Another big-on-big situation, just this time LSU came out victorious.
What went RIGHT: Leonard Fournette's legs are really strong and he used every ounce of pressure he could muster to drive his way into the end zone. His blocking wasn't great, but it wasn't bad either. This came down to one man willing his way into the end zone to salvage an otherwise mediocre day. Was his day salvaged? No. It was bad. That's why I'm writing about it. But this is a nice parting gift.
…
So what have we learned?
Well, in order to run the ball against Alabama you have to be perfect. Here are three things LSU needs to do to make sure a night like this doesn't happen again this Saturday.
Establish a passing game so the Tide can't stack the box
Have blocking schemes designed to get to the second level so Alabama's linebackers aren't running free
Run fewer misdirection and delay plays. Get the ball in Fournette's hands, ask him to make a cut and have him hit the hole. Don't make things too complicated.