At Second Glance: Rewatching LSU-Alabama so that you don't have to
BATON ROUGE, La — Before we begin with this week's film study and put LSU's 10-0 loss against Alabama to bed, please indulge me in a rant.
More often than not, football games are won, not lost. Perhaps it's the optimist in be, but the way I see it, football games are decided by good things done by winners, not bad things done by losers.
I get why LSU coach Ed Orgeron elected to use the oft-said axiom of "It's all about us" in his press conference after the game. As a leader, it's better to assume blame than it is to blame others.
But I just rewatched this game. I watched every play two or three times, some as many as six or seven. And I can tell you unequivocally that this game was not all about LSU. This game was about LSU and Alabama. Sometimes LSU was the better team. Sometimes Alabama was the better team. And when the clock hit triple zeroes to end the game, Alabama was the better team on just a few more plays than LSU was. That's why the game ended the way it did.
Don't let the words fool you. LSU didn't lose this game. Alabama won it.
That's it. Rant indulged. On with the film study.
Was the offensive line really that bad?
We tend to think of an offensive line as an amorphous machine, as five people working as one unit like some sort of Power Rangers mega robot. But in reality, every offensive lineman has his own assignment on every play. And if four of them succeed but one fails, the whole line looks bad. It's the "one bad apple spoils the whole bunch" analogy, just with a much higher chance of injury.
So, no. It would be wrong to say that the offensive line was as bad as we made it out to be after the game. It would be right to say that Toby Weathersby, K.J. Malone, Maea Teuhema and Josh Boutte played poorly, Will Clapp played pretty well and Ethan Pocic had one of his best games of the season.
I went through and I counted the number of mistakes made by each position on the offensive line, including fullbacks and tight ends, to see where the blocking leaks came from. I only counted plays where blocks were downright missed or useless. Stalemates or minuscule territory losses were not graded as "mistakes." Here's what I saw.
Left tackle: 3 mistakes
Left guard: 1 mistake
Center: 0 mistakes 
Right guard: 4 mistakes
Right tackle: 5 mistakes
Tight end/fullback: 2 mistakes
Yes, those numbers seem low given the five sacks, nine tackles-for-loss and three quarterback hurries LSU gave up and Leonard Fournette's 2.1 yards per carry. But let me remind you of something I said last week: Short gains and bad plays are not the same thing. There were a lot of occasions where Fournette rushed for 2-3 yards and there weren't any missed blocks.
All that said, there's one person I haven't brought up yet who deserves a lot of blame: Danny Etling.
What did Danny Etling do wrong?
Considering his bad throws, bad decisions and the times he held onto the ball too long, I counted nine mistakes by Etling, nearly twice as many as any offensive lineman.
Sure, as a quarterback you're under a much finer microscope than linemen are and when the ball is in your hand every play you're bound to make mistakes. But Etling didn't just make mistakes. He made the rest of his team look bad too.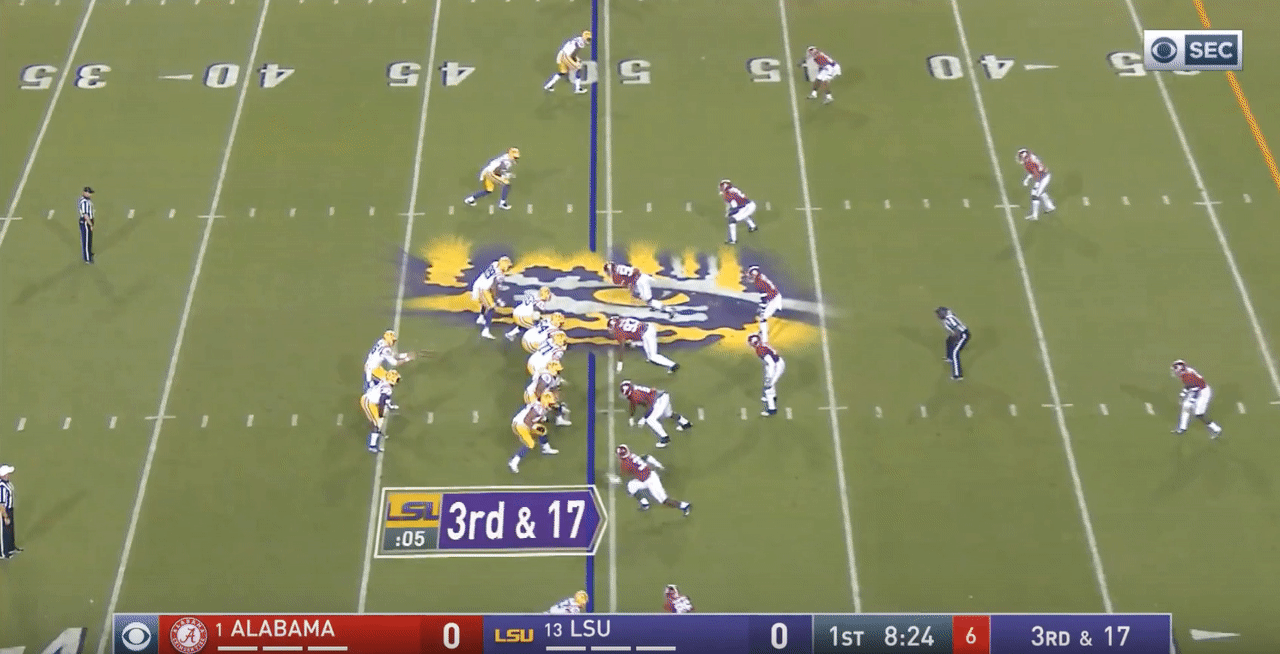 That .gif loops for six and a half seconds. Meaning Etling held onto the ball in the pocket on a 3rd-and-17 for a little more than four seconds before tucking a taking a sack. That play will go down as a sack allowed by Teuhema. But in reality, here's the chain of blame for taking a loss there.
Danny Etling, for not getting rid of the ball
Steve Ensminger, for calling such a long-developing play against Alabama
Danny Etling, for not making any attempt to throw the ball away
K.J. Malone for whiffing on his block, forcing Etling to step up in the pocket
Danny Etling, for not noticing Leonard Fournette in single coverage in the flats
Maea Teuhema for not being able to block Rashaan Evans for five seconds
Am I being a bit overly critical of Etling for this play? Yeah. But this is symptomatic of an issue that Etling had all game. I don't know if Ensminger was calling plays doomed to fail or if Etling was missing men who were open downfield. That's a symptom of watching the TV broadcast.
But I do know that whoever's fault it is, it isn't solely on the offensive line.
Let's talk about that fourth quarter
It's impossible to talk about the fourth quarter of LSU-Alabama without bringing up Jalen Hurts. I don't want to get too deep into Hurts because our own Sam Spiegelman did a fantastic job on that here. I do want to touch on the pentagon of stratagems and executions thought up by Hurts, Alabama offensive coordinator Lane Kiffin, LSU defensive coordinator Dave Aranda, linebacker Duke Riley and nickel back Dwayne Thomas.
For my money, Thomas and Riley were LSU's two most effective players Saturday. If not most effective, certainly best used. Aranda put Thomas in position to take away Hurts's mobility by using him as an extra edge rusher for containment. Thomas took advantage, breaking up two passes at the line of scrimmage and recording three TFLs and one quarterback hurry. This kept Hurts and Alabama's pair of running backs up the middle for most of the game, where Riley cleaned up by shooting gaps and slinging ball-carriers to the ground. For his efforts, Riley finished with nine tackles, two of which for loss.
But in the fourth quarter, Kiffin started scheming away from Thomas, calling about 75 percent of his rushing plays away from Thomas and toward the boundary. In effect, by limiting the amount of physical space his players had to run in, Kiffin maximized the amount of space they could use. This took Riley out of the game too. Since there was no one to force Hurts, Damien Harris and Bo Scarborough inside, Riley had nothing to do.
So Aranda adjusted again. And this is exactly what Kiffin wanted.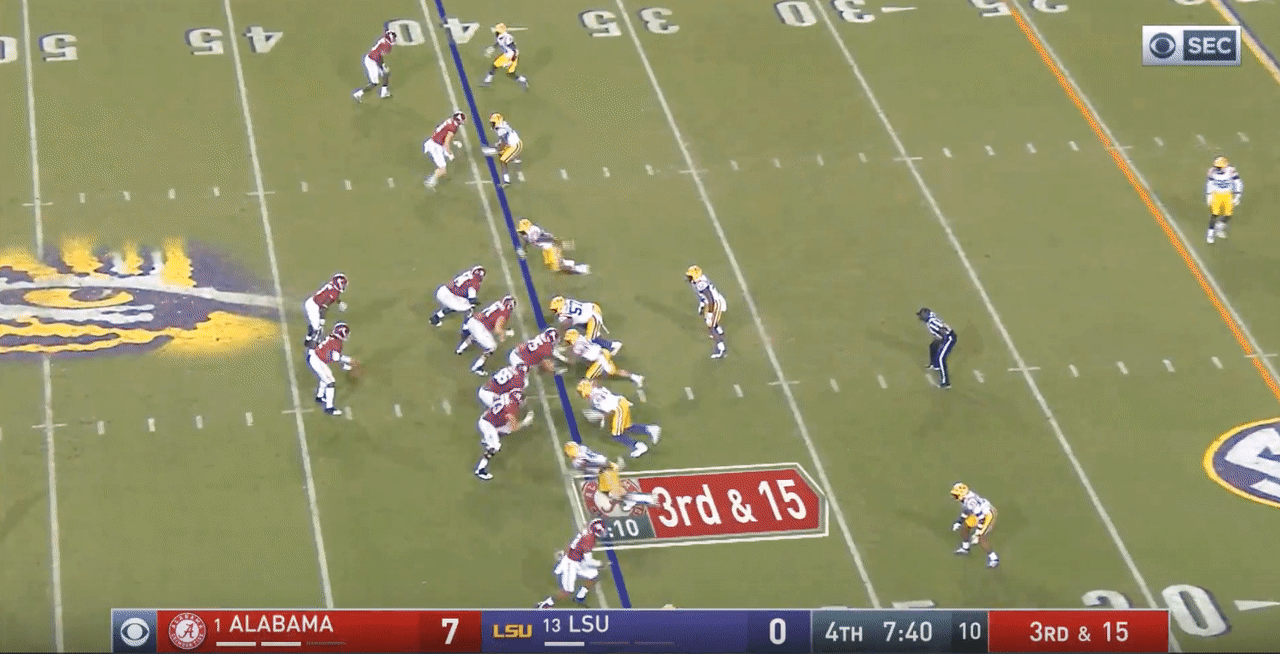 If you can't find Duke Riley in this .gif, it's because he's on the ground. Aranda lined Riley up over the center on this play, anticipating an inside run on 3rd-and-15 to set up a field goal. He anticipated right, but chose the wrong way to stop it. Riley got flattened like a pizza box under a steamroller and Hurts broke out for possibly the most important play of the game. The run allowed Alabama to waste another five minutes off the game clock.
And where was Dwayne Thomas? All the way on the other side of the field.
You can talk about fatigue all you want. This was just Kiffin putting his best players in position to take LSU's most effective players out of the game. And he did it masterfully.
Miscellaneous (positive) observations
There's no reason to harp on all the bad. Let's end on the good. Three things I thought LSU did well Saturday:
Tre'Davious White did a darn good job of taking Calvin Ridley out of the game. Ridley came in averaging 5.5 catches per game, was targeted four times and caught two passes. Similarly, Jamal Adams did a stellar job of taking tight end O.J. Howard out of the game. Howard lost 3 yards on his one catch, which came on the first play of the game.
Inside linebackers Riley and Kendell Beckwith were monsters in goal-to-go situations. Alabama had the ball within a handful of yards of the LSU goal line twice Saturday night. Riley and Beckwith, with a little help from Adams, blew up any and all Alabama attempts to get into the end zone, many times in the backfield.
Sophomore cornerback Donte Jackson proved himself to be a capable tackler in space, bringing Hurts down at least two times along the sideline with well-executed form tackles. Jackson kept his center of gravity low and attacked Hurts at the legs, the right way to tackle a slippery dual threat like Hurts.