How LSU can shut down star Ole Miss quarterback Shea Patterson
BATON ROUGE, La. — Ole Miss' Shea Patterson will be the most gifted and multi-talented quarterback the LSU defense goes up against this regular season.
From his quick release to his deep ball accuracy to his ability to extend plays with his legs, it's no wonder Patterson came to Ole Miss as the No. 1 quarterback recruit in the country. In his first full year as a starter, Patterson is backing up the hype, leading the SEC in passing yards, touchdowns and completion percentage.
Patterson is the kind of quarterback who can give defensive coordinators ulcers. He's efficient throwing short, deadly throwing long and a capable runner who likes to scramble behind the line of scrimmage and punish defenders beyond it. But he's not perfect.
As with any quarterback, there are holes in his game. In particular, there are times and situations where LSU should put the most pressure on Patterson and other points where the Tigers should be the most cautious and aware.
Before we discuss those flaws, though, let's take a look at what makes Patterson dangerous.
The good stuff
Patterson lit up Vanderbilt's middling defense a week ago with  351 passing yards, 4 passing touchdowns and a rushing touchdown. Lighting up Vanderbilt has been a conference tradition this season. Four SEC opponents have combined to throw for 907 yards, 10 touchdowns and zero interceptions against the Commodores.
You have to take that into account when watching Vanderbilt tape. Because sometimes plays like this happen: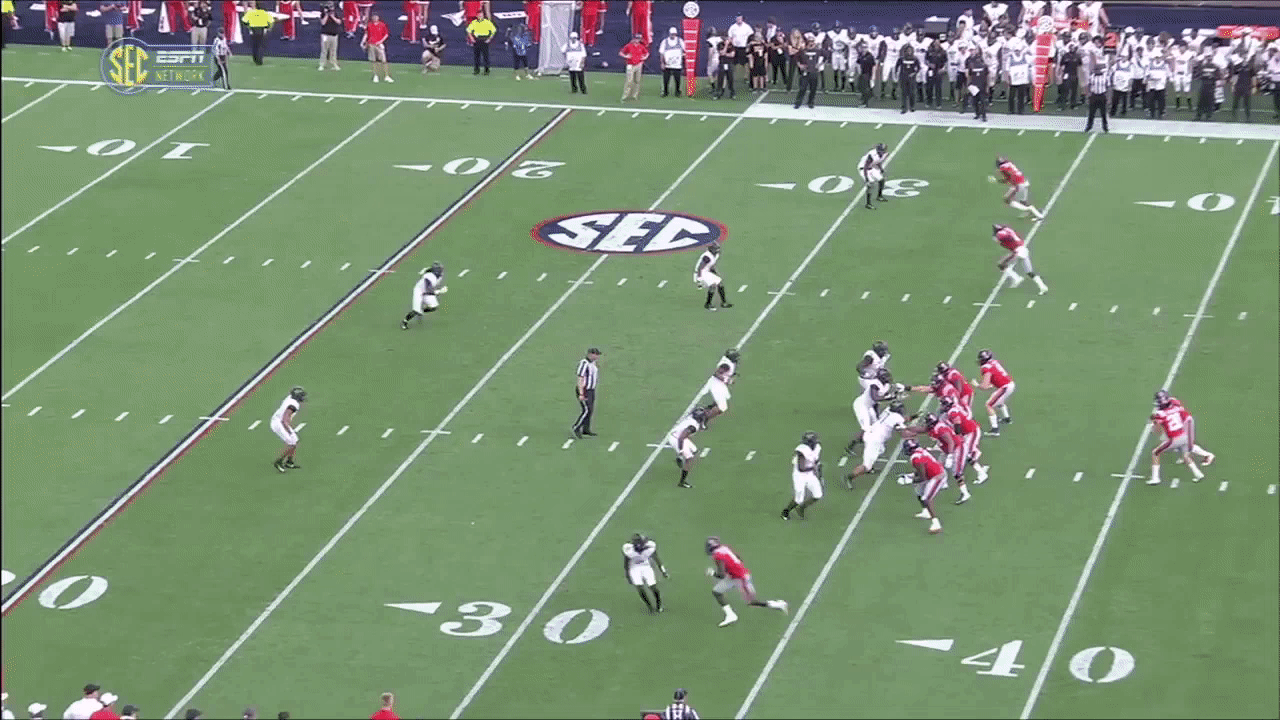 Other times, Patterson had to make great throws and reads, and he did. Take this play as an example: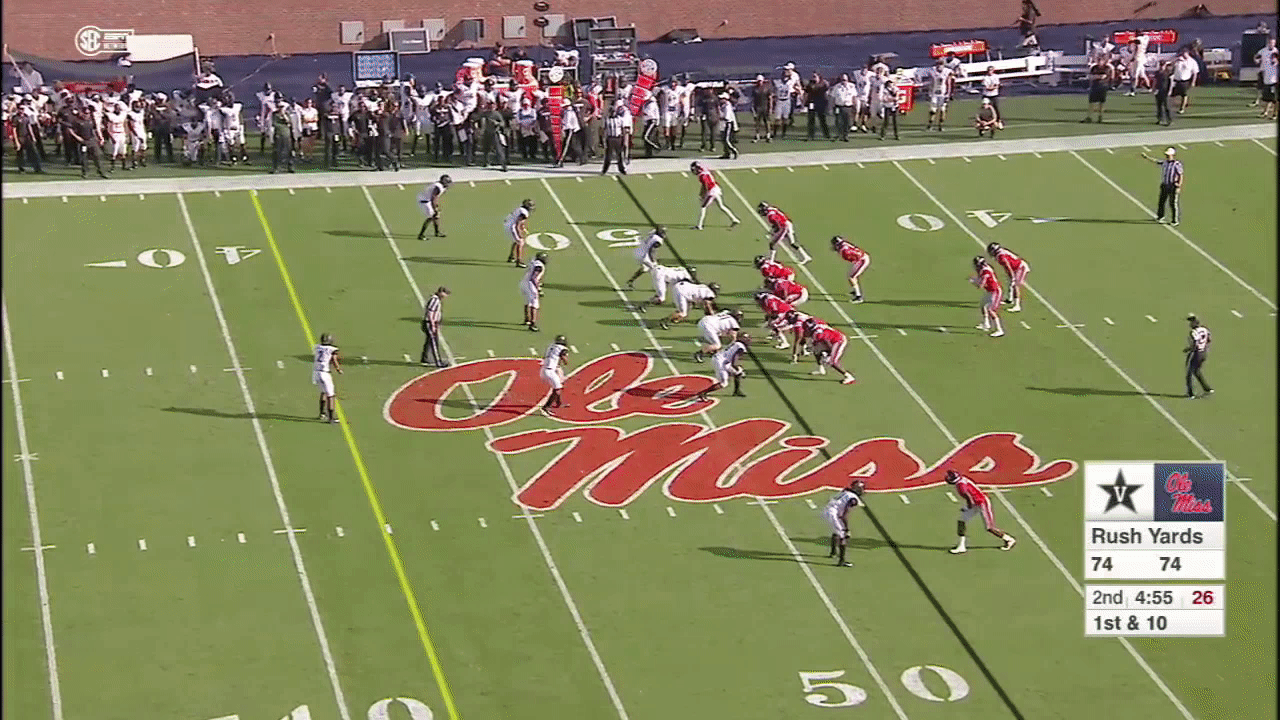 Patterson has as much confidence in his receivers as he does in his arm. That's what happens when you have three of the top 10 and four of the top 20 receivers in the SEC. So when he sees isolated single coverage, he throws at it, and expects his big, strong receivers to get the ball.
As a team that plays almost exclusively man-to-man coverage, LSU has to be ready to be tested. Patterson wasn't afraid to throw the ball 29 times against Alabama's secondary, nor was he tentative when throwing 51 times against Auburn's defensive backs.
It's going to be a battle of strength versus strength between the nation's No. 3 quarterback and No. 14 pass defense. But if there's one thing LSU should know going up against Shea Patterson, it's if you want to get to him, get to him early.
Firsts and thirds
Take a look at Patterson's statistical breakdown, sorted by quarter.
| | | | | | |
| --- | --- | --- | --- | --- | --- |
| Quarter | Completion % | Yards | TDs | INTs | Passer Rating |
| 1st | 65.7 | 642 | 4 | 4 | 153.92 |
| 2nd | 64.2 | 560 | 4 | 0 | 154.09 |
| 3rd | 67.8 | 668 | 7 | 1 | 198.66 |
| 4th | 65.9 | 273 | 2 | 1 | 128.48 |
Four of Patterson's 6 interceptions have come in the first quarter. If Patterson is going to make a mistake, he's most likely to do it early. Which might play well for LSU. All 4 of the Tigers' interceptions this season have come in the first halves of games, 1 in the first quarter.
That said, LSU has been prone to slow starts defensively. Opponents have completed 63.8 percent of their passes against LSU in the first quarter, compared to 50.7 percent in the other three quarters combined.
Watching the first quarter battle is going to be important. LSU's offense has been held scoreless in four of the Tigers' seven games this year, with one of those touchdowns being set up by an interception returned to the 1 yard line. Stopping Patterson early will be a huge key. Especially given the way he plays in the middle quarters.
In the second and third quarters of games, Patterson has thrown 11 touchdowns and 1 interception. He's averaging more than 100 yards per quarter in the second and third quarters this season. If LSU is going to slow Patterson, it'll have to key in to these points in the game, particularly if the Tigers jump out to an early lead. Commanding the nation's 11th-worst rushing offense behind him, Patterson doesn't have the luxury of handing the ball off and letting his teammates carry the offense. If he has a deficit, he has to win it himself.
Thirds and firsts
Patterson's can't just be broken down by quarters. He can also be divided on situations. In particular, Patterson is markedly better on first and second downs than he is on third down.
| | | | | | |
| --- | --- | --- | --- | --- | --- |
| Down | Completion % | Yards | TDs | INTs | Passer Rating |
| 1st | 74.2% | 982 | 6 | 1 | 177.62 |
| 2nd | 64.1% | 708 | 7 | 0 | 169.96 |
| 3rd | 55.9% | 450 | 4 | 4 | 128.81 |
Thanks to the folks at CFBStats.com, we can break down Patterson's third down woes even further. If you divide third downs into third-and-short, third-and-medium and third-and-long, a Patterson pattern starts to emerge.
| | | | | | |
| --- | --- | --- | --- | --- | --- |
| Situation | Completion % | Yards | TDs | INTs | Passer Rating |
| 3rd and 1-3 | 81.8% | 119 | 3 | 1 | 244.51 |
| 3rd and 4-6 | 33.3% | 77 | 0 | 1 | 70.56 |
| 3rd and 7+ | 55.5% | 254 | 1 | 2 | 112.88 |
If Patterson drops back on a third-and-short, he's electric. He's 9 of 11 with 3 touchdowns, and 3 of his 9 completions have gone for at least 15 yards. On third-and-medium, that rate drops drastically. Patterson is 4-for-12 when he needs between 4 and 6 yards to move the sticks. When the stakes get even longer, Patterson improves a little, but he's still noticeably below his first and second down rates.
Not to mention the outlier: 77 of Patterson's 254 yards and 1 of his touchdowns on third-and-long came on 1 pass. If you take that play out of the equation, his passer rating drops to 103.43. By comparison, LSU freshman Myles Brennan's passer rating this season is 126.34, and he's thrown more interceptions than touchdowns.
Forcing opposing offenses into third-and-longs is always going to be a key. No quarterback gets better when he's asked to convert on harder situations. But with Patterson, it's a must. All he does on first and second down is throw touchdowns, and his completion percentage is inexplicably better on third-and-short.
What's the moral of the story? Well, if LSU can back Patterson into third-and-longs in the first quarter Saturday, there's a good chance the Tigers can force a turnover, or at the very least a punt. The later in the game it gets, and the more frequently Ole Miss earns first downs, the more likely Dave Aranda's unit will be to give up points.
It's not groundbreaking stuff. But when you're facing a player like Patterson, sometimes hammering the obvious is the only way to be successful.