LSU film study: Breaking down Danny Etling's best passing day of 2017
BATON ROUGE, La. — When your roster is built the way LSU's is, throwing the football is always going to be a luxury.
Disregard any illusions about LSU being a "50-50" team that balances run plays and pass plays to keep defenses off balance. That might be the goal, but it's not reality. The reality is that 65.6 percent of LSU's offensive snaps have been run plays this season, LSU's highest rate since 2014. And that's been fine. The only SEC schools averaging more yards per play this season are extreme-spread offenses Missouri and Ole Miss and top 10 teams Alabama, Georgia and Auburn.
LSU's roster isn't built for a dominant pass offense, and the scheme reflects that. Only Georgia attempts fewer passes per game among SEC schools. And again: This is fine. When you have Derrius Guice and Darrel Williams, you can get by without a dominant passing attack.
When your offensive plan is built around ball control, limiting turnovers and grinding first downs, throwing efficiently becomes more important than throwing successfully. Completing a lot of passes takes the back seat to completing the right passes.
If you're using this as your metric, LSU's win over Arkansas on Saturday was the Tigers' best passing day of 2017.
Quarterback Danny Etling did what was asked of him, completing 11 of his 16 pass attempts for 217 yards and 2 touchdowns. Two of those incompletions were dropped (one in the end zone) and one looked like a misread by the wide receiver, which would have improved his accuracy percentage to 84.6 percent for the game. Etling was less dominant than he was surgical, but he performed at a high level nonetheless.
You can credit this aerial success to three factors: Offensive coordinator Matt Canada preying on Arkansas' fear of the run, the emergence of an intermediate passing game and Etling's improved poise against blitzes. Let's look at all three of those factors in our LSU film study this week.
Fear the run
Throwing the ball is a lot easier when you have a running back like Guice.
Guice rushed 21 times for 147 yards and 3 touchdowns Saturday, which in itself might've been a minor victory for Arkansas' putrid 94th-ranked run defense. The future first-round running back carved through an Arkansas defense that consistently put eight and even nine men in the box to stop the run. But when LSU wasn't running Guice into the belly of Arkansas' decidedly not-terrifying beast, the Tigers used his decoy status in a legendary way.
Here's a diagram of LSU's first touchdown Saturday, a 45-yard connection from Etling to senior wide receiver DJ Chark. LSU split three receivers wide to the left, but Arkansas kept eight men in the box, isolating three defensive backs in man coverage with no safety help.
Etling play-action faked to Guice, drawing Arkansas' linebackers toward the line of scrimmage. LSU's interior slot receiver rode a seam, driving his defender toward the middle of the field. The exterior slot receiver ran what I'd call a spin route (AKA: snag, slam, turn), driving his defender 10 yards downfield, cutting inside, then spinning upfield and toward the sideline. This kept his defender in the flats, isolating Chark deep down the sideline.
Then Chark did the rest of the work. He ran a fly for the first 10 yards of his route before breaking inside for a post at the 35-yard line. Flipping his defenders' shoulders, Chark then broke back outside toward the pylon when he reached the 30-yard line. Chark's double move left his defender out of position and on the ground, and all Etling had to do was drop a serviceable pass, which he did. Touchdown.
Canada knew Arkansas' chief directive would be to take away the run. So he used the run to set up the pass. It's the easiest strategy in football, but it works. Just watch the way Arkansas sold out to stop Guice and Williams on this, one of the easiest completions in history.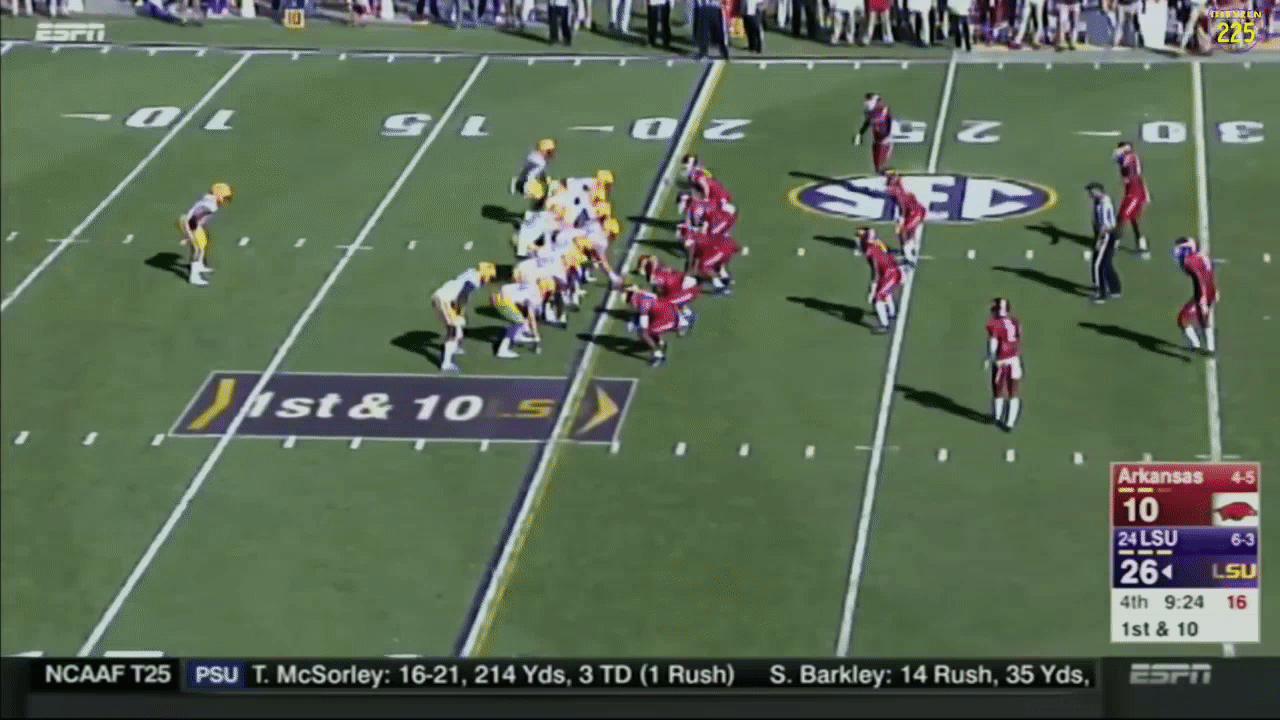 When defenses are positive you're going to run, throwing becomes very easy. Which leads us to our next point.
Establishing the intermediate zones
The previous gif is an example of something LSU has lacked in 2017: a completion 5-15 yards downfield. The Alabama game not withstanding, LSU hasn't had trouble completing short or long passes this year. Mid-level throws, however, have been an adventure. Among SEC teams, LSU ranks 12th in completions of 10-plus yards, but fourth in passes of 30-plus yards. The big chunks are there. The smaller ones haven't been.
Etling and Canada took steps toward rectifying that Saturday. Again, a lot of this stemmed from taking what the defense gave them. The more Arkansas loaded the box, the easier it was for Etling to find open receivers downfield.
The outcome of this play was simple: Etling completed to wide receiver Stephen Sullivan for a 19-yard gain. But the design and timing of the play was all the better.
This was the first play of the second half, a play most defenses would expect a run. So LSU dialed up another play action, drawing Arkansas' eight men in the box forward on their first steps. With the play-fake doing its job, the Tigers benefitted from a modified flood combo route on the right side of the field. Fullback Tory Carter ran a shallow out, darting toward the sideline to draw the coverage underneath. Sullivan broke in front of him, streaking 15 yards downfield before turning toward the sideline.
Etling found him two steps after his cut down around the 40-yard line. Easy completion, easy gain. From there, Canada could've called any kind of play he wanted. That's the perk of completing intermediate throws. They set up everything.
Calm and composed
The previous two talking points were as much credits to Canada as they were Etling. Scheme and execution go hand in hand. But the one feather in Etling's cap independent of Canada's influence was his composure against Arkansas' blitz.
Coming into the season and throughout most of it, the knock against Etling is he's a different quarterback against the blitz. Pressure gets to him, as he speeds up his footwork and rushes his reads until he makes bad decisions.
This wasn't the case Saturday. As Pro Football Focus pointed out, Etling's NFL passer rating against the blitz Saturday was 149.3 out of a possible 158.3. This included both of his touchdowns and 139 of his yards.
Arkansas brought a disguised blitz on this play, a 68-yard touchdown to Chark. The Razorbacks brought six blitzers, but not the six men it looked like they would. Arkansas walked its middle linebacker up to the line of scrimmage but dropped him in coverage at the snap. Instead, Arkansas' other inside linebacker and a slot linebacker/nickelback overloaded the left side of LSU's offensive line.
LSU didn't pick up every blitzer. The outside-most blitzer got around LSU's protection. But Etling released the ball quickly, knowing Chark would be open. As LSU cornerback Donte Jackson told SEC Country after the game, any time Chark is matched up 1-on-1 with a cornerback in off coverage, Chark will win his route. He's too fast and too good of a route runner for a defensive back to give him 9 yards of space and come away unscathed.
Etling hit his man before another man could hit him. Seven points. Again.
But this wasn't Etling's only calm, composed throw against pressure.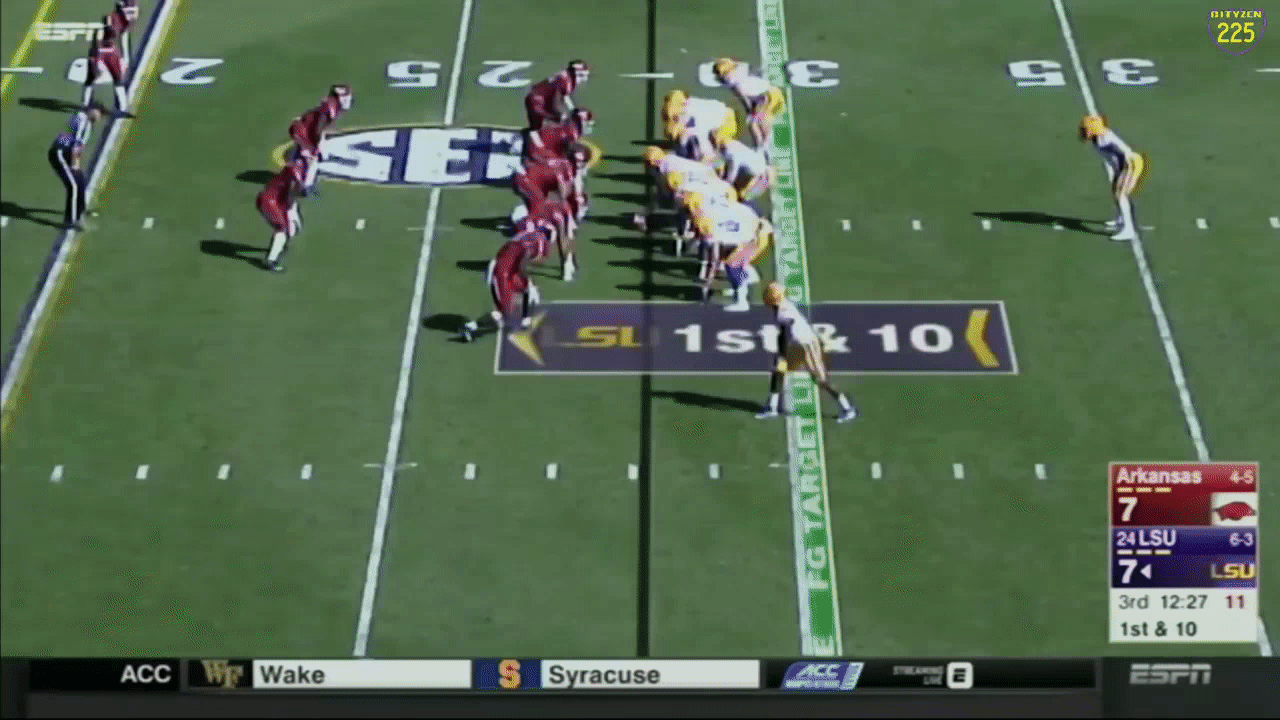 Arkansas only brought three rushers on this play, but one of those defenders drove two offensive linemen into Etling's throwing lane. Using some nifty footwork, Etling escaped backward, rolled and found a new throwing lane, connecting with Carter about 10 yards downfield.
Plays like this show Etling's development as a passer. He didn't get flustered and try to run. He didn't force a bad pass through a closed throwing lane. He collected himself, bought himself some time, baited a receiver open by tricking a defender into thinking he'd run and delivered an accurate throw for an intermediate gain.
This all goes back to the mantra we outlined at the top. Success in this offense isn't built around making the best throws. It revolves around making the right throws. Etling made those Saturday. And it might've been his best game of the year as a result.
NEXT

Pooka Williams knows where he'll sign on Dec. 20