Film study: What makes new LSU quarterback Joe Burrow so special
BATON ROUGE, La. — It's nearly impossible to evaluate the tape of a college quarterback with 39 career pass attempts. But you don't need that many throws to see why LSU's coaches fell in love with graduate transfer quarterback Joe Burrow.
A new acquisition from Ohio State, Burrow transfers to LSU with two years of eligibility remaining. Despite his veteran status, Burrow comes to LSU as inexperienced as returning passers Myles Brennan, Lowell Narcisse and Justin McMillan.
Unlike former LSU quarterback Danny Etling, who arrived in Baton Rouge after throwing 429 passes in the Big Ten, Burrow is a relative question mark. He's never started a college game and he spent most of 2017 as a third-string quarterback, albeit on one of the most talented teams in the country.
Still, with the tape we have available, it's easy to see what made Burrow such a sought-after commodity on the transfer trail. The former No. 8 dual-threat quarterback recruit in the nation has a live arm but is also a strong decision-maker who is accurate downfield and capable of using his feet to his advantage.
Based on the tape available, let's take a look at what makes Joe Burrow special.
The spring game
Burrow lost Ohio State's quarterback competition to a younger, more classically mobile quarterback in Dwayne Haskins. But most reports out of Columbus from the 2018 Ohio State spring game had Joe Burrow as the top quarterback performer from the scrimmage.
The numbers show why. Burrow completed 15 of 22 pass attempts (68 percent) for 238 yards and 2 touchdowns. By comparison, Haskins and third-string quarterback Tate Martell combined to go 14 for 35 (40 percent) with 148 yards, 2 touchdowns and 1 interception.
Numerically, it's easy to declare Burrow the winner. But taking a closer look at some of the throws he made, it's even easier to get excited about what LSU is gaining.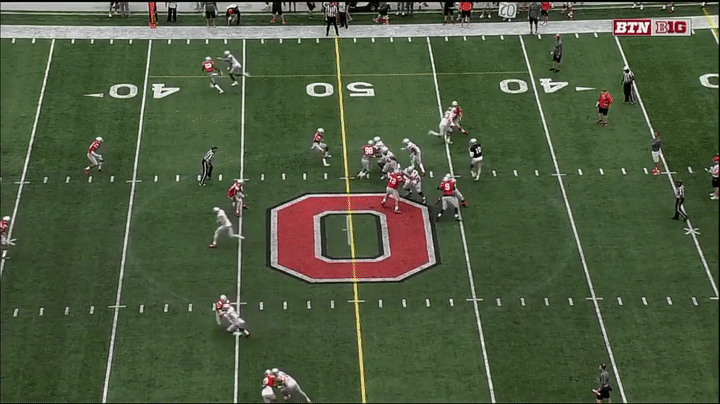 This ball is a dart. Burrow takes his dropback, stands clean in a pocket folding in around him and fires an accurate pass 35 yards through the air over three defenders for a 50-yard score. This is a testament to quality mechanics and reading the defense. Burrow started the play looking the other direction, presumably noticed single coverage, turned back to see the open receiver streaking downfield, set his feet, stepped into his throw and delivered. It's the kind of throw you'd see on a quarterback's highlight reel heading into the NFL draft. And Burrow checked it off in a spring game.
But it wasn't his only money throw that afternoon.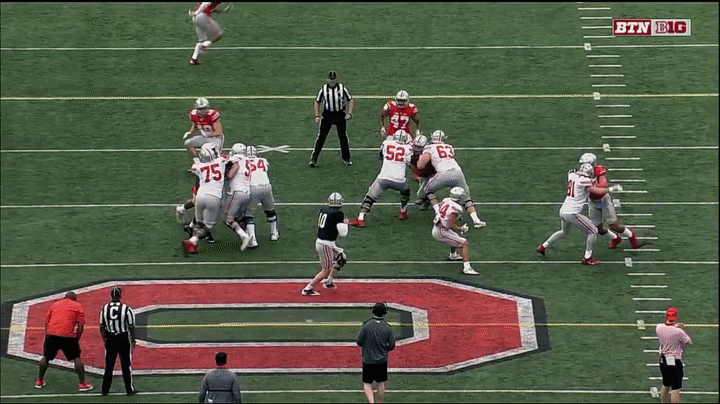 There's not much to dissect here. Like the other touchdown, Burrow sets his feet and shows off his accuracy from the pocket against single coverage. This time he throws about 45 yards in the air and puts the ball in a position where only his receiver can get to it, leaving defensive back Wayne Davis on his feet attempting to get to the ball.
So, obviously, deep balls are in Burrow's arsenal. But he's also capable of making some of the more mundane throws that benefit a team just as much. Take a look at his progression on a crossing route from earlier in the spring game.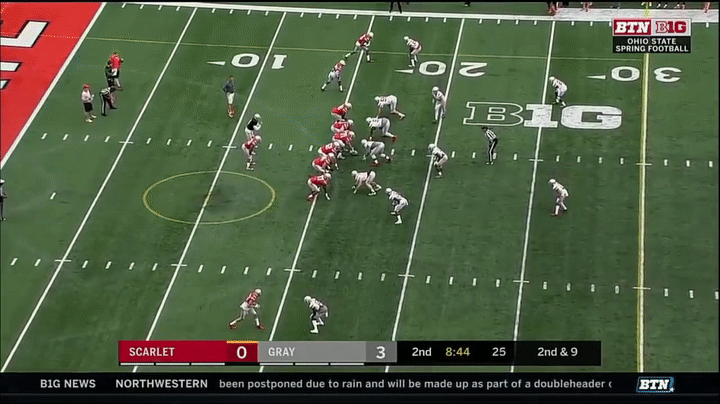 This is one of the more basic plays in a passing playbook, where two receivers drag across the middle of the field to congest the defense inward and the quarterback finds the shallow crosser and lets him run with the ball in his hands. It's one of the plays that made the West Coast offense legendary, and Burrow runs it about as well as one can here.
He finds his man and throws quickly and accurately, leading his receiver into open space and away from the two defenders giving chase. With speedy options like Jonathan Giles and Justin Jefferson set to lead the LSU receiver corps in 2018, it'd be smart to implement plays such as this in Steve Ensminger's new offense, especially if Burrow can throw as accurately to get these guys into the open field.
Hey, speaking of options…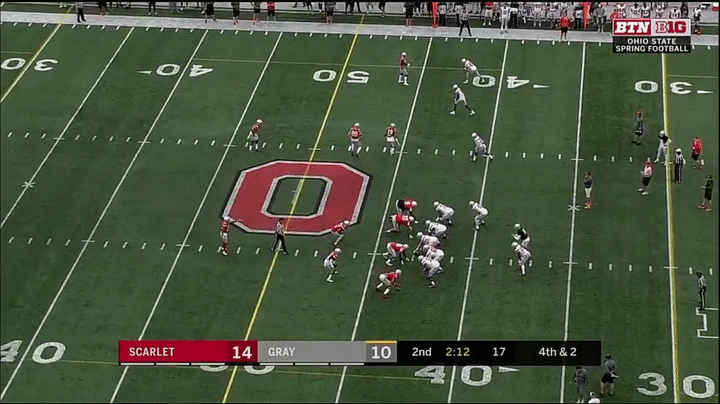 Ohio State's spring game wasn't a full contact affair for any skill players, especially not quarterbacks, so it's hard to know just how far this play would've gone. The defensive back coming in from the top of the play could've blown up Burrow, as could've the safety charging from the top. But from this perspective, it looks like Burrow might've skinnied up the hole and taken this carry to the end zone.
Take one look at Burrow's high school tape and you'll understand how mobile the quarterback really is. He's a nimble athlete who galloped through defenses at Athens  High School in Ohio like he was Steve Young. Burrow rushed for 2,067 yards and 27 touchdowns in three years as a high school starter, averaging 5.6 yards per carry and 50.4 yards per game.
It's an element of Burrow's game that'll be less talked about than his arm, but a wrinkle LSU would be smart to employ if Burrow wins the quarterback competition.
Alright, enough of this scrimmage stuff
The Ohio State defense is by far the most impressive unit Burrow has competed against. But, for the sake of fun, let's take a look at how Burrow performed in two of his brief, live stints against teams with different uniforms than his. First, a quick look at how he played against Maryland in 2016.
Why Maryland? This was his longest outing as a passer, going 6 for 9 with 75 yards and a touchdown in Ohio State's 62-3 shellacking of the Terrapins. It's very much worth noting that, for as bad as that score looks, Maryland was a bowl team that year and finished with the No. 45 pass defense in the country, ahead of schools like Penn State, Florida State and Stanford.
And if you look exclusively at the highlights, Burrow's game looks identical to his spring showing. But for a change, let's look at a less pretty example of Burrow's skills. Here's one of his first throws from the Maryland game, an illustration of how strong his arm is, but also something he could've done better.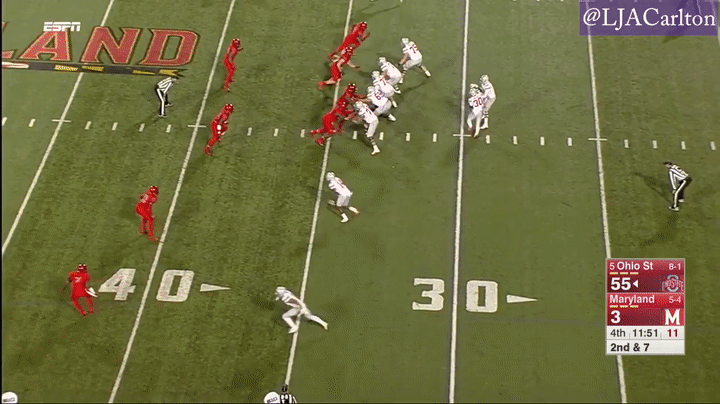 Burrow did a good job reading the defense here, electing not to throw to his check-down option, a running back in the flats, when he saw a defender closing in on the swing route. Instead, Burrow turned his attention downfield and laced a throw to a receiver breaking toward the sideline just past the 50-yard line.
That said, the encroaching pocket started to collapse and Burrow didn't have room to step into his throw. He fired flat-footed, showing off an arm strength not all quarterbacks have, but in the process left a ball over the middle of the field that easily could've been intercepted, and probably would have in an SEC game.
It's a minor complaint, nitpicking one throw from two seasons ago that Burrow still completed. But again, there's not much available tape on the guy. So we'll have to stick with this.
On to UNLV
The other Burrow game worth highlighting is Ohio State's win over UNLV in 2017. Well, it isn't as much a game so much as it is a sequence. Burrow came in at the end of the Buckeyes' easy 54-21 win over the non-conference foes and completed four-straight passes before moving into victory formation.
This sequence, while not containing any ESPY-worthy highlights, probably best illustrates what Burrow can do. And luckily for you, we have the plays diagrammed here. Wouldn't be an LSU film study without some drawings, right?
Play 1: Sprintout to far hook
Here's a basic case of reading the coverage and finding the open man, with the added wrinkle of playing on the move. Burrow fakes play-action to his running back and sprints out to his right where both receivers are running curls about 10 yards downfield.
Burrow sees the defensive backs are playing off-coverage and the outside linebacker in charge of covering the flats won't be able to get to the sideline receiver before the ball could, so he throws on the run and completes the pass for 6 yards. Easy.
Play 2: Follow the trailer
This is just a cool play design. Ohio State clears out the secondary and linebackers by having a tight end run up the seam, then has its receiver cozy up and curl in the open field the tight end vacated. Burrow stands patient in the pocket and finds his receiver over the middle and in front of the linebackers and safeties. Another 6-yard gain.
Play 3: Back to the cross
If Burrow wins the quarterback battle, maybe LSU should run this play. Just like in the spring game, Burrow finds the shallow crosser for a 9-yard gain. Except this time, Burrow needed to buy time for the play to develop, so he stepped up in the pocket and evaded pressure before delivering accurately for a first down.
Play 4: Levels against zone
Based on the available film from this game, it's hard to tell if UNLV was running cover-3 or cover-4 defense here. But we can tell it's a zone defense, as evidenced by the defensive back lined up against Ohio State's slot receiver sticking in the flats instead of with his man. Burrow reads the zone, seeing the safeties backpedaling, and completes 16 yards downfield to the deep route, placing the ball in front of both safeties for an easy completion.
What do these four plays have in common? Burrow made his reads, looked comfortable inside and outside the pocket and took what the defense was giving to him. Sure, it was garbage time against an opponent Ohio State beats 99 times out of 100. But it's important to note how smooth Burrow looks here.
He doesn't force throws or try to do things he shouldn't in his limited exposure. He sticks to the game plan and makes four consecutive good throws. If that's the type of quarterback LSU is getting, Ed Orgeron and Steve Ensminger should be thrilled.
He's the type of guy who won't make mistakes, but also isn't afraid to be great.