At second glance: Watching Matt Canada's offense in action vs. Clemson
BATON ROUGE, La. — New LSU offensive coordinator Matt Canada did in 75 plays what no other coach has done in two years: beat Clemson in the regular season.
For this week's At Second Glance, I wanted to take a look at what goes into Canada's specific game plans. Sure, it's fun to look at what sort of plays a coach might call, and if you want to read up on that, I advise you click here.
But Canada himself said that he's not going to have an offensive identity, so much as he'll have players who make plays when they're asked to. There's no better example of Canada's willingness to amend his philosophy in order to win a game than his team's 43-42 upset win over No. 2 Clemson this year.
How? Let me count the ways.
Canada has said he makes his money off of running the football. Pittsburgh threw the ball 38 times for 308 yards and 5 touchdowns against Clemson. Related: Clemson allowed 12 total passing TDs this season.
Canada said he plans on huddling up his players to call plays. Pittsburgh ran 17 plays out of no-huddle sets against Clemson. Related: Pittsburgh won the game despite losing the time-of-possession battle by more than eight minutes.
Canada said he doesn't define his system as a "spread offense." 26 of Pittsburgh's 75 plays against Clemson came with four or more receivers, tight ends or backs split out wide.
Canada is an adaptive coach. That's the first line on his resume. I'm not telling you anything you don't know. So let's dig a little bit deeper into Canada's game plan against Clemson to see the sorts of decisions he might make running LSU's offense.
Matt Canada won't let defenses get comfortable
Like the wine-drinking object of Mick Jagger's affection in "You Can't Always Get What You Want," Canada is practiced at the art of deception.
There are certain things you're allowed to do pre-snap in college football. You can motion one player at a time. You can shift two or more players assuming they're not set in their stances. And you can line players up out of the huddle in bizarre locations, only to reorganize your offense around him.
Canada takes advantage of all these allowances. Sometimes, he even does all three at once.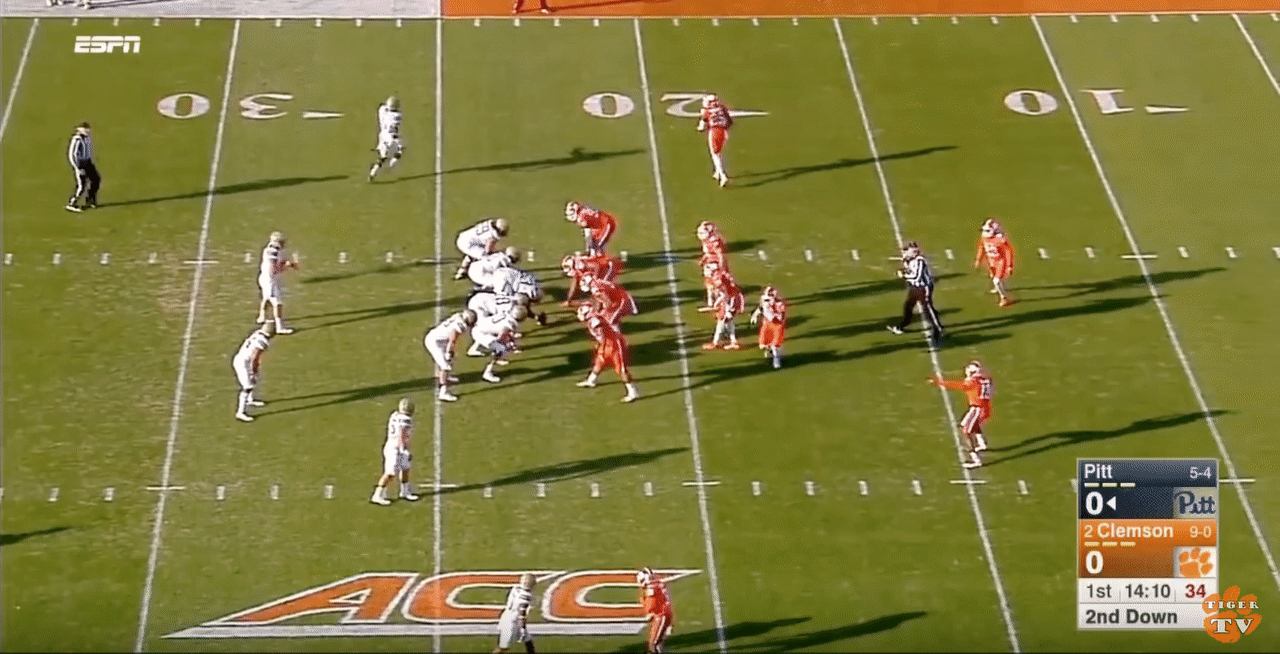 Yes. That gif loops for about 18 seconds. And it's all pre-snap.
Pitt begins the play by shifting a receiver left. Then, five players shift together, four of which move left. Those same five players shift again, changing from a shotgun strong to a balanced single-back look. And then another receiver comes in motion.
By the time the ball is actually snapped, all Pittsburgh does is hand the ball off to a running back off tackle. It's not a game-changing play call by any standard. In fact, most of the time this play wouldn't even work. But with two shifts, two men in motion and the threat of a jet sweep looming, Clemson's players never get properly aligned. Pitt running back James Conner breaks up the hole for 8 yards and a first down.
One play later, Pitt scores a touchdown. Speaking of which…
Matt Canada will deceive you after the snap too
The term "run-pass option" is bandied about quite a bit in college football these days. It's seems every team is trying to capitalize on the new trend, a trend that creates the potential for a quarterback, a running back or a receiver to touch the ball on any given play.
That said, this trend is illegal by just about every rule of offensive football. Teams that run RPOs almost always send illegal men downfield when they exercise the pass option. The linemen are blocking as if the call is a run, so if the quarterback's pass to a receiver is forward, flags should be thrown every time a lineman or ineligible receiver is more than three yards beyond the line of scrimmage.
Canada has a cute wrinkle to get around this issue.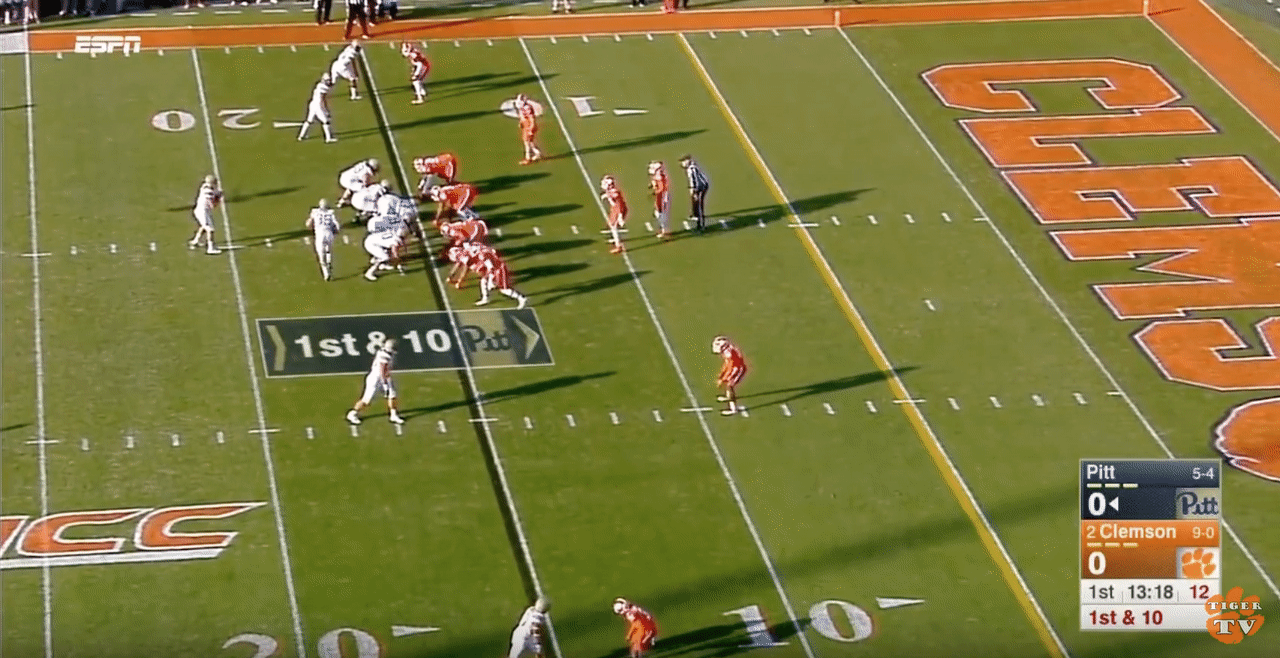 Again, notice how in the pre-snap Pitt motions twice to move Clemson's linebackers out of the box, clearing space for Pitt's backs.
Then, watch the way Pitt disguises who the play's target receiver is. The left guard pulls in front of the H-back as a lead blocker, but to the defense, this signals that both men are pulling together as dual blockers, one to kick and one to wrap. Because of this, Clemson's ends both charge to the quarterback and running back mesh point, giving George Aston, the H-back, a free release.
Finally, watch two linemen: No. 53 and No. 70. Both are in traditional drive-blocking roles. But, presumably, thanks to coaching, neither man goes further than three yards downfield, keeping Pitt from incurring an ineligible receiver downfield penalty. In fact, No. 70 digs his heels into the ground and hinges off a defender at exactly three yards deep.
All this combines for a deceptive, and legal, touchdown. By my count, Pitt ran this play eight times in this game, and it worked for two touchdowns. If the well isn't dry, keep tapping it.
Sure, but how does this help LSU?
I'm glad you asked.
Think about the common complaints with LSU's offense this year. The inability to score in the red zone and the difficulty of working tight ends and running backs into the pass game come to mind.
Now think about what worked. Are you thinking about Derrius Guice? You're probably thinking about Derrius Guice. You should be thinking about Derrius Guice.
So before we get back to the things Canada can help improve, let's look at how he can insulate Guice's strengths.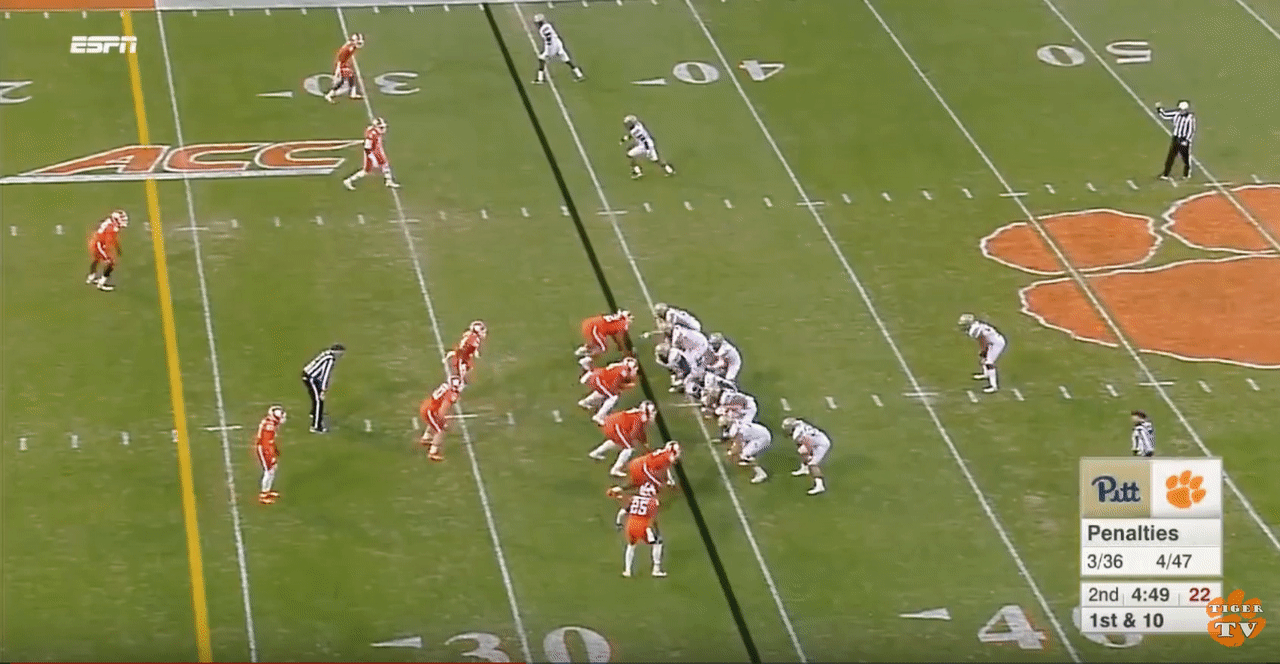 This play call might just be my favorite in all of college football. I don't know what it's called in Canada's playbook, but I call this a "Zone H Lead Weak."
Essentially, the play functions as both a zone rush and a more traditional man-on-man rush. Pitt's six down linemen (counting the tight end) all zone block to their left, driving Clemson's defenders toward the sidelines and creating cutback lanes for James Conner.
Simultaneously, Pittsburgh's H-back pulls behind the linemen as a lead blocker going right. Conner senses penetration up the middle and uses one of the cutback lanes at his disposal, following his H-back's lead for a long gainer.
You can go back and watch any of Guice's huge gains from this year and chances are you'll see a similar blocking scheme up front. Guice is a tremendous one-cut runner who thrives in zone systems.
But the wrinkle here is the use of the H-back. Instead of using a traditional fullback like LSU does with J.D. Moore, Canada used a hybrid fullback/tight end as his lead on this play. The perk to this setup is that it's far less likely that an H-back will run into a lineman or impede a running back behind him than a fullback, since he's running at a different angle than the ballcarrier is.
It'll be interesting to see how Canada plans on using Moore. Moore is an outstanding fullback, but he might be an H in Canada's scheme, if this game is any indication at least.
OK, on to the bad stuff
I don't want to trigger any bad memories, but we have to talk about LSU-Florida.
One of the main criticisms of Steve Ensminger's play-calling in LSU's loss to Florida was his choice not to use the play-action on the goal line.
To be fair, not many coaches would dare throw the ball on fourth-and-goal from the 1-yard line. To be more fair, not many coaches are Matt Canada.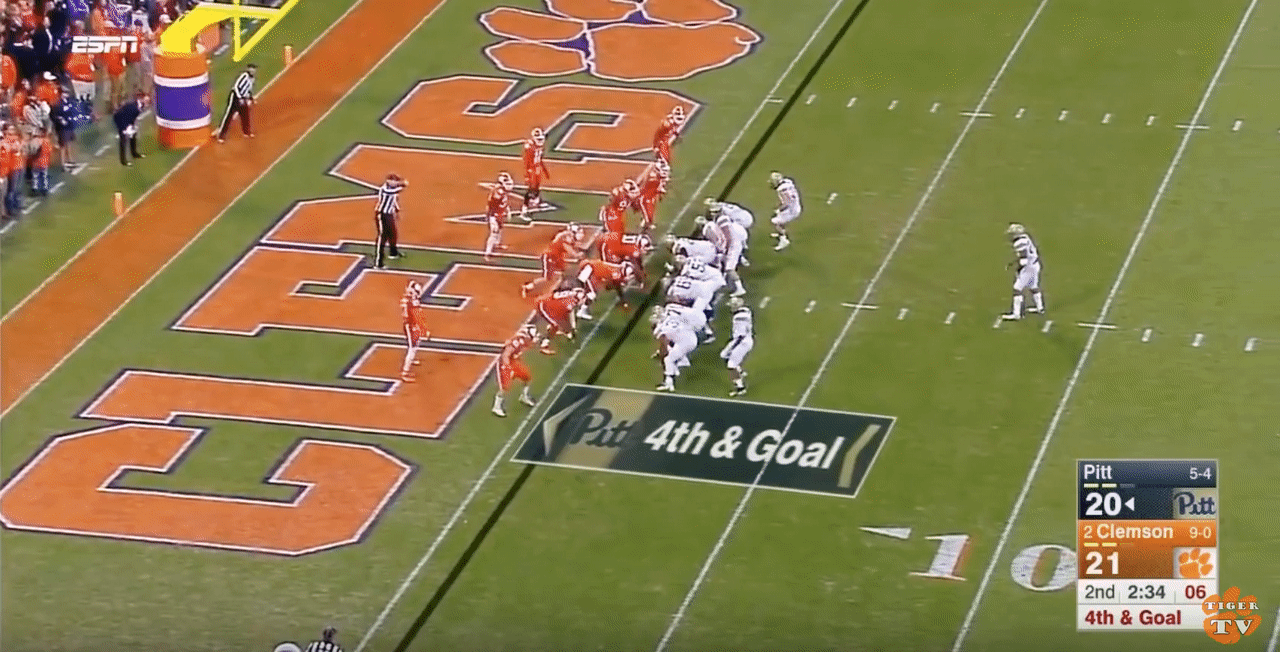 One of my favorite laws of short yardage football states that the more creative you are before the snap, the more likely you are to gain the yard. I think this is the perfect illustration. Pitt lined up with four tight ends and a running back, effectively in a high-school-style wing-t offense. But the motion of the fullback, in concert with the play-action look to the running back, drew Clemson's middle linebacker (No. 34) and safety (No. 18) out of position.
With the linebacker moving forward, all Pitt quarterback Nathan Peterman had to do was loft the ball into his tight end's hands. It worked, and Pitt came away with a touchdown.
Perhaps if Canada had been calling LSU's plays against Florida, the Tigers would be preparing for the Sugar Bowl right now.