Know your enemy: Reviewing Alabama film before Saturday's game at LSU
BATON ROUGE, La. — Alabama is good.
The type of good that warrants comparisons to the 2001 Miami Hurricanes and the 2008 Florida Gators and some of the other best teams of all time. The type of good that makes you ask questions like "Is this the best team Nick Saban has ever coached?" and "Will all 11 of these defenders be drafted?" It's the type of good where you look at a 20-game winning streak and think "That's it?"
But good doesn't mean flawless. Just because Alabama is better than everyone else doesn't mean the Tide aren't subject to trends and tricks that can be used to circumvent their dominance. There is a way to beat Alabama. It mostly involves being perfect, but it also involves being football savvy. It's possible.
And that's what we're going to talk about today.
I went back and rewatched Alabama's win over Texas A&M (and you can too, in less than the time it takes you to watch a Law & Order rerun!) and I found some exploitable tendencies. But more than that, I found a lot of technically sound football that, in order to beat, you'll need to play up to their perfection.
Let's take a look.
Is that Vince Young back there?
Kevin Durant plays for the Warriors, the Cubs won the World Series and Alabama runs the read option now. Nothing in sports is sacred.
Behind freshman sensation Jalen Hurts, Lane Kiffin's Alabama offense is more spread out today than it's ever been. Alabama's offense looks like the evolutionary product of what you get when you combine Vince Young's Texas offense with Pat White's West Virginia offense and the Mark Ingram, Trent Richardson, Derrick Henry days of Alabama's recent past.
As with Henry last year, everything in the Alabama offense builds outward from runs between the tackles.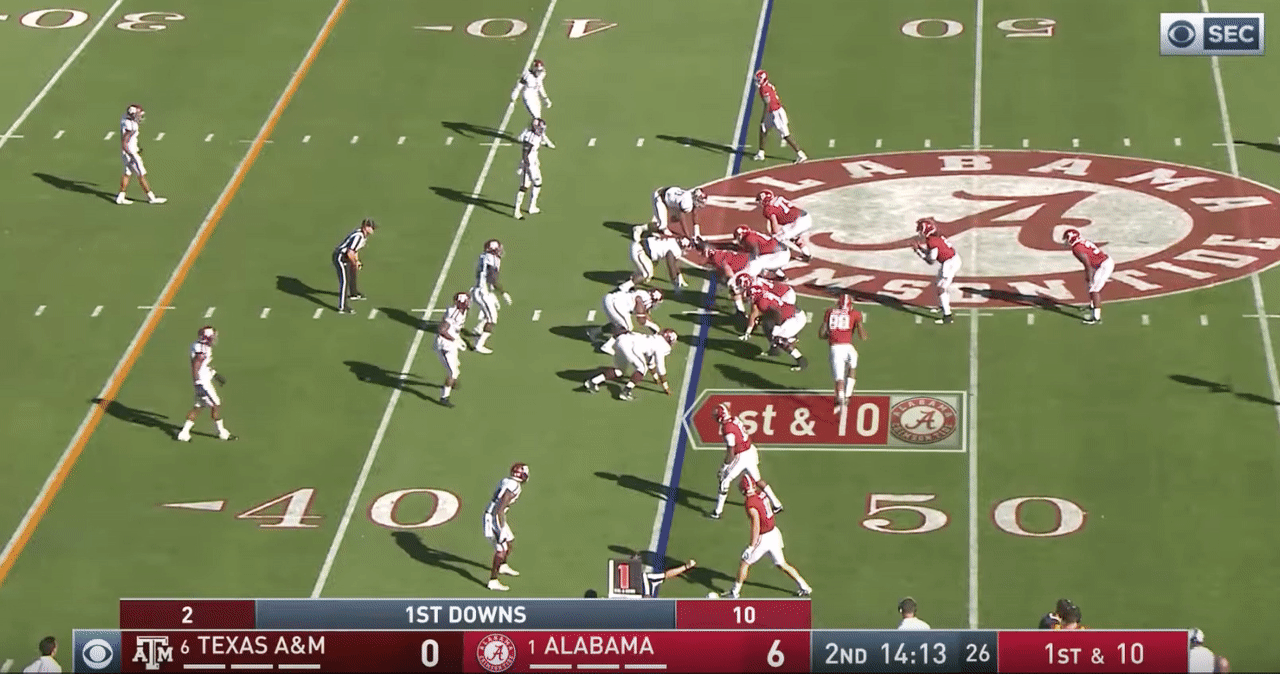 That's about as basic of an up-the-middle run as they come. Running back Damien Harris (34) splits a seam between his right guard and right tackle and busts up the middle for a big gain. But this play is a building block. In particular, watch what Hurts (2) and tight end O.J. Howard (88) do.
Now compare it to this play.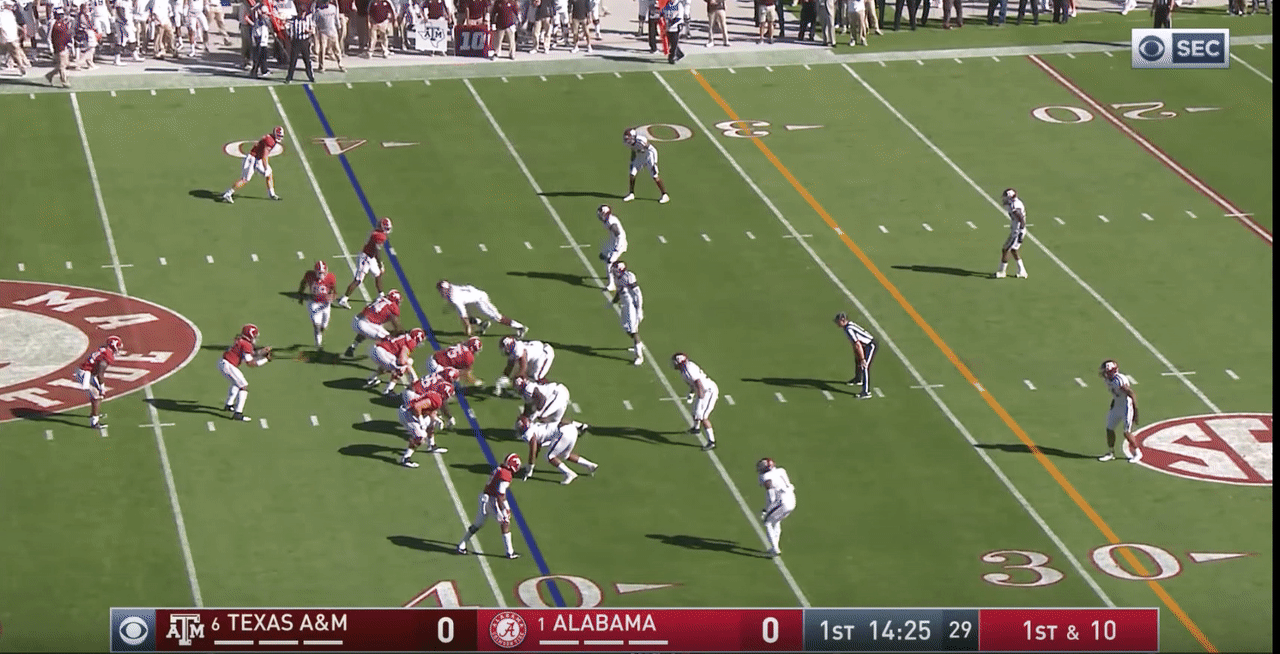 It's the exact same look. Except now Hurts and Howard aren't vestigial. Howard came across the formation as a lead blocker and Hurts preyed on the aggressiveness of an over-eager Texas A&M defensive line by busting out into space. This is the danger Hurts presents. Harris is averaging more than 8 yards per carry, but the second you bite on him getting the ball, Hurts gets loose.
And things get more complicated when you bring passing into the equation.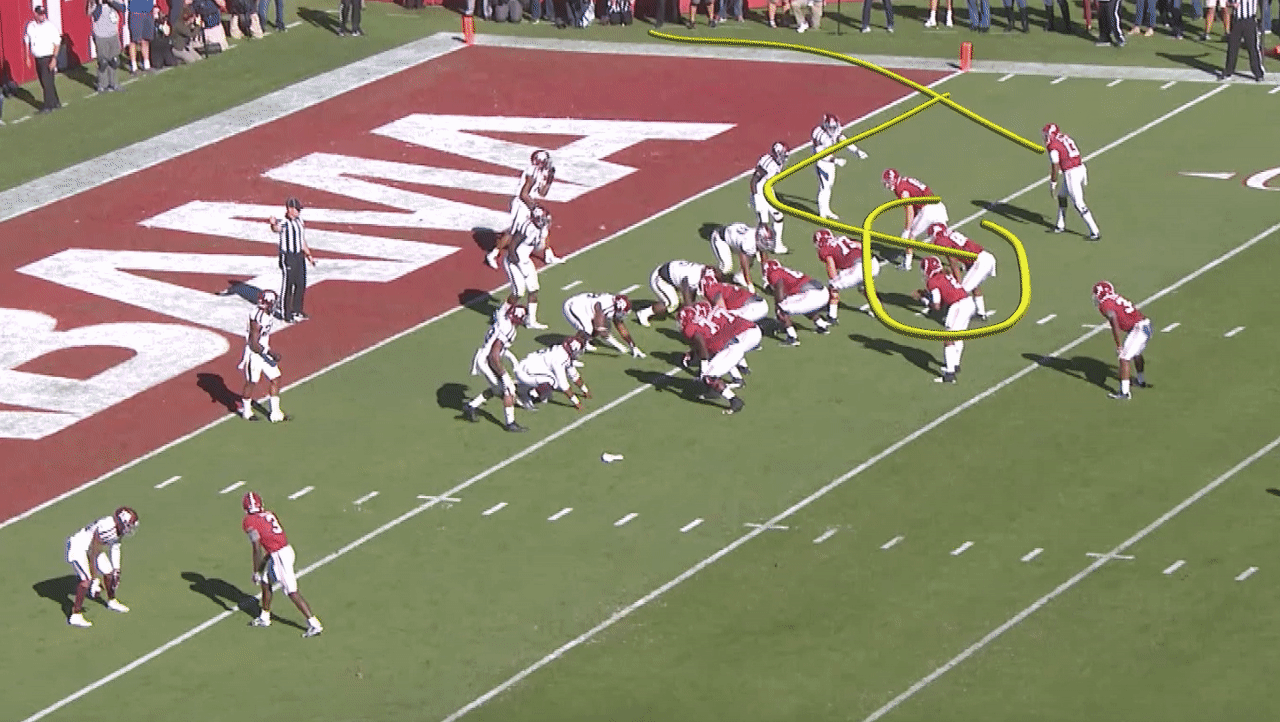 This is a different play, but it's built off the same foundation. Hurts play-fakes to Harris. To sell the fake, Howard steps up to block a defensive end. The end bites. As Hurts rolls out to draw the attention of the linebackers, Howard slips out into the flats for an easy completion and eventual touchdown. In the progression of three plays, Howard goes from decoy to lead blocker to catching a touchdown. That's called sequencing.
So how can any team stop this? I'll give you four suggestions.
Stay within your responsibilities. If you're a defensive end, do what defensive ends do. If you're a safety, play like a safety. Don't try to be a superhero. Because this Alabama attack is too efficient for players to do too much.
Confine Alabama into sort-of tight spaces. From their own 20 to their opponents 20, the Tide are going to make plays. Inside their opponents 5 yard line, they'll also make plays, as you can see above. But in that tricky zone between the 20 and the 5, Texas A&M's defense succeeded in slowing down Alabama's offense. Alabama is that rare team that excels in both space and tight areas, but intermediate zones are difficult.
For the love of all things holy and kind, don't leave your feet. It's rule No. 1 of sound, fundamental defense, but it still needs to be said. Don't dive at Jalen Hurts. You'll miss. Don't dive at Calvin Ridley. You'll miss. And you really shouldn't jump either. Harris will take out your legs, Hurts will make you look foolish, or an offensive lineman will punch you in the stomach. Any way it goes down, you're not going to look good.
Don't expect Arden Key to be a huge factor in the run game. If Alabama treats Key the same way it treated Texas A&M defensive end Myles Garrett, offensive tackle Cam Robinson will be hinge blocking him all game. In effect, a hinge block is when a lineman turns his shoulders 90 degrees so his back is to his center in an attempt to force a defensive lineman into an outside rush. When done properly, a hinge neutralizes backside pressure by taking speedy defenders and making them run away from the ball. But Alabama also does it to goad over-pursuant rushers like Key upfield so Hurts can slip underneath and run through the gap his pass rush vacated.
About that defense…
The Alabama defense is every bit as good as advertised. It might be better. Succeeding against Alabama's defense is counterintuitive, because nearly every offense asks "What can we do to beat this team?," but against Alabama, the question should more properly be "What can we do so that this team doesn't beat us?"
Here are some suggestions:
Establish a passing game to the sidelines: When you're playing Alabama, every yard is meaningful. But it's important to build a horizontal attack to draw defenders out of the tackle box and make the Tide honor your passing game. Because…
Run where your wide receivers are: … it's easier to run that way. Every time I watch football with my mother, she says something along the lines of "I don't get why they keep running up the middle. That's where everybody is. Shouldn't you run away from everybody?" Against Alabama, she's right. Spread your wide receivers out to one side of the field and have them run vertical routes. Get those defensive backs into a backpedal. Then have Leonard Fournette or Derrius Guice sweep outside into the zone vacated by the receivers. It worked for A&M, and it was the one play that worked for LSU last year.
Don't throw swing passes: Alabama's defensive backs are better tacklers than a lot of team's linebackers. Don't try to isolate a running back one-on-one with a DB when the running back's momentum is carrying him backward and the DB is running full speed at him. It doesn't work.
Don't let Jonathan Allen do this: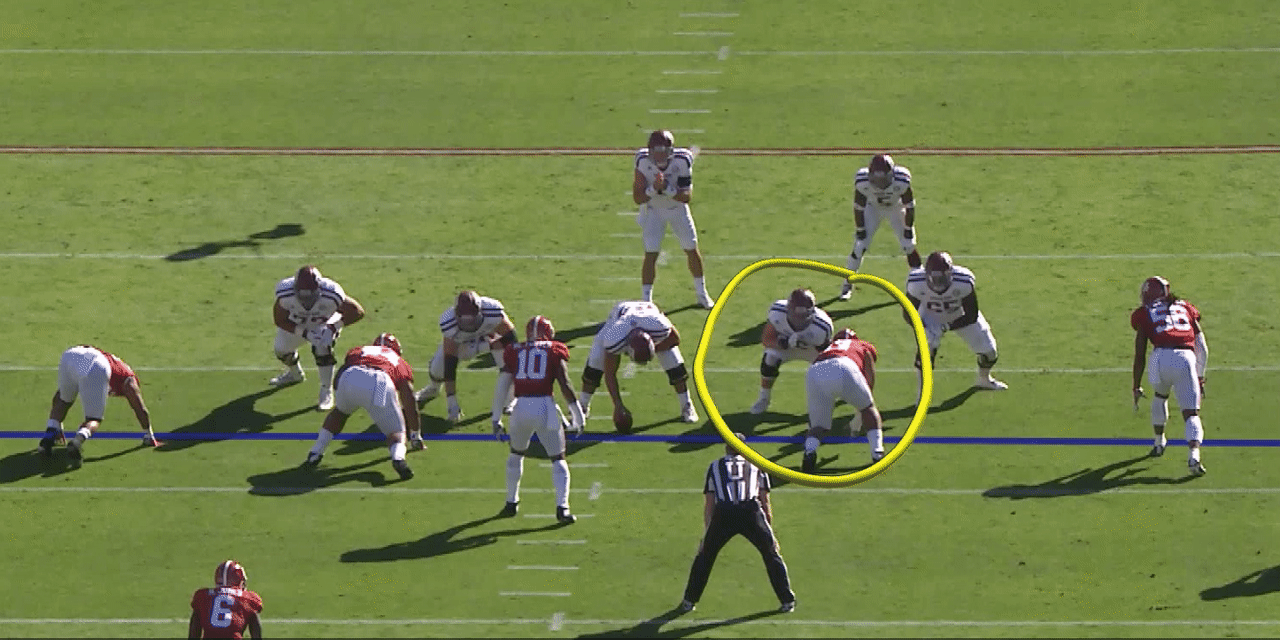 Remember that business about not leaving your feet? Addendum: Unless you can do that.
Because I'm a line-play snob, I'd like to point out that the swim move Allen pulled on No. 76 there was a work of art even more impressive than the sack itself. He was helmet slap away from looking like Deacon Jones there.
But really, the moral of the story is to always leave one more person in protection than you think you need. If you think they're going to bring six blitzers, have seven blockers. If you think they're going to bring four, block five.
Isolating one-on-one against Allen and his six sacks, or Tim Williams and his 6.5, or Ryan Anderson and his 4.5, or any of Alabama's nine other defenders with a sack, is never the wisest decision. Expect LSU offensive line coach and running game coordinator Jeff Grimes to devise protection schemes that have contingency plans, be they an extra tight end, running back or fullback to clean up for blown assignments, because things get tricky.
…
It might seem like an impossible task to be as perfect as you're required to be when playing Alabama. After all, virtually no one ever is. LSU is going to need Fournette to pull an Ezekiel Elliott and run for 230 yards against Alabama for this offense to get going. And Jamal Adams, Kendell Beckwith, Tre'Davious White and company are going to need to lead to the best of their abilities and play like the future first round picks they are.
No. It's not impossible. But it's close.