Bayou Bengal Briefing: Breaking down the film on priority LB target Christopher Allen
Welcome to SEC Country's daily morning column covering LSU football with LSU beat writer Nick Suss. Today, we break down tape, build up strangers, preserve the status quo and much more. Enjoy!
All in on Allen
It's no secret that LSU's chief priority with eight days left before National Signing Day is to get some linebackers to commit.
One linebacker that's at the top of every LSU football fan's radar is Baton Rouge native and 4-star Alabama commit Christopher Allen. Allen has been committed to Alabama since November and officially visited Tuscaloosa over the weekend, but he did his part to lead LSU fans on Monday with a not-so-subtle tweet showing how LSU has gained his favor.
Home do sound nice ? pic.twitter.com/Obej07hY8q

— christopher Allen (@Allen_Greatness) January 23, 2017
So, what is it about Allen that has LSU, Alabama and eight other SEC schools fighting for his talents? Looking at his tape, it's pretty clear.

First of all, Allen is an instinctive linebacker who has a knack for being in the right place at the right time. There's a common thread across all his run stops on the highlight tape, and it's that Allen is almost always untouched. He has incredible feel for where the ball is going to go and how to efficiently get there.
Take this play, for example. Reductively speaking, high school linebackers often take their assignments by reading where the offensive guard goes. Nine times out of 10, the ball goes in the same direction as the guard. And Allen knows this.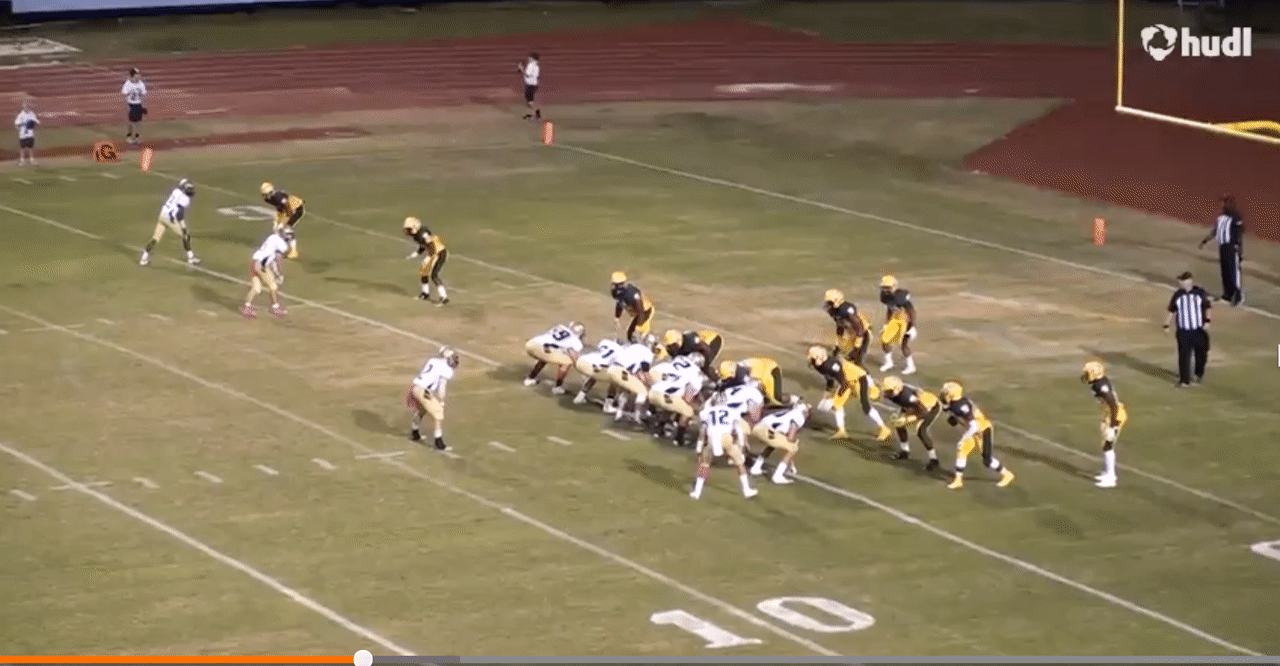 That's what I mean when I say Allen is efficient. These sort of plays are all over his tape. But they also might be symptomatic of a flaw that will make it a little tougher for Allen to transition to the next level.
Allen is big enough and fast enough that, in high school, he could've gotten by on nothing but natural ability. It doesn't look like he's done that on purpose. As a result of his foot speed and processing speed, Allen hasn't had to work very hard at shedding blocks.
Why go through a blocker when you can go around him and still make it to the running back faster? It's a strategy that makes sense. But as blockers — and ball carriers — get better at the next level, Allen is going to need to adapt a better feel for fielding blockers head-on.
If Dave Aranda is his defensive coordinator, this shouldn't be a problem. And if Allen can bring this sort of upper-body strength to college, it really shouldn't be a problem.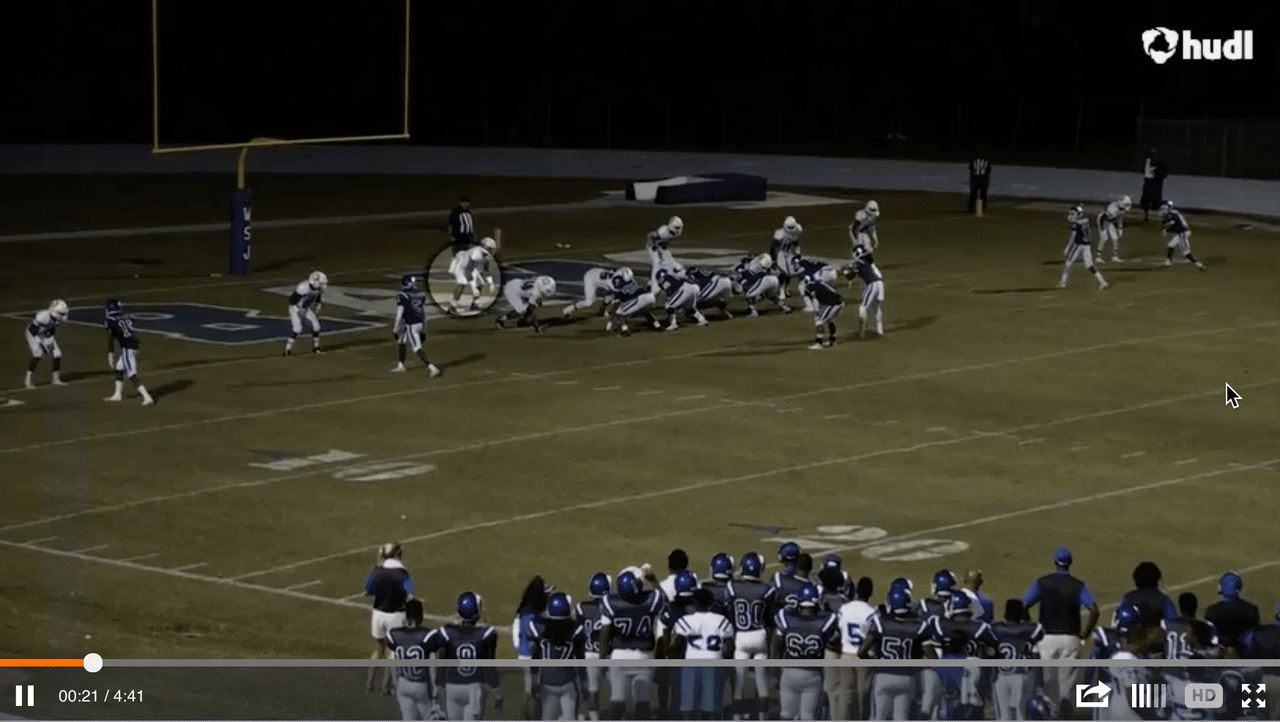 Your weekly LSU football poll results
In Bayou Bengal Briefing on Monday, I asked you what LSU football player or players you are most excited to watch in 2017. More than 750 of you voted in a competitive poll, but the favorite eventually prevailed.
Here are your results:
He's a Heisman Trophy frontrunner for a reason. Running back Derrius Guice came out on top of the poll with 35 percent of the vote.
But second place surprised me. Instead of edge rusher extraordinaire Arden Key, who came in third with 18 percent of the vote, second place belonged to the throng of LSU quarterbacks. Danny Etling, Brandon Harris and Co. received 26 percent of the vote.
It shouldn't be much of a shock that running back and quarterback play are the most exciting aspects of football to a majority of fans. But given LSU's reputation as a defensive powerhouse, I'm surprised more fans weren't onboard with Key, the defensive line or the defensive backs, all of whom combined to make up 28 percent of the votes.
And even more surprisingly, the incoming freshman class didn't garner too much attention. Only 5 percent of voters tabbed the Class of 2017 as the most anticipated thing for 2017.
Be sure to check back to the Bayou Bengal Briefing every Monday to participate in our LSU football polls.
3 things: Getting Ready for National Signing Day Edition
National Signing Day is eight days away. If you aren't already excited, you probably won't ever be. So, here are three suggestions I have to prepare yourself mentally for the occasion:
Thing 1: Keep the expectations low
Even if a kid is a 5-star prospect, don't put unrealistic expectations on him from Day 1. Heck, even Leonard Fournette didn't have a 100-yard rushing game until five games into his LSU career, and Fournette was about as sure of a can't-miss prospect as LSU has ever gotten. Give the kids time to develop. They feel the pressure you put on them. Don't make transitioning to college harder than it already is.
Thing 2: Leave kids on other teams alone
I hope this is a no-brainer, but don't call out recruits who don't sign with LSU. If Allen goes to Alabama, respect his decision. I understand you're going to be frustrated if that happens. But don't take that out on a kid who's just trying to graduate high school and make a future for himself. If you need to find someone to blame, blame the recruiting staff that couldn't bring in your favorite prospect. Not the prospect himself.
Thing 3: Fire up your old fax machines
National Signing Day is the only day on the sports calendar when fax machines re-enter the national spotlight. If you're young enough (as I am) to barely remember when fax machines mattered, get a kick out of it. If you're an actual adult who used to use fax machines, use the time to reminisce. And either way, laugh trying to imagine a 17-year-old making the biggest decision of his life using technology older than him.
ICYMI
We Will Rock You. We Are the Champions. Sheer Heart Attack. What do they all have in common? They're the News of the World. So is this.
Here are some LSU football stories you might've missed Monday:
One more story you should read
SEC Country columnist Alec Shirkey took a deep dive into recruiting numbers over the last decade to see which school is the most dominant at recruiting its home state. And, no surprise, LSU is No. 1.
Since 2005, LSU has brought in 26 players who ranked in the top 3 in Louisiana, more than two per year and 150 top 50 Louisiana prospects.
So, here's the thing: I get that it's a bummer to lose out on Louisiana talent. It stinks that Eddie Lacy, Landon Collins and Tim Williams all chose Alabama over LSU. But LSU is better at recruiting its home state than any SEC school. Better than Georgia and Florida and Tennessee and, yes, even Alabama.
And don't think Alabama hasn't had its fair share of misses. Zach Cunningham, Dee Ford, Ameer Abdullah and Heisman Trophy winner and No. 1 overall NFL Draft pick Jameis Winston all hail from the Yellowhammer State. And all went on to hyper-productive and successful careers elsewhere.
Yes, recruiting the state of Louisiana should be Ed Orgeron's No. 1 priority. But LSU has been pretty good at this as is. Don't expect it to get much better. Because it really can't. You can't get everybody, but LSU has gotten pretty darn close.
Speaking of staying in Louisiana …
Former LSU cornerback Tre'Davious White is an interesting case in this year's NFL Draft. Most pundits don't have him going until the second round, but his dominant senior season has turned some heads.
Including NFL.com's Daniel Jeremiah.
Jeremiah has White going as early as the No. 11 pick, a pick that happens to belong to your hometown New Orleans Saints. And this makes perfect sense.
The Saints are in desperate need of secondary help, having allowed the most passing yards per game (273.8), the second-most yards per pass attempt (7.9) and the second-fewest expected points contributed by pass defense, surpassing only the Detroit Lions.
As a team, the Saints intercepted only 9 passes in 2016, half of the NFL lead. Quarterbacks posted an average passer rating of 98.1 versus the Saints, which is only low if you're talking about internal body temperature.
So, yes, White would be a welcome addition to the Saints. But so would any of the other high-ranking cornerbacks in this draft such as Ohio State's Marshon Lattimore, Florida's Teez Tabor and Quincy Wilson, Clemson's Cordrea Tankersley, Alabama's Marlon Humphrey and the whole host of others who could all go in the first round.
Today in made-up holidays
According to the calendar mavens over at NationalDayCalendar.com, Tuesday is "National Compliment Day." Doesn't that sound pleasant.
So, in the spirit of the season, I'm going to swallow some pride and give some compliments to a group I haven't given too much praise to this season: the LSU men's basketball team.
For all their failings, and there have been many, there have been a couple of silver linings this season. So, here I go. It's compliment time:
Compliment 1: LSU is good at spreading the ball around
Tigers players have made 104 assists this season, the second most in the SEC.
Compliment 2: LSU has a lot of chances
No SEC team has attempted more shots than LSU this season. Because of this, LSU ranks in the top 3 in both points and points per game among schools in the conference.
Compliment 3: LSU is pretty disciplined
The Tigers commit fewer than eight personal fouls per game on average, which ranks in the top half of the SEC. Despite this, LSU has been awfully unlucky with the fouls it does commit. LSU's opponents are shooting 71.8 percent from the free throw line this season. That's 10 percent better than LSU is.
Compliment 4: LSU does a fine job of team rebounding
Five Tigers are averaging more than 3 rebounds per game. And that's not counting Craig Victor's contributions when he was on the team.
Compliment 5: LSU isn't under .500
Yet.
Miss a previous edition of the Bayou Bengal Briefing? Find every column of SEC Country's daily LSU football column right here.