Projecting LSU football's depth chart two weeks into spring practice
Welcome to the Bayou Bengal Briefing, SEC Country's daily morning column covering LSU football, with LSU beat writer Nick Suss. Today we mock a depth chart, get ready for Will Wade's introduction, brainstorm some goof-off ideas and much, much more. Enjoy!
LSU football mock depth chart
We're just about two weeks into the LSU football team's spring practice session and quite a bit has been revealed about how the team looks heading into the spring game on April 22.
Enough has been revealed, in fact, that we can probably take a swing at guessing a mock depth chart for spring without having seen the team scrimmage yet. Based off open practice availability, information players have told me and things Ed Orgeron said in his news conference Tuesday, nearly every position has been discussed or observed.
Without further ado, here's what I think the LSU football depth chart looks like right now. 
Offense
QB: Danny Etling, Justin McMillan, Lindsey Scott Jr., Lowell Narcisse
RB: Derrius Guice, Darrel Williams, Nick Brossette
WR1: D.J. Chark, Dee Anderson, Stephen Sullivan
WR2: Drake Davis, Russell Gage, Derrick Dillon
TE/H: Foster Moreau, Caleb Roddy, Jacory Washington
LT: K.J. Malone, Willie Allen
LG: Garrett Brumfield, Austin Deculus
C: Lloyd Cushenberry, Michael Smith
RG: Maea Teuhema, Austin Deculus
RT: Jakori Savage, Austin Deculus
Defense
DT: Greg Gilmore, Ed Alexander
DE: Christian LaCouture, Glen Logan, Justin Thomas
DE: Frank Herron, Rashard Lawrence
ILB: Devin White, Michael Divinity Jr.
ILB: Donnie Alexander, Jonathan Rucker
OLB: Andre Anthony, Sci Martin, Isaiah Washington
OLB: Corey Thompson, Ray Thornton
CB: Donte Jackson, Xavier Lewis, Kristian Fulton
CB: Kevin Tolliver, Saivion Smith, Andraez Williams
Nickel: Xavier Lewis, Kristian Fulton
S: John Battle, Xavier Lewis, JaCoby Stevens
S: Ed Paris, Eric Monroe, Cam Lewis, Grant Delpit
Not Listed Due To Injury/Absence:
C Will Clapp
H/FB J.D. Moore
RT Toby Weathersby
G Donavaughn Campbell
DE/OLB Arden Key
Wide receiver Wednesday
It's Wednesday. On Wednesdays, I talk about wide receivers.
Today's topic: Matt Canada's gadget plays
Tuesday was the first day that the media got to see some of Canada's off-beat play designs during open periods. And while I won't bore you with the mechanics of what's going down, it's easy to say LSU's offense is going to look far more complex and move far quicker in 2017 than it did in 2016.
There are two plays in particular I want to highlight: the jet sweep and the shovel pass. They don't necessarily seem like they go together, but they do.
First you have the jet, a modified end-around where a wide receiver comes in motion, usually from the short side of the field, and takes a handoff from a quarterback in the shotgun by running in front of him rather than behind him. LSU ran the play to near perfection last year with Chark, who will likely serve as LSU's jet-runner again in 2017.
Then you have the shovel pass, a forward lateral (sorry for the oxymoron) to a running back or H-back cutting in front of the quarterback and following the blocking of his offensive linemen.
Both are plays Canada has run in the past. Both are plays LSU put the legwork in Tuesday. Now imagine them at the same time.
That's the beauty of this play design. You can bring a receiver in motion from the short side and have an H-back staggered behind the tackle on the strong side and run these looks simultaneously as a modified read-option. If the defensive end crashes inside, the quarterbacks hands to the jet sweep like on an inverted veer. If the defensive end runs upfield to take away the sweep, the quarterback tucks. But instead of crashing into the line as he would on a veer, he shovels it off to the H-back who follows the hole the QB would've otherwise targeted.
Orgeron estimated Tuesday that Canada ran that play 13 times in defeating Clemson last season. And it looked a little something like this.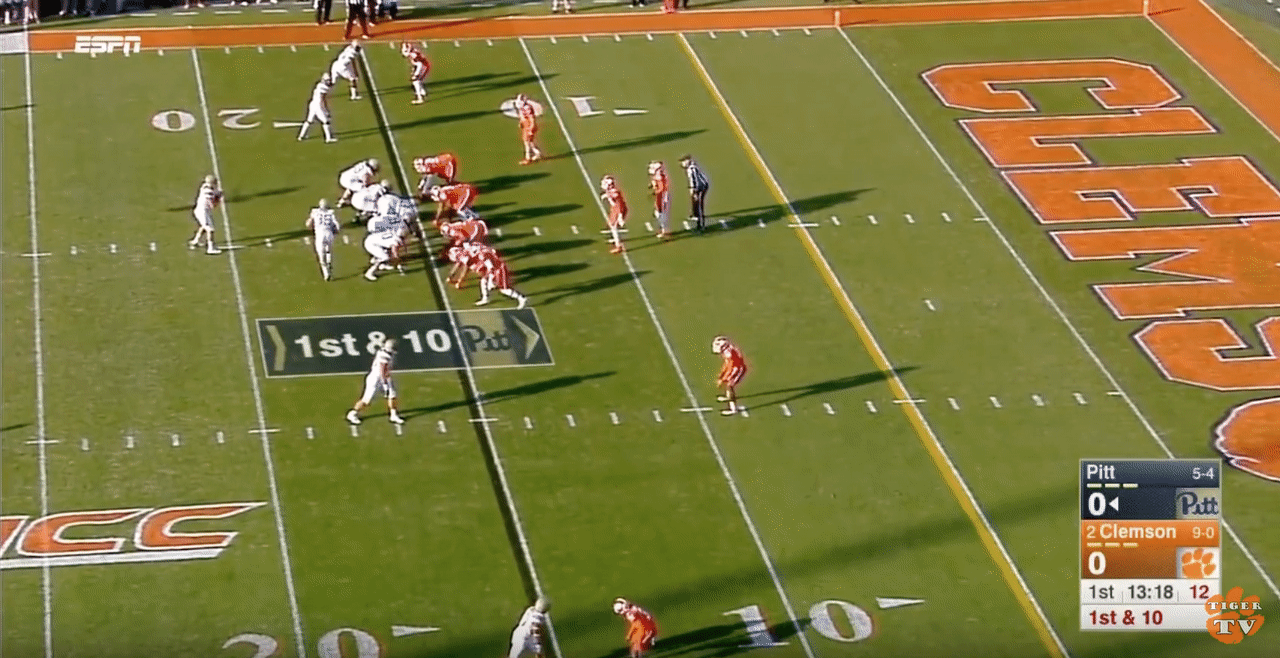 So that's something to look forward to, LSU fans.
Programming note
The LSU basketball team will introduce Will Wade as the school's next head coach Wednesday at noon. Instead of a regular news conference, Wade has elected to host a larger function at the LSU Student Union, with media, fans and students all welcome to attend.
If you are able to or would like to attend, the event will be held on the second floor of the Student Union in the central lobby. If you can't make it but would like to see what all the fuss is about anyway, be sure to like SEC Country LSU on Facebook where you'll be able to watch a live stream of the event.
And, as always, make sure to follow along live here on SECCountry.com, as well as on Twitter @SECCountryLSU and at my personal account, @nicksuss.
Speaking of Will Wade…
I was digging around on the internet Tuesday and found a couple of interesting facts about just how young Will Wade is. Here are some of my favorites.
Will Wade was born one day before Johnny Jones started his sophomore season at LSU.
Wade is three years younger than Dale Brown was when he took over as LSU's head basketball coach.
Per LSU Athletics' Todd Politz, Wade is the youngest LSU basketball coach since 31-year-old Jesse Fatherree in 1944-45. Fatherree coached LSU for 18 games. Then he went off to fight in World War II.
If you were hoping LSU would bring in some fresh blood, you've got it. About as fresh as you'll find. As my colleague Alex Hickey put it Tuesday, Wade could've coached at VCU for six more years and still been labeled an up-and-comer at his next job.
Here's hoping for your sake that Wade isn't just an up-and-comer and he brings the program up with him.
There's an LSU baseball game tonight
LSU baseball faces off against Southeastern Wednesday at 6:30 p.m. CT from Alex Box Stadium. Freshman Zack Hess will start for LSU, but he probably won't go for very long because coach Paul Mainieri said he wants Hess to be available out of the bullpen this weekend versus Florida.
Expect fellow freshmen pitchers like Todd Peterson and Will Reese to get some exposure, as well as possibly Russell Reynolds, Nick Bush and Collin Strall. Peterson, Reynolds, Bush and Strall didn't pitch in any of LSU's three games last weekend versus Georgia and Reese only threw one inning.
Mainieri is likely to keep the top of the order as Robertson-Freeman-Duplantis-Deichmann, as he likes the opportunities afforded to Robertson with the bases empty and Duplantis with the bases usually congested with runners.
Tweet of the day
New Orleans Saints and LSU superfar Jarrius Robertson was at LSU football and baseball practice Tuesday to observe and meet with some of the players, before heading to a fundraiser at Walk-Ons.
Before football practice, Jarrius met with LSU running back Derrius Guice, who couldn't help but snap a photo.
Bro joining us today @Jarrius ?? pic.twitter.com/OVdkHavugS

— 5⃣ (@DhaSickest) March 21, 2017
Oddly enough, Jarrius was at practice Tuesday but Derrius wasn't. Don't worry. Nothing too serious.
Today in made-up holidays
According to the folks at NationalDayCalendar.com, Wednesday is both National and International Goof Off Day.
So be silly today. I don't really have an LSU peg for this one. But it was either Goof Off Day or National Bavarian Crepes Day. And I definitely don't have a peg for Bavarian Crepes. Though they do sound delicious right now.
If you're at work right now, goof off as much as you can to not draw attention to yourself or get yourself in trouble. If you have the day off, I don't know, just wave your arms around like a curbside inflatable used-car-lot doll.
Be extremely goofy. Until about 8:15 a.m. Central Thursday. Because I'm going to need you to be nice and un-goofy for the next Bayou Bengal Briefing.
Miss a previous edition of the Bayou Bengal Briefing? Find every column of SEC Country's daily LSU football column right here.