'A little bit of everything' — LSU's receivers aim to be best in country
BATON ROUGE, La. — Offensive coordinator Matt Canada thinks the LSU football team has the best wide receivers in the country. And that's the standard that D.J. Chark and the LSU receiving corps want to live up to.
Matt Canada: "We have the best receivers in the country."

I was standing next to @MalachiDupre, who agreed. #LSU pic.twitter.com/DyN5ML92be

— Cody Worsham (@CodyWorsham) March 15, 2017
"We pride ourselves in being the best offense in the country this year," Chark said. "To be the best offense, you've got to have the best receivers, the best running backs, the best quarterbacks, the best offensive line. Everything comes together as one. It's expected of us to come out and make plays within this room and within this offense."
As LSU's leading returning receiver, most of the responsibilities for living up to Canada's assessment will fall on Chark. Chark broke out in 2016, catching 26 passes for 466 yards and 3 touchdowns on the way to being LSU's second-leading receiver and finishing fourth in the SEC in yards per reception.
Now a senior, Chark is one of LSU's statistical leaders and a leader in the receivers' room, a quality that led to him taking over Leonard Fournette's No. 7 uniform. After Chark, LSU doesn't have many, if any, established options at the position. Other than Chark, the only returning LSU football player who caught at least 10 passes last season is fullback J.D. Moore.
But just as Chark broke out in 2016 — he never caught a college pass prior to last season — he expects his position mates to do the same in 2017.
"They know what's being said. But it's finally their shot," Chark said. "You wait until it's your turn, then once you get your shot you make the most of it. When I was able to finally get my shot I made the most of it, and I feel like we've got a room full of guys like that. Now's their shot and they're going to make the most of it."
It's completely different
The offense of new LSU offensive coordinator Matt Canada has hit the reset button for receivers.
As senior Russell Gage explained, the jobs of LSU's receivers this year are virtually unrecognizable compared to the sets they ran under Cam Cameron and Steve Ensminger last year. And in two weeks, Canada has convinced Gage and his teammates to buy in pretty easily.
"It's a completely different offense," Gage said. "Not anything that any of us are used to. But Canada does a great job of getting everybody excited, getting everybody on board for what's going to happen. His accolades speak for themselves. Yeah, it's different. But we're going to attack it."
Much has been made already about how shift-heavy Canada's offense is. There's more motioning and shifting before snaps in Canada's playbook than there are movements after the snap in some systems.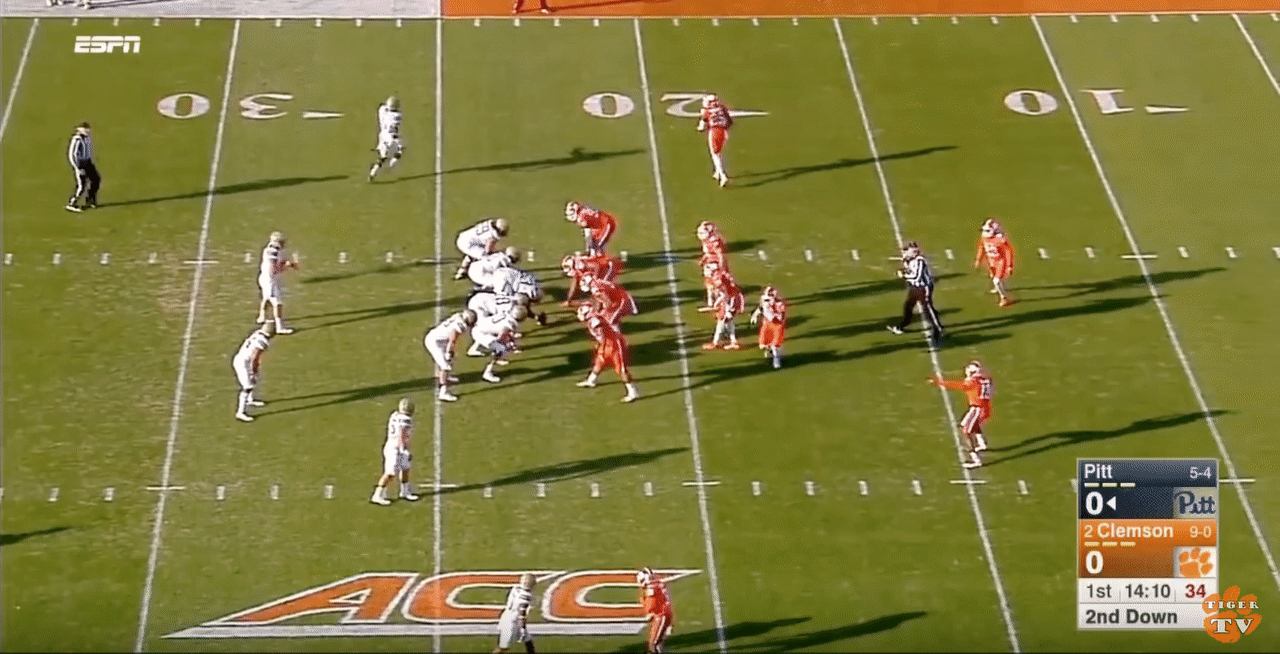 The play above is a perfect illustration of this. Before the snap, Canada's Pitt Panthers shifted from a right-strength heavy shotgun to a balanced singleback shotgun to a basic under-center ace set, all to put the Clemson defense on skates. And the receivers get the brunt of this style of play, motioning further and more frequently than anybody else.
But that's not the only way that Canada's offense differs from Cameron's or Ensminger's. There's also the way Canada singles out matchups. Gage said Canada puts receivers in place based on whose talent matches up best with the weaknesses on the defense. If that means lining the 6-foot Gage on the outside to use his shiftiness or lining the 6-foot-6 Stephen Sullivan up in the slot to use his size against a safety, Canada's going to do it.
In fact, Gage doesn't think this approach even limits Canada to lining up only wide receivers at wide receiver.
"You could have two quarterbacks out there, to be honest," Gage said. "If he's talented in that area where he can run routes, he'll put him out there and line him up at receiver. You're going to see a little bit of everything this year."