Top 10 LSU plays of 2017: Donte Jackson dashes Auburn's dreams
BATON ROUGE, La. — The 2017 LSU football season gave us electric offensive showings and stifling defensive performances. But only 10 plays could make SEC Country's countdown of the top LSU plays of 2017.
Rounding out the bottom half of our countdown, we return to LSU's defining win of 2017, this time on defense. LSU prides itself on being "DBU," the collection of the best cornerbacks and safeties college football has to offer. Though that might not have been true statistically in 2017, games like LSU's 27-23 upset win over Auburn showed the flashes LSU has become known for.
This play is the perfect example. The stakes were at their highest, so LSU's best lockdown corner made, arguably, the defining play of his three-year college career.
At No. 6 on the countdown, here's Donte Jackson batting away any chance Auburn had at a victory.
The play
The stakes were clear. Auburn had a fourth-and-10 from its 25-yard line with less than 2 minutes remaining in the fourth quarter. LSU led by 1 point. If the Orange Tigers converted, they had a chance at a comeback. If they didn't, the Purple Tigers had a chance to ice the game.
Lining up in the shotgun, Auburn quarterback Jarrett Stidham caught the snap on Auburn's 20-yard line and dropped back 4 yards. LSU sent four rushers: Christian LaCouture, Greg Gilmore, Arden Key and Corey Thompson.
Key collapsed the pocket from the inside, forcing Stidham to roll toward the Auburn sideline. Thompson trailed Stidham and rushed into his throwing lane, causing Stidham to deliver a throw downfield without fully stepping into it.
Enter Donte Jackson.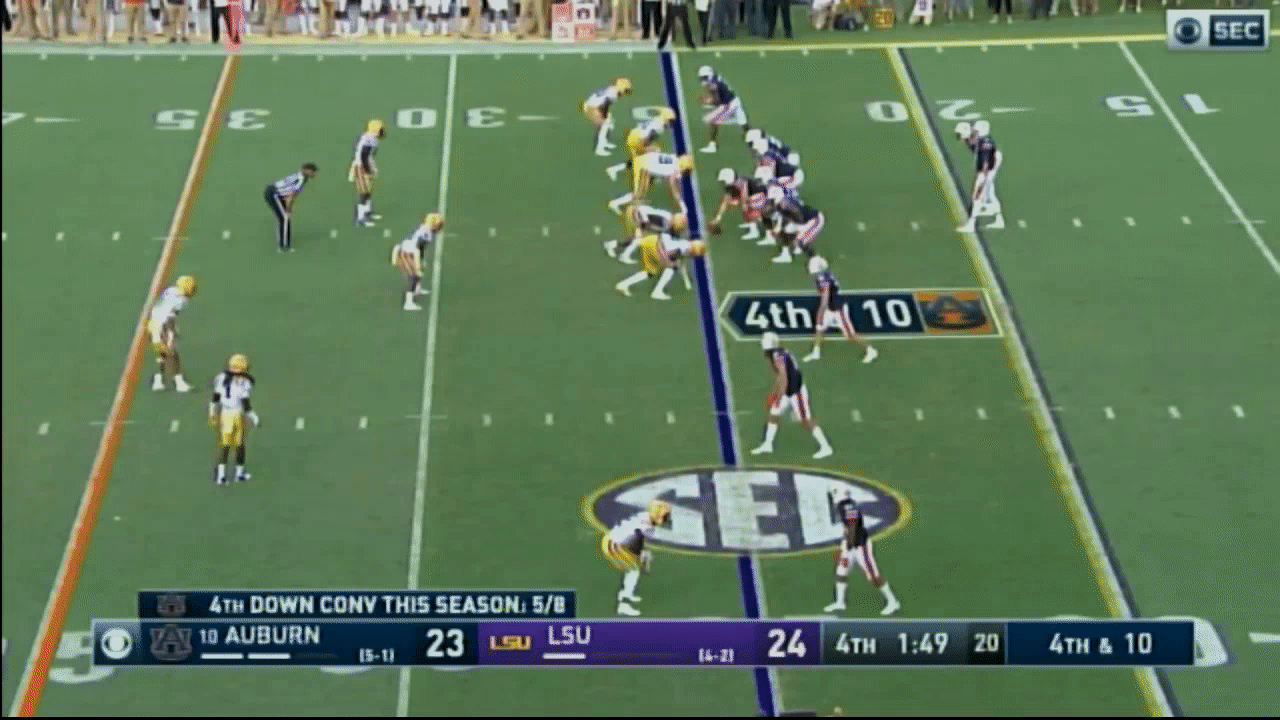 Roaming at the LSU 35-yard line, Jackson tracked Stidham's throw and made a break on it. Flashing his "fastest man in college football" speed, Jackson caught up to Auburn tight end Sal Cannella and jumped in front of him as the ball was converging downward.
Careful not to interfere, Jackson jumped up and swatted the ball out of bounds. Turnover on downs. LSU ball. Exactly 1 minute of game time later, Connor Culp drilled a 36-yard field goal to give LSU a 27-23 lead. Auburn would get the ball back, but it needed a touchdown to win.
Which is why Jackson's day wasn't done.
Auburn's next three pass plays went as follows: Break up by Jackson, break up by Jackson, break up by Jackson. That's right. Four pass plays, 4 PBUs. Jackson had 6 other pass breakups all season. But these were 4 in 4 passes in crunch time versus a top-10 Auburn.
From a timing perspective, it's hard to find a single play more meaningful to the Tigers season. Was this his most technically impressive play? Probably not. But if a lesser corner allows that completion and gives All-SEC kicker Daniel Carlson a chance to win the game, he probably does.
For that, Donte Jackson makes the countdown.
Check back with SEC Country throughout the next two weeks as we continue our countdown of the top LSU football plays of 2017.