At Second Glance: What LSU can learn from Louisville's embarrassing loss to Houston
I'm not Dave Aranda. I don't see football the way he does. There's a reason he is the defensive coordinator at LSU and I am not.
But if I were Aranda, I would've spent the last month replaying the Nov. 17 game between Houston and Louisville on loop, alternating between bouts of immense joy and vigorous note-taking.
There isn't much about preparing to face the best offense in college football that can make a defensive coordinator happy. And when Aranda's LSU defense takes the field against Louisville in the Citrus Bowl on Dec. 31, the best offense in college football is what his players will have to contend with.
But there's a blueprint for stopping Heisman Trophy winner Lamar Jackson and his explosive Cardinals offense. And that blueprint belongs to Aranda's old college roommate, former Houston coach Tom Herman.
In a 36-10 win against Louisville, Herman's Houston defense limited Jackson to 33 yards on 25 carries, sacking him 11 times and limiting him to 4.9 yards per pass attempt. On the season, Jackson accounted for 410.7 yards of total offense per game. Against Houston? That number dropped to 244.
So what did Herman's Cougars do that succeeded so well in corralling Jackson? And what can LSU do to replicate the performance? Let's take a look in this edition of At Second Glance.
Time is not on your side
Even in his worst games, Jackson is a nightmare for defenses. And the worst thing you can do is give Jackson time.
Like Billy Idol, Jackson has no problem dancing with himself. If he's alone in the pocket, he'll shift and shimmy more times than a C-level celebrity attempting to salsa on Dancing with the Stars. And once he's done showing off his hip flexibility, he'll pounce. Watch: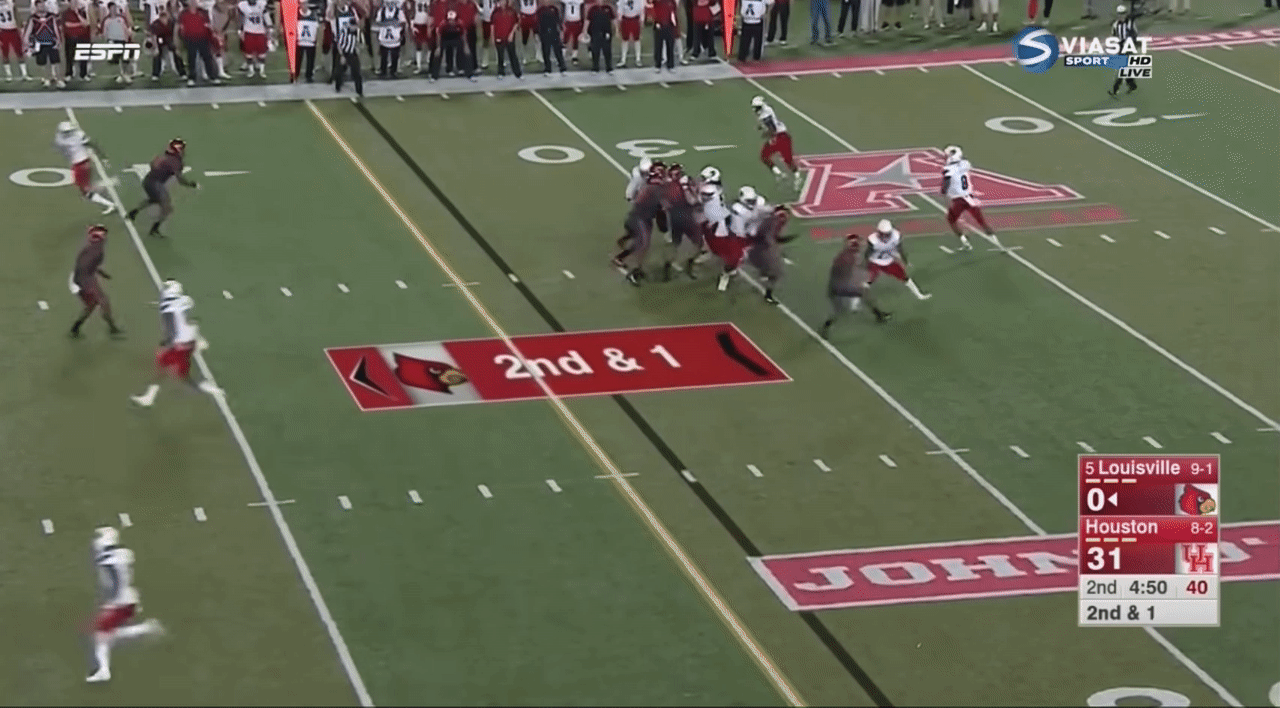 But one thing that Houston did incredibly well was keep Jackson off balance. The Cougars did this in two distinct ways.
Houston brought continuous pressure up the middle
Houston rarely used the same edge rushers on back-to-back plays
It might sound counterintuitive with a player of Jackson's speed, but the best way to pin Jackson is to keep him away from the middle of the field. Jackson — and all of Louisville's offense by proxy — thrives when it spreads defenses horizontally, creating lanes for Jackson to slash through.
But Houston took away these lanes with pressure from the A, B and C gaps. Allow me to explain: Oftentimes, quarterbacks are taught to escape the pocket using the backside A or B gaps (or the gaps between the center and tackle) when they feel pressure. But because Houston supplied nearly all of its pressure from those gaps, Jackson had nowhere to escape, limiting his rushing output.
Case in point: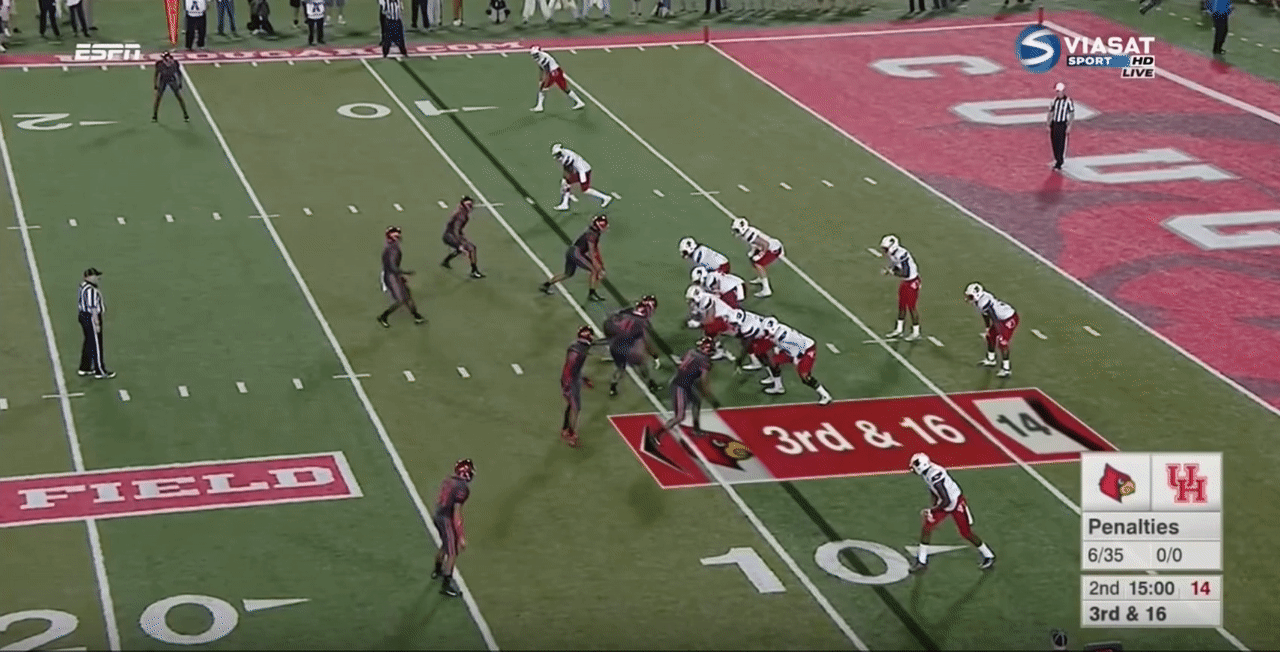 If you look at the apex of Jackson's dropback, you'll notice that his instinct is to escape the collapsing pocket to his right. But because of the way Houston stunted and pounded in the middle of his rush lanes, he was forced to spin and turn left, where the only option was to throw the ball away.
This was 100 percent a tactical decision. And it worked the entire night. Just ask Ed Oliver. The true-freshman defensive tackle finished with 6 tackles, 3 TFLs, 2 sacks, 2 pass breakups and 1 forced fumble. And he didn't play a snap in the fourth quarter.
About those edge rushers …
When you hear "edge rushers," your mind probably takes you to Arden Key-type players, defensive ends and outside linebackers who primarily blitz. But when I'm referring to edge rushers here, I'm describing the defensive equivalent of the end man on the line of scrimmage: the pass rusher who is the farthest from the center on any given play.
And Houston had a bunch of those. Whereas on the play above, Houston used its defensive linemen to make Jackson uncomfortable, the Cougars rarely employed four-man blitzes that basic.
Check out this gem, for example.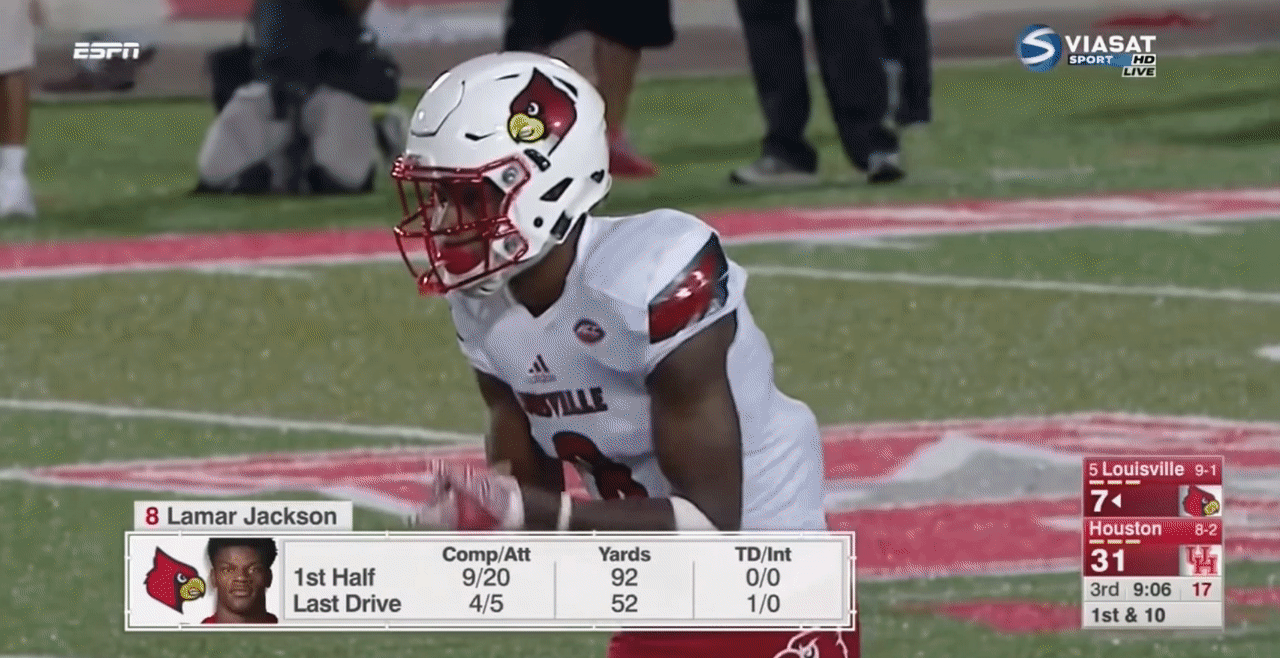 And how about this beauty?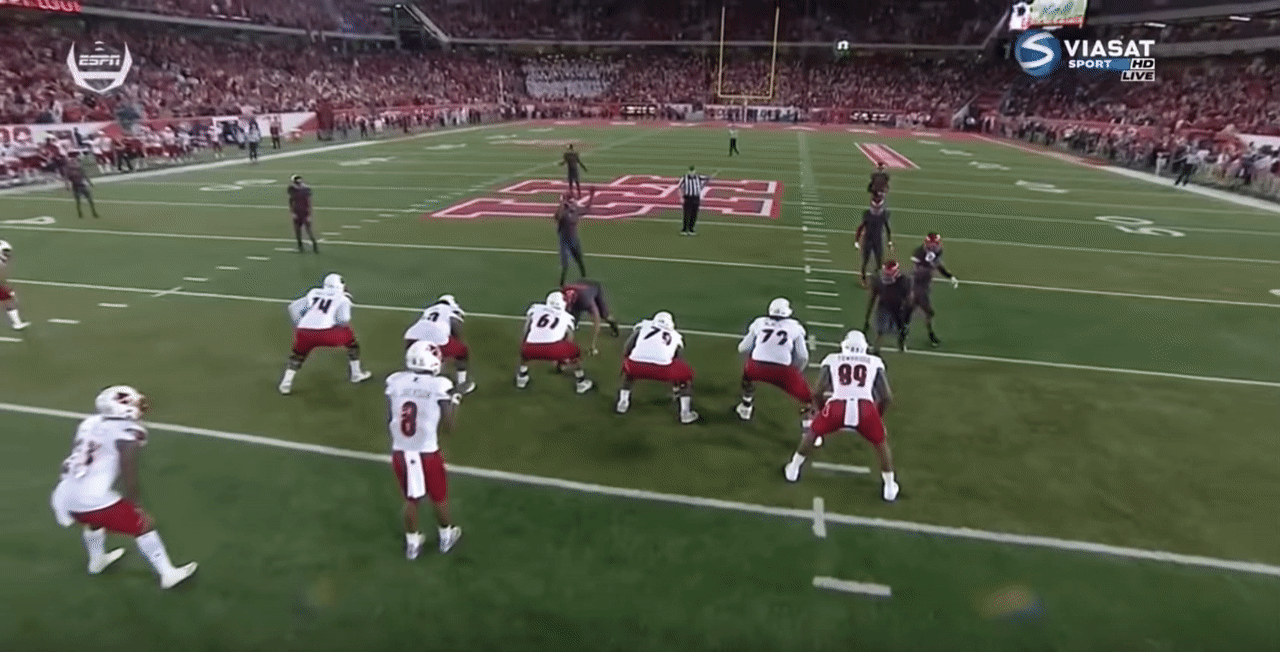 The best way to upset a quarterback's timing is to mess with his expectations. And there never came a point where Houston did what Louisville expected it to do.
When the Cougars found their most success rushing up the middle, they instantly shifted to nickel and cornerback blitzes like in the gifs above. When those plays started working, Houston switched to exterior stunts, running Oliver from his post at defensive tackle above the offensive tackle to contain Jackson. And when Louisville prepped to stop that, Houston brought its linebackers through the middle of the formation, once again freezing Jackson.
It's hard to run a defense this varied. It requires a special form of discipline that few players possess and few coaches know how to instill. But when executed properly, it reduces a Heisman Trophy winner to looking like a run-of-the-mill wannabe.
But what about designed run plays?
That's a good question. I'm glad you asked, rhetorical question that I typed.
So far, I've only talked about how Houston shut down Jackson's knack for improvisation. But Jackson's number is called on designed runs far more times than on busted dropbacks. Yet still, Houston didn't allow Jackson to treat its secondary like a gazelle treats the African savanna.
Before I can explain how, I need to explain a couple of terms about the read option in general. As you should know, a read-option play is one in which either a quarterback or a running back can run the ball. The quarterback decides to keep or give the ball based on a decision made by an unblocked edge defender, usually a defensive end.
That edge defender can make three choices.
He can crash downfield toward where the running back will take the ball. If he does this, the quarterback keeps and fills the defender's vacated post.
He can stay in his lane, taking away the quarterback run. If he does this, the quarterback hands the ball to the running back up the middle.
He can attack the "mesh point," or run directly at the place where the quarterback makes his decision. Quarterbacks usually are advised to keep when given a mesh read, but this varies depending on skill sets.
Early in the game, Houston's plan was simple. On plays in which the Cougars didn't anticipate there would be a high chance Louisville would run a read option, defensive ends were instructed to give Jackson the give read anyway. That way, if Houston wasn't prepared for the read option, the ball wouldn't be in Jackson's hands either way.
But on plays in which Houston heavily anticipated the read option, Houston threw a wrench in Louisville's plans by giving Jackson two read keys.
Check out this play below.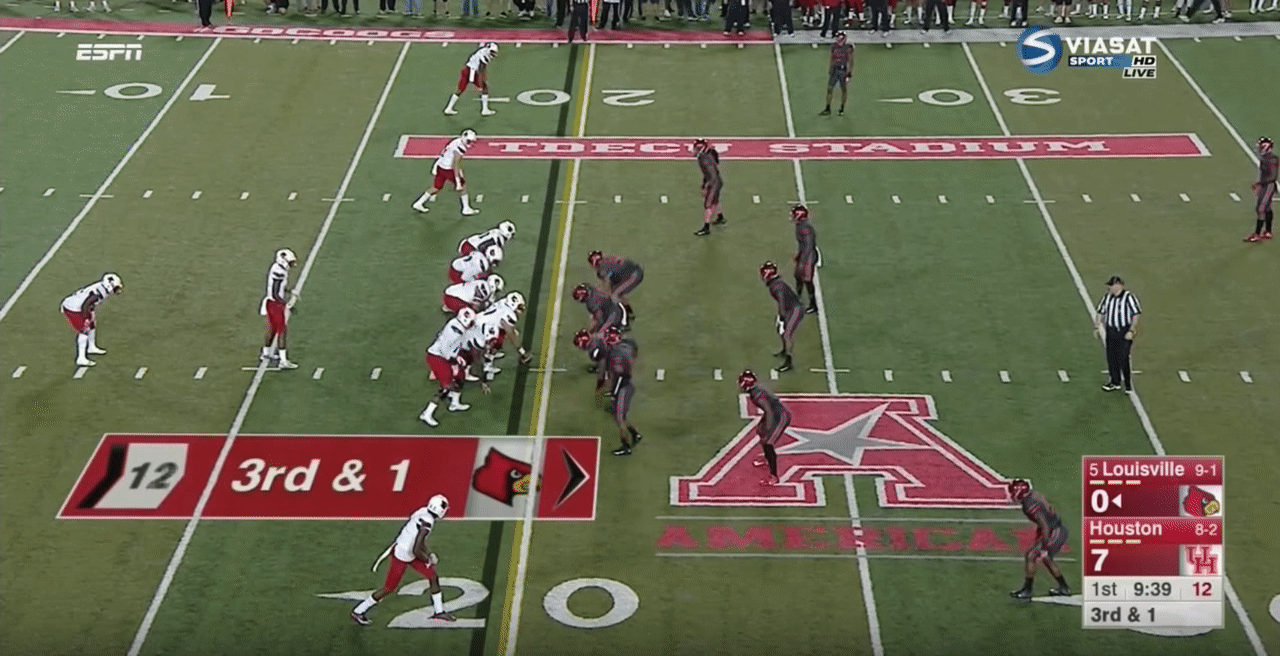 Houston sells out, expecting an option run. So the Cougars send No. 81 and No. 1 off the edge, leaving one to crash inward and one to stay home. Because of this, Jackson doesn't have a clean read. He chooses to give, and because of the short distance to go, his running back gets a first down. But Louisville struggled with this dual look for almost a full quarter and a half. Until it adjusted, that is.
What do you mean "adjusted"?
Another good rhetorical question. This is what I mean.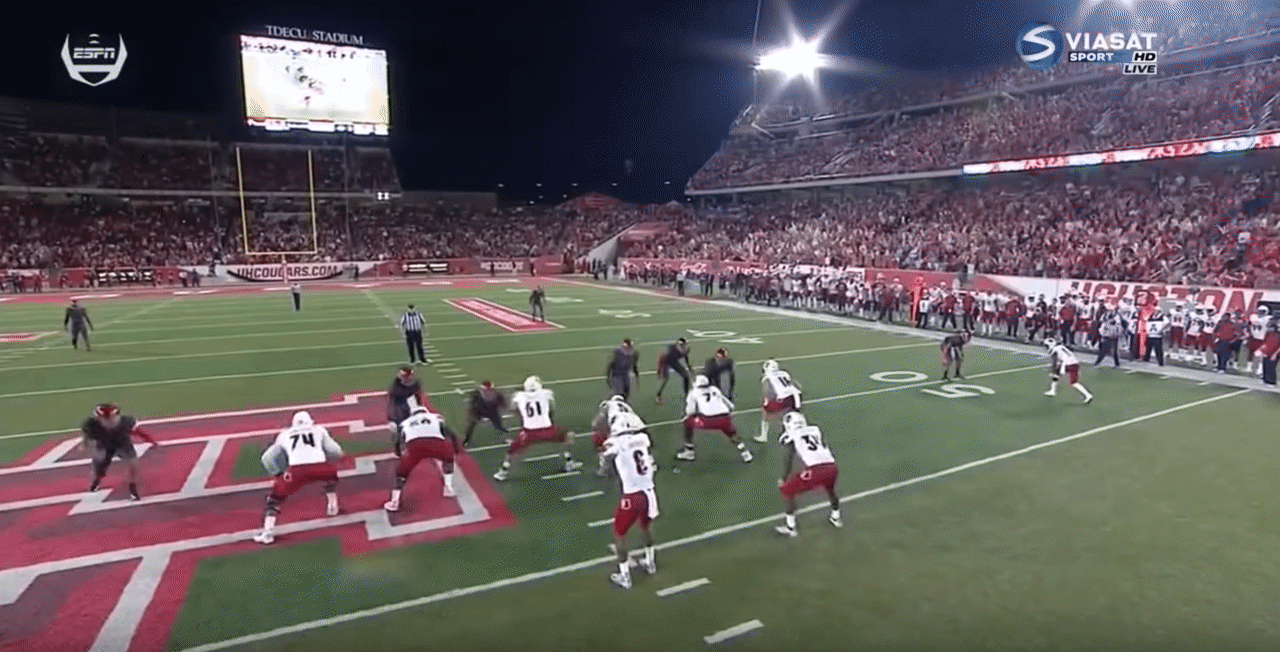 This play has a couple of different names. ESPN's broadcast crew referred to it as a "fake read option." I call it an "inverted veer." But we might as well call it the "cat and mouse." Because that's what it is.
On an inverted veer, a quarterback preys on defensive tendencies by flipping his. Instead of handing the ball off when a defensive end freezes in the lane, the quarterback keeps and runs up the middle on an inverted veer. It's a filthy play because it keeps the ball in the quarterback's hands when the defense is setting up specifically to prevent that from happening.
Louisville's inverted veer particularly is devastating because it employs a pulling guard as a lead blocker in space.
Houston's aggression was what made it so successful all night. It's hard to fault the Cougars for staying aggressive in situations like this. But even in his worst games, Jackson shows on plays like these that he's still the most dangerous dual-threat quarterback in the country. And this is what Louisville will do if it feels it's being taken out of its element.
It'll flip its element entirely.
So what are the keys for LSU?
All right. Let's talk about LSU.
Most important, let's talk about what LSU needs to do to replicate Houston's success.
This might sound like the kind of coaching you'd hear from an enthusiastic father at his 8-year old's rec-league game, but LSU needs to start with each player doing his job.
Slowing Louisville is a team effort. Three players who I think will be particularly valuable in LSU's efforts are Davon Godchaux, Donnie Alexander and Dwayne Thomas. Let's call them the Three D's for short.
Godchaux is going to need to fill the Oliver role for LSU. And that's something he's more than capable of doing; Godchaux has 7.5 TFLs and 5.5 sacks this season. But more than just getting after the ball carrier, Godchaux is going to need to help cave Louisville's offensive line inward. Again, the best way to limit Jackson's explosiveness is to take away the middle of the field. And that burden will fall on Godchaux.
After Godchaux, a lot of pressure will hinge on Alexander. If I were a betting man, I'd guess that Aranda plans to use the speedy Alexander as a spy-type of player against Jackson. Jackson normally feasts on spies, which is why I don't think Alexander will be a QB spy in a traditional sense. But I think Alexander will spend a lot of time tracking Jackson like Houston's Steven Taylor did, to the tune of 14 tackles, 2.5 TFLs, 2.5 sacks and 1 forced fumble.
And, finally, there's Thomas. The man best known for calling out Alabama actually might be LSU's secret weapon in this game. Thomas has been a menace as LSU's nickelback this season, notching 6 TFLs and 7 pass breakups coming off the edge in LSU's blitz packages.
Thomas' involvement in the pass rush will be paramount. He only has 1 sack in 2016, but he has an additional 5 quarterback hurries. When all is said and done, I expect Thomas to be the most important player in LSU's defensive efforts against Louisville.
And if Thomas is up to the task, LSU can shut down Louisville.